New Insight into the Chemical Improvement
of Shoeprints and Fingerprints Placed
with Blood on Non-Porous Surfaces




Abstract

Shoe prints and finger prints placed in blood on non-porous substrates are usually treated with chemical means to achieve a better contrast of the blood traces on the carrier material. The subject of this research was to explore the possibilities to improve visualization of blood traces, after they were detected with Luminol, by exposing them to other chemicals, such as Leuco Crystal Violet (LCV), Acid Yellow 7 and/or Hungarian Red.

This research led to some very interesting results, which shows that LCV appears to be a less suitable chemical to improve this visibility on non-porous substrates.

Looking for answers

In the course of time I found myself confronted with a number of questions about how to improve shoeprints and fingerprints in blood. These questions arose because I learned about the increased use of Luminol for detecting and/or visualising blood traces in relation with DNA research. For this, the use of Leuco Crystal Violet (LCV) reagent to process and/or enhance traces found on non-porous materials has increased too. The reason for this is that LCV is easy to use. It can be applied without first fixing the blood trace. The formula of LCV already incorporates the fixing agent 5-sulfosalicylic acid. Also, LCV is colorless and only assumes a color once it reacts with blood. To prevent discoloring of the surface it is advised to rinse afterwards, at which point the visualized trace must be photographed immediately. Online searches into this issue of the chemical improvement of shoeprints and fingerprints in blood result in reports where the LCV reagent is recommended as a very good enhancement product for fingerprints and shoeprints in blood on non-porous surfaces.

See for example the traces on Photos 1 and 2. I will further discuss the traces shown in Photo 1 and 2 later in this article.

What did not become entirely clear was how one had arrived at the conclusion that LCV is a good enhancement reagent for shoeprints and fingerprints in blood on non-porous surfaces. I suspect that this conclusion was fed by the simplicity using the product.

My questions therefore were:

In what way did one establish that a blood trace treated with LCV has shown all the latent information that may have been present in a trace?


Did one subsequently treat the blood trace treated with LVC with another chemical product, in order to verify whether all the latent information in the trace had been developed?

It probably has not been done, as it was not done in the CHEMZIS research: once a blood trace was treated with a chemical reagent or staining solution, the same trace was not used again to look for a possible enhancement with a different reagent or staining solution.

In the past I made this same mistake myself and failed to look for a possible enhancement of a blood trace already treated, even though this was standard procedure with latent fingerprints, using, for instance 5-MTN after having used DFO. I never thought that this would also be possible with blood traces.

< read the complete article and view example photographs >

Article submitted by the author


Related Content

CLEARANCE SALE
25% OFF
AND FREE SHIPPING!





Shirts by
ForensicWear.com

CLEARANCE SALE
25% OFF
AND FREE SHIPPING!

With coupon code
"CLEARANCE" at checkout
Limited to styles and sizes on hand.
Orders are shipped to
USA addresses only.




---









Learn How to Become a
Crime Scene Investigator
or Forensic Scientist



This Month's Featured Resource on the Crime Scene Investigator Network Website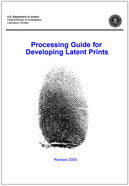 The beginning of this manual is a list of processes and procedures for different surface types. Also included are processing sequences that specifically involve prints that are left in blood. Following these lists are details for each process that is currently implemented in the Latent Print Unit (LPU) of the Federal Bureau of Investigation (FBI) Laboratory.
New CSI and Forensic Job Announcements
The most comprehensive listing of Crime Scene Investigation and Forensic
employment opportunities on the internet! We typically have over 150 current listings!
Crime Scene Technician I & II
Chandler Police Department, Chandler, Arizona, USA
Final Filing Date: December 20, 2020
A Crime Scene Technician I is an entry-level position to learn the techniques and practices of technical evidence collection and crime scene documentation. A Crime Scene Technician II will perform journey-level work with demonstrated expertise and knowledge in all forensic discipline areas including: evidence collection, chemical processing, photography, or latent fingerprint processing.
<View complete job listing>
Crime Scene Specialist
Marion County Forensic Services Agency, Indianapolis, Indiana, USA
Final Filing Date: December 22, 2020
Responsible for forensic support in the identification, preservation and collection of forensic evidence at crime scenes, providing a wide variety of crime scene activities involving crimes against persons (homicides, suicides, rapes, aggravated assaults, etc.) to include, but not limited to, finger print processing, DNA collection/swabbing, and firearm evidence.
<View complete job listing>
Forensic Evidence Technician
County of Greenville, Greenville, South Carolina, USA
Final Filing Date: December 31, 2020
Provides photographic documentation of crime scenes, collects, and preserves physical evidence. Performs a variety of types of analysis of evidence that may be collected at a crime scene in accordance with federal, state, and local laws and department/division policy.
<View complete job listing>
Evidence Technician
Lakewood Police Department, Lakewood, Washington, USA
Final Filing Date: December 24, 2020
Under the direction of an Evidence Supervisor, the incumbent will perform a variety of technical duties in the gathering, processing, and identification of evidence in association with law enforcement.
<View complete job listing>
---

---
Forensic Scientist Trainee
Mississippi Department of Public Safety, Pearl, Mississippi, USA
Final Filing Date: December 28, 2020
This is an entry level position devoted to training in the assigned section. Employee carries out the requirements called for in the section's training program. Participates in training of chemical, instrumental, and microscopic techniques necessary to perform the required examinations. Participates in training of the principles that form the foundation of the science. Performs controlled practical exercises. Performs required reading assignments.
<View complete job listing>
Firearms / Tool Mark - Forensic Scientist 1
Idaho State Police, Coeur d'Alene, Idaho, USA
Final Filing Date: December 30, 2020
A Forensic Scientist 1 position is an entry level position and is an approved under-fill for the Forensic Scientist 2 classification. Employ various methods of scientific analysis to make determinations regarding samples submitted as evidence in criminal cases or for individual characteristic database entry. Assume responsibility for and maintain the integrity of evidence. Interpret scientific data and ensure validity. Author and issue laboratory reports.
<View complete job listing>
Crime Lab Scientist 1
Georgia Bureau of Investigation, Decatur, Pooler, and Moultrie, Georgia, USA
Final Filing Date: October 25, 2020
Under immediate supervision perform analytical procedures related to DNA analysis of biological samples for the GBI Crime Lab. Performs DNA analysis of physiological fluids for the purpose of identification and individualization. The type of material typically examined includes but is not limited to semen and saliva collected at crime scenes or from articles of physical evidence.
<View complete job listing>
Fingerprint Technician
Pennsylvania State Police, Harrisburg, Pennsylvania, USA
Final Filing Date: December 28, 2020
Operating the Integra-ID device. Analyzing fingerprints based on image quality, pattern type, and the placement of core and axis. Conducting verifications of side-by-side fingerprint images to determine positive identification or non-identification. Assigning primary and reference pattern types to ten print submissions to ensure the accuracy of the Integra-ID search and storage processing.
<View complete job listing>
Other Resources on the Crime Scene Investigator Network Website
Not Subscribed to this Newsletter?
Crime Scene Investigator Network
PO Box 1043
Wildomar, CA 92595-1043