Welcome to the June 2023 Crime Scene Investigator Network Newsletter



Persistence of Touch DNA for Analysis




NIJ-funded research reveals how long DNA is
detectable on various surfaces under different conditions.

Since the first use of DNA evidence in a criminal case in 1986, forensic scientists have considered biological material (such as hair, skin, and bodily fluids) to be relatively reliable physical evidence.

While early technology required a substantial amount of biological material to extract enough DNA to build an individual profile for analysis, researchers have since discovered that they can obtain reliable DNA from more than just bloodstains or visible fluids; they can also obtain it from "touch DNA" that is left behind on surfaces or objects such as doorknobs, window latches, or steering wheels. Although touch DNA can be essential for forensic casework, it also comes with its share of issues, including those related to:

Low quantity of useable DNA.
High variability in the amount of DNA left by touch; that is, high variability in the amount that one person leaves, and high variability in the amount left from person to person.
DNA degradation, including the many factors that can cause DNA to break down over time.

The results from rigorous analysis of these complicated factors have important implications for how touch DNA is collected, analyzed, and interpreted.

In 2018, the Forensic Technology Working Group at NIJ called for "comprehensive, systematic, well controlled studies that provide foundational knowledge and practical data about 'touch evidence' persistence in the real world." That same year, Dr. Meghan Ramsey's group at the Massachusetts Institute of Technology (MIT) Lincoln Laboratory began quantifying how long touch DNA would persist on certain surfaces under specific conditions. Building on that knowledge, and in collaboration with Dr. Ramsey, scientists at South Dakota State University created predictive models of how DNA degrades on different surfaces under a range of environmental conditions.

Testing for Persistence: Dry and Hot Degrades DNA

The researchers addressed two central questions:

How do surface type, environmental condition, and exposure time affect the stability of touch DNA evidence?
Does the stability of touch DNA samples differ from control DNA samples?

< read the complete article and learn the results of the study >




Related Content
This Month's Featured Resource on the Crime Scene Investigator Network Website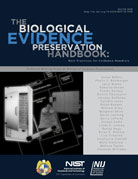 The Biological Evidence Preservation Handbook offers guidance for individuals involved in the collection, examination, tracking, packaging, storing, and disposition of biological evidence. This may include crime scene technicians, law enforcement officers, healthcare professionals, forensic scientists, forensic laboratory managers, evidence supervisors, property managers, storage facility personnel, lawyers, testifying experts, court staff members, and anyone else who may come in contact with biological evidence. While many of the recommendations relate to the physical storage, preservation, and tracking of evidence at the storage facility, this handbook also covers the transfer of the material between the storage facility and other locations and discusses how the evidence should be handled at these other locations.
This report is divided into five main sections that detail issues and make recommendations related to biological evidence storage, tracking, preservation, and disposition. A glossary, which provides standard definitions of the technical terms used in this report, follows these sections.
New CSI and Forensic Job Announcements
The most comprehensive listing of Crime Scene Investigation and Forensic
employment opportunities on the internet! We typically have over 100 current listings!
Crime Scene Technician I
Miami Beach Police Department, Miami Beach, Florida, USA
Final Filing Date: June 19, 2023
Technical police department work in identifying, collection, preserving, processing/documenting physical and related evidence from crime scenes. Work involves responsibility for crime scene documentation, latent fingerprint development and other evidence work.
<View complete job listing>
Forensic Services Technician
St. Petersburg Police Department, St. Petersburg, Florida, USA
Final Filing Date: June 20, 2023
Work involves technical expertise of average to advanced difficulty in criminal identification matters and evaluating crime scenes, including responding to calls for service, searching for latent fingerprint evidence, photographing and/or videotaping, creating diagrams/sketches, and the gathering, identification, preservation, and documentation of all related evidence.
<View complete job listing>
Crime Scene Specialist
Austin Police Department, Austin, Texas, USA
Final Filing Date: June 23, 2023
10 positions available. Responds to crime and accident scenes, evaluates the scene and conducts searches for evidence utilizing disciplines related to crime scene investigation. Measures and/or photographs crime scenes, evidence, etc. Documents, collects, packages, preserves, and processes evidence.
<View complete job listing>
Crime Scene Manager
Forsyth County Sheriff's Office, Cumming, Georgia, USA
Final Filing Date: July 7, 2023
Directs the collection, preservation, examination, intake, storage, and disposition of property and evidence in crime scene investigations; responds to crime scenes; develops latent prints; analyzes, identifies, and classifies fingerprints; compares latent fingerprints of unknown persons or suspects with fingerprint records to verify identity;
<View complete job listing>
---

---
Evidence and Property Specialist I/II
Turlock Police Department, Turlock, California, USA
Final Filing Date: June 26, 2023
Serve as evidence custodian; receive, catalog and store evidence observing all the applicable rules, laws and regulations related to the chain of custody. Dispose of evidence according to established rules, procedures and time schedules.
<View complete job listing>
Latent Print Examiner Aide
San Diego Police Department, San Diego, California, USA
Final Filing Date: July 3, 2023
Latent Print Examiner Aide positions perform routine latent print analysis in the crime laboratory; search latent print evidence through Automated Latent Print Systems (ALPS); prepare and maintain records of examinations; perform administrative duties for the Latent Print unit, to include evidence retrieval,
<View complete job listing>
Criminalist I
New Hampshire State Police, Concord, New Hampshire, USA
Final Filing Date: June 29, 2023
Conducts chemical and physical analyses and comparisons on specimens of physical evidence in the Pattern Evidence (e.g., fingerprints, footwear, impressions, tire tracks) unit in connection with criminal investigations, and testifies as an expert in criminal trials.
<View complete job listing>
Forensic Scientist 1
Minnesota Department of Public Safety, Saint Paul, Minnesota, USA
Final Filing Date: June 21, 2023
THREE FULL-TIME, LIMITED POSITIONS WILL BE FILLED FROM THIS POSTING. This position is located in the Biology Section of the BCA. To participate in validation studies of new technology and methods for use in casework. To complete any training required and become proficient in all job duties.
<View complete job listing>
Other Resources on the Crime Scene Investigator Network Website
Not Subscribed to this Newsletter?
Crime Scene Investigator Network
PO Box 423
Lawrenceburg, TN 38464-0423