Welcome to the June 2022 Crime Scene Investigator Network Newsletter



Accuracy of Area of Origin Analysis
on Textured, Wallpaper Surfaces




Gareth Griffiths, Eugene Liscio, Dean Northfield




Bloodstains at crime scenes can be deposited or projected on many surface types, and the importance of Area of Origin (AO) calculations for impact stains are vital in the sequence of events. In the UK, wallpaper is a common material used to decorate walls. This study looked at the effect different wallpapers had on the calculated Area of Origin (AO) using FARO Zone 3D (FZ3D) software. A variety of wallpaper types were used, such as Foil, Printed, Vinyl, Washable, Woodchip and Anaglypta. These consisted of smooth and rough surface textures while the control was a plain painted wall. For each wallpaper type and control plain wall, six repeated impacts were conducted. An impact rig with a spring tension arm was fixed 45 cm from the X wall and 45 cm from the Y wall, and remained the same throughout the experiment, to resemble an impact blow for a bloodletting event. The location was also known to the analyst. AO error co-ordinates were measured directly in the FZ3D software to the known impact location, and the results were analysed. An overall 30 cm maximum allowable error from the known impact location was chosen since it was expected that textured surfaces would not perform as well. Nonetheless, 30 cm can still distinguish between a person that is low to the ground, kneeling or standing. The mean AO errors for each wallpaper type were Plain wall, 9.77 cm, Anaglypta wallpaper, 18.55 cm, Woodchip wallpaper, 13.99 cm, Washable wallpaper, 9.81 cm, Foil wallpaper, 10.82 cm, Printed wallpaper, 10.77 cm and Vinyl wallpaper, 9.59 cm. The maximum error for any one impact test was 24.81 cm which was within the chosen 30 cm limit. Wallpapers that had highly textured surfaces had the greatest errors. Also, FZ3D is shown to be an acceptable tool when analysing impact bloodstain patterns on different wallpaper types.

INTRODUCTION
In recent years, scientists and law enforcement agencies have been introduced to sophisticated technologies, which assist in bringing criminals to justice or to prevent an innocent individual from being convicted.1 Among the variety of recent additions of technology, experts and jurors see a dramatic change in metrological technologies - the scientific study of measurement. Innovations from forensic science research and development are introducing these new techniques for the purpose of crime solving, and increasing the reliability, efficiency and validation of forensic testing.2 Software packages such as HemoSpat,3 , BackTrack4 and FARO Scene5 have been independently tested, compared and validated through published, peer reviewed scientific articles. In addition, these software packages have been available for many years to allow for the analysis of bloodstains in a digital manner by utilising photographs and measurements to determine the Area of Origin (AO). The AO is defined as the threedimensional area from which impact stains originated. The AO is defined as the threedimensional area from which impact stains originated. The angle at which a blood droplet impacts the surface can be determined by a relationship, first observed by Dr. Victor Balthazard and subsequently formulated by Dr. Conrad Rizer. The angle (θ) is determined by taking the arcsine of the ratio between the width (W) and length (L) of an individual blood droplet, (θ = sin-1 (W/L). Crime scene investigators use this calculation when utilising the traditional stringing method to determine the angle of impact.

NOTE: This article appeared in the JBPA, Volume 35, Number 1 and is licensed for use here by the authors under a Creative Commons Attribution 4.0 International License. The Crime Scene Investigator Network gratefully acknowledges the authors for allowing us to reproduce the article.

Related Content





Forensic Photographer
"Say Cheese"
shirt by
ForensicWear.com
CLEARANCE SALE
25% OFF
AND FREE SHIPPING!
With coupon code
"CLEARANCE" at checkout
Limited to sizes on hand.
Orders are shipped to
USA addresses only.






---















Learn How to Become a
Crime Scene Investigator
or Forensic Scientist
This Month's Special Offer
This Month's Featured Resource on the Crime Scene Investigator Network Website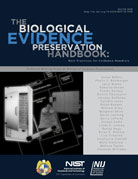 The Biological Evidence Preservation Handbook offers guidance for individuals involved in the collection, examination, tracking, packaging, storing, and disposition of biological evidence. This may include crime scene technicians, law enforcement officers, healthcare professionals, forensic scientists, forensic laboratory managers, evidence supervisors, property managers, storage facility personnel, lawyers, testifying experts, court staff members, and anyone else who may come in contact with biological evidence. While many of the recommendations relate to the physical storage, preservation, and tracking of evidence at the storage facility, this handbook also covers the transfer of the material between the storage facility and other locations and discusses how the evidence should be handled at these other locations.
This report is divided into five main sections that detail issues and make recommendations related to biological evidence storage, tracking, preservation, and disposition. A glossary, which provides standard definitions of the technical terms used in this report, follows these sections.
New CSI and Forensic Job Announcements
The most comprehensive listing of Crime Scene Investigation and Forensic
employment opportunities on the internet! We typically have over 150 current listings!
Forensic Examiner I or II
Rapid City Police Department, Rapid City, South Dakota, USA
Final Filing Date: July 4, 2022
Responds to and documents major crime scenes through photography, detailed notes, drawings, and diagrams. Documents the location of and collects evidence following accepted forensic science principles. This includes packaging and submitting evidence to a secure storage facility.
<View complete job listing>
Forensic Technician
Spokane County Sheriff, Spokane, Washington, USA
Final Filing Date: August 12, 2022
Process and document crime scenes with or without the assistance of additional Forensic staff by taking all necessary photographs and/or video, searching for latent fingerprints, collecting items of evidence and preserving them for further analysis.
<View complete job listing>
Forensic Investigator
Garland Police Department, Garland, Texas, USA
Final Filing Date: Open until filled
Investigate crime scenes by means of collecting, documenting, analyzing, and presenting evidence. Analyze, process, and document crime scenes by use of various techniques including photography, digital video, laser scanning, measurements and diagrams.
<View complete job listing>
Crime Scene Specialist
Kingsville Police Department, Kingsville, Texas, USA
Final Filing Date: Open until filled
Processes crime scenes for evidence and fingerprints. Examines and evaluates evidence and determines techniques and procedures to be used in the development of latent prints on diverse items of physical evidence by using physical, chemical, optical or any combination of techniques appropriate to the substance being examined.
<View complete job listing>
---

---
Latent Print Examiner
Corpus Christi Police Department, Corpus Christi, Texas, USA
Final Filing Date: Open until filled
Conduct high quality biometric examinations in the area of friction ridge analyst; including comparison of latent fingerprint, palm prints, and footprints using ACE-V (Analyze, compare, evaluate - verify) methodology for the purpose of identifying criminals, non-criminals and questions of identity.
<View complete job listing>
Property & Evidence Specialist
Sunny Isles Beach Police Department, Sunny Isles Beach, Florida, USA
Final Filing Date: June 30, 2022
Accepts and logs all property and evidence. Takes inventory of evidence; inventories property in accordance with department policy. Stores evidence. Inventories equipment and supplies in Police Department. Transports evidence to Dade County, i.e., drugs or lab items such as fingerprints.
<View complete job listing>
Evidence Technician
Douglas County Sheriff, Minden, Nevada, USA
Final Filing Date: July 4, 2022
Receive and handle crime scene evidence; organizes and stores items maintaining chain of custody. Processes evidence in laboratory; performs fingerprinting, examination and comparison of fingerprints, presumptive drug testing, and photography/videography. Processes crime and death scenes; performs fingerprinting, evidence collection, photography/videography, and report writing.
<View complete job listing>
Deputy Coroner I/II
Sacramento County Coroner, Sacramento, California, USA
Final Filing Date: August 26, 2022
Conducts investigations to determine the jurisdiction, circumstances, manner and cause of deaths which occur within the jurisdiction of the Sacramento County's Coroner's Office.
<View complete job listing>
Other Resources on the Crime Scene Investigator Network Website
Not Subscribed to this Newsletter?
Crime Scene Investigator Network
PO Box 1043
Wildomar, CA 92595-1043