Fingerprints — A True Science?





As most in the fingerprint community are aware, the very foundation of fingerprint identification was challenged in 1999 in United States v. Byron C. Mitchell, Criminal No. 96-00407. It was alleged that the defendant Mitchell's fingerprint was found on the getaway car used in an armored car robbery. This case was significant in that it was the first challenge as to the validity of fingerprint identification in light of the standards for expert testimony as set forth in the 1993 United States Supreme Court decision in Daubert v. Merrill Dow Pharmaceuticals, 509 U. S. 579, 588 (1993) in which the court discussed four basic factors in regard to scientific testimony: (1) Testing (2) Peer review (3) Error rates and (4) Acceptability in the relevant scientific community. Trial judges were also given the responsibility of being gatekeepers to bar junk science from entering the courtroom.

This case resulted in a "Daubert Hearing" to determine the validity of the defendant's claim that there was no scientific basis for the assertion of individuality in the matching of fingerprints and that therefore the fingerprint identification from the getaway car was scientifically invalid. The government presented a number of fingerprint experts and scientists to argue for the scientific validity of fingerprints. On September 13, 1999, after hearing from both the Government and defense witnesses, the Honorable J. Curtis Joyner of the United States District Court for the Eastern District of Pennsylvania upheld the admissibility of fingerprint evidence and rejected the challenge by the defense attorney to exclude that evidence.

Most importantly, the court took judicial notice of two factors:

Human friction ridges are unique and permanent throughout the area of friction ridge skin including small ridge areas.


Human friction ridge skin arrangements are unique and permanent.

The court did not take judicial notice of the third requested factor: Individualization, that is, a positive identification can result from comparisons of friction ridge skin or impressions containing a sufficient quality (clarity) and quantity of unique friction ridge detail. The court ruled that this is an issue for the jury to decide. The fingerprint science is valid, but that does not preclude the defense from presenting expert testimony challenging a particular identification—which is the way it has always been.

The Daubert court cited Federal Rules of Evidence 702 which permits scientific testimony by witnesses who are qualified by knowledge, skill, experience, training or education. It also requires evaluation of the expert's qualifications, the scientific validity of the expert's field of knowledge and the conformation of the expert's testimony to the specific issue in the trial before testimony is allowed.

Consequently, issues such as error rate, knowledge of accepted methodology, and use of accepted methodology are important to being able to present testimony as an expert.

The science of fingerprints meets the standards set forth in Daubert:

Testing. The reliability of fingerprint analysis can and has been tested over an extended period of time. There has never been an instance in which two different individuals have been found to possess the same fingerprint.


Error Rates. There is much ongoing debate about this issue and probably will be for some time to come. I maintain that there is no error rate for the methodology of fingerprint analysis, however there is practitioner error. There are erroneous identifications, but those are not the fault of the science of fingerprints. The analogy most often given is, No science is more precise than mathematics, however that does not prevent the practitioner of math from saying that two plus two equals five. That is not the fault of mathematics, but the fault of the mathematician. The same thought applies to the science of fingerprints.


Peer Review. Few forensic disciplines have been subjected to more published material than fingerprints and these publications are open to peer review by others in the scientific community.


Acceptability in the Relevant Scientific Community. The reliability of fingerprint analysis has been accepted in the scientific community for almost a hundred years.

To present latent print testimony in court, a witness must qualify as an expert on the basis of knowledge (fingerprint science and related matters), skill (comparing friction ridge prints), expertise (in fingerprints and related work), training (how to do the job and it related matters), or education (formal courses in the fingerprint science and sciences in general). The witness must also be able demonstrate to the court that ...

The information presented in this article is from the book Courtroom Testimony for the Fingerprint Expert, 2nd Edition © 2007 by Gary W. Jones

CLEARANCE SALE
25% OFF
AND FREE SHIPPING!





Shirts by
ForensicWear.com

CLEARANCE SALE
25% OFF
AND FREE SHIPPING!

With coupon code
"CLEARANCE" at checkout
Limited to styles and sizes on hand.
Orders are shipped to
USA addresses only.




---








---





Learn How to Become a
Crime Scene Investigator
or Forensic Scientist
This Month's Featured Resource on the Crime Scene Investigator Network Website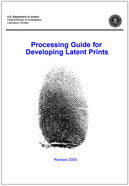 The beginning of this manual is a list of processes and procedures for different surface types. Also included are processing sequences that specifically involve prints that are left in blood. Following these lists are details for each process that is currently implemented in the Latent Print Unit (LPU) of the Federal Bureau of Investigation (FBI) Laboratory.
Featured Video Presentation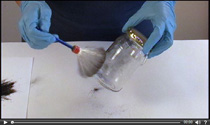 On our Video Presentations page:
Learn the basic technique for processing latent fingerprints by dusting with black powder.
New CSI and Forensic Job Announcements
The most comprehensive listing of Crime Scene Investigation and Forensic
employment opportunities on the internet! We typically have over 150 current listings!
Crime Scene Specialist
Travis County Sheriff, Austin, Texas, USA
Final Filing Date: April 23, 2021
Responds to crime scenes, identifies and documents evidence, and collects and processes physical evidence. Photographs and sketches of physical evidence at the scene of the crime. Transports and stores evidence.
<View complete job listing>
Crime Scene Investigator
Huntington Beach Police Department, Huntington Beach, California, USA
Final Filing Date: April 30, 2021
Conducts investigations on crime scenes, deaths, serious traffic accidents, industrial accidents and other crimes; documents and gathers evidence; and examines evidence in both field and laboratory for latent fingerprints using print powders, chemicals and laser techniques.
<View complete job listing>
Property/Evidence Technician
South Lake Tahoe Police Department, South Lake Tahoe, California, USA
Final Filing Date: May 17, 2021
Perform a wide variety of duties including performing crime scene investigations, evaluating and processing evidence, examining latent fingerprints, and maintaining the property room.
<View complete job listing>
Property & Evidence Specialist
Doral Police Department, Doral, Florida, USA
Final Filing Date: April 22, 2021
Responsible for the receipt, storage, issuance and safeguarding of a variety of property and evidence confiscated through law enforcement activities. Work involves the keeping of detailed records for all property and evidence issued and received.
<View complete job listing>
---

---
Associate Forensic Scientist
Arizona Department of Public Safety, Phoenix, Arizona, USA
Final Filing Date: April 25, 2021
Receives extensive training in relevant forensic science areas in order to become proficient in crime laboratory procedures. Utilizes chemical, microscopic, chromatographic and comparative techniques and instrumentation to examine, identify and evaluate physical evidence which may include: controlled dangerous substances; blood, urine and other biological specimens; firearms; questioned documents; latent prints; trace evidence; and other items of evidentiary value.
<View complete job listing>
Toxicologist 1
Institute of Forensic Sciences, Houston, Texas, USA
Final Filing Date: May 1, 2021
The Toxicologist 1 is an early-career forensic toxicologist, expected to operate analytical instrumentation, critically assess analytical data, report test findings, and render expert opinions and testimony in court concerning tests performed in the laboratory.
<View complete job listing>
Crime Lab Technician I
Baltimore Police Department, Baltimore, Maryland, USA
Final Filing Date: May 25, 2021
A Crime Laboratory Technician I learns to perform specialized crime laboratory work such as evidence detection, criminalistics, firearms, latent print examination or crime laboratory and crime scene photography.
<View complete job listing>
Forensic Investigator I or II
Cobb County Medical Examiner, Marietta, Georgia, USA
Final Filing Date: April 20, 2021
Secures death scenes: examines body and scene for clues and evidence to determine cause of death; takes photographs; collects, evaluates, and preserves evidence, including biological samples; maintains control and chain-of-custody over physical evidence gathered; ensures proper handling, packing, and transport of evidence; and coordinates transportation of body to morgue or funeral home.
<View complete job listing>
Other Resources on the Crime Scene Investigator Network Website
Not Subscribed to this Newsletter?
Crime Scene Investigator Network
PO Box 1043
Wildomar, CA 92595-1043