This month's newsletter is brought to you by the University of Florida
Organic Gunshot Residue Analysis
for Potential Shooter Determination
National Institute of Justice
Office of Investigative and Forensic Sciences
Firearms produce a range of residues upon discharge, including chemicals from the primer, explosive, oxidizers, reducing agents, sensitizers, fuels, and binders (Romolo & Margot, 2001). Collectively, these materials are often referred to as gunshot residue (GSR). In current forensic practice, GSR refers specifically to particulate residues that are formed from compounds found in the primer, including metal oxides. The term "primer discharge residue" is sometimes used to make this distinction clear. The propellant is ignited by the primer. The propellant burns and generates the gas that forces the bullet out; it is the source of the organic gunshot residue (OGSR). Both GSR and OGSR are deposited on the hands of the shooter. Particles can also be transferred to clothing or others nearby — a process referred to as secondary transfer. Because of the possibility of secondary transfer and environmental interferences, it can be challenging to interpret analytical results, be they positive or negative. The analysis of OGSR could add to the evidentiary value of GSR evidence by providing additional information from a source of evidence not prone to secondary transfer.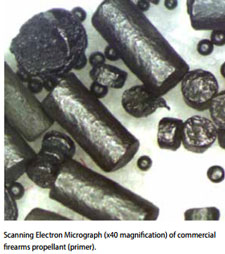 Current laboratory-based forensic analytical methods that target residue from firearms discharge focus almost exclusively on primer residues. Typical primer chemical composition includes lead styphnate (initiator), antimony sulfide (fuel), and barium nitrate (oxidizer), which combine in a violent chemical reaction that ignites the gunpowder in a cartridge. The primer materials vaporize and re-condense to form tiny particulates that contain lead, antimony, and barium, and these particulates can be collected using metal stubs coated with carbon tape.
The presence of GSR on a stub is determined using a combination of scanning electron microscopy (SEM) coupled to x-ray spectroscopy, usually energy dispersive x-ray spectroscopy (EDS). The SEM is used to locate particulates that are within the right size range and that have a smooth, rounded morphology. The chemical composition is evaluated using EDS, which identifies particles containing the three metals of interest. This method is described in the American Society for Testing and Materials (ASTM) E1588 Standard Guide for Gunshot Residue Analysis by Scanning Electron Microscopy/ Energy Dispersive X-ray Spectrometry. The combination of SEM/EDS for characterization of GSR has been accepted for many years in forensic science.
< read the complete article and view example photographs >
Related Content
This Month's Special Offer
This Month's Featured Resource on the Crime Scene Investigator Network Website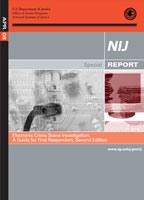 This guide is intended to assist State and local law enforcement and other first responders who may be responsible for preserving an electronic crime scene and for recognizing, collecting, and safeguarding digital evidence. It is not all inclusive but addresses situations encountered with electronic crime scenes and digital evidence. All crime scenes are unique and the judgment of the first responder, agency protocols, and prevailing technology should all be considered when implementing the information in this guide. First responders to electronic crime scenes should adjust their practices as circumstances—including level of experience, conditions, and available equipment—warrant.
New CSI and Forensic Job Announcements
The most comprehensive listing of Crime Scene Investigation and Forensic
employment opportunities on the internet! We typically have over 100 current listings!
Crime Scene Investigator I/II
Fairfield Police Department, Fairfield, California, USA
Final Filing Date: February 24, 2023
To perform a variety of responsible and technical law enforcement work that does not require peace officer powers including crime scene photography, videotaping, scene sketching and measurements. To identify, collect, analyze, record, process, and preserve physical evidence, develop and compare latent fingerprints, and collaborate with outside agencies.
<View complete job listing>
Crime Scene Technician
North Port Police Department, North Port, Florida, USA
Final Filing Date: February 24, 2023
This is technical field and office work involving all aspects of crime scene investigations. The Crime Scene Investigator (CSI) shall be responsible for processing the crime scene and properly collecting, documenting and preserving evidence. Work is performed under the general direction of the Forensic Supervisor.
<View complete job listing>
Crime Scene Technician
Wichita Falls Police Department, Wichita Falls, Texas, USA
Final Filing Date: February 28, 2023
Responding to crime scenes and documenting scenes through videography, photography, diagram and measurements, collecting and packaging evidence, collecting and comparing fingerprints, maintaining digital images, examining items for trace evidence, and photographing and fingerprinting victims, suspects, and new employees.
<View complete job listing>
Crime Scene Specialist
Travis County Sheriff, Austin, Texas, USA
Final Filing Date: February 28, 2023
Performs technical and scene processing support for countywide crime scenes by photographing and documenting physical evidence, processing evidence, collecting physical evidence, such as fingerprints, shoe impressions, and trace evidence to satisfy legal and scientific requirements. Prepares reports of findings, testifies in a court at law ...
<View complete job listing>
---

---
Firearms Examiner
Durham Police Department, Durham, North Carolina, USA
Final Filing Date: February 24, 2023
Performance of casework on firearms evidence seized by law enforcement officers in the course of their investigations. Evaluation of a firearm to determine functionality, safety, and alterations. Test-firing all kinds of firearms. Examination of fired ammunition components to determine caliber, suitability for comparison and other pertinent details.
<View complete job listing>
Forensic Scientist I, II, III - Chemist
Fort Worth Police Department, Fort Worth, Texas, USA
Final Filing Date: February 27, 2023
Collects, preserves and maintains integrity of evidence in the laboratory; examines evidence; accurately documents description and condition of items; maintains chain of custody for evidence. Performs a series of complex analytical examinations utilizing chemistry, Performs chemical and physical analyses and/or microscopic examinations ...
<View complete job listing>
Latent Print Examiner
Pima County Sheriff, Tucson, Arizona, USA
Final Filing Date: February 24, 2023
Collect, preserve, examine and compare latent print evidence with known inked prints to establish positive identification of persons. Perform computer-assisted inked print to inked print and latent print to inked print comparisons, identifications and verifications and enter related demographic data into the Arizona Automated Fingerprint Identification System.
<View complete job listing>
Evidence Specialist
O'Fallon Police Department, O'Fallon Missouri, USA
Final Filing Date: February 28, 2023
Receives and prepares evidence and property seized by officers for storage and transport to lab for analysis. Maintains long-term storage of evidence. Enters evidence data to computerized database. Places bar codes on packages. Maintains chain of custody by signing evidence in and out. Documents the results of laboratory analysis. Disposes of evidence ...
<View complete job listing>
Other Resources on the Crime Scene Investigator Network Website
Not Subscribed to this Newsletter?
Crime Scene Investigator Network
PO Box 423
Lawrenceburg, TN 38464-0423