Just like crime scene photos there is a need for "walk-up" or introductory photographs.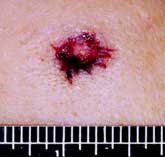 Just as a photograph of a car will have less value if there isn't a view to show where it came to rest after a crash, a close-up of a gunshot wound will have less value if we don't know where on the body surface it was located.
So we must take one or more photographs to show where each wound was located, and what each of them looked like. In short, make sure that the close-ups of the various wound can be easily identified and distinguished from one another unless there is an obvious landmark in the field of view, such as an ear or an eye.
If there's only one entry wound, or just an entry and an exit, then it's relatively Simple, but if there are multiple entrance and exit wounds you will probably need to take a series of photographs, such as: (a) the front of the body (b) the back of the body (c) one or two sides if there are any wounds in these locations (d) enough closer views to show the overall characteristics of individual wounds (e) close-ups of each wound, including one with a scale of size.
If there are numerous wounds, for instance 20-30 small caliber wounds that look much alike, it may be necessary to assign each a number and identify each wound with a fine marking pen or small adhesive label.
Scales of size are important.
The reason we often have to take one with and one without a scale is that if you put one in an attorney may claim that it covered something important, and if you don't put one in he may object because it wasn't there.
You don't necessarily have to take each wound in close-up with and without a scale so long as you have at least one fairly close-up photograph to show that nothing was covered by the scale when you did use it. The possible presence of soot and gunpowder are the main reason for this, but there are others.
It's up to you to decide if you want to use a scale marked in inches or centimeters. Either will work however the problem is that the average juror does not think in centimeters, only in inches. If you don't believe me, simply testify the a wound was located 80 cm below the top of the head, and you will see blank looks. If you say it was 31 ~ inches below the top of the head they will understand.
I know of one case in which a wound of the chest was described by a pathologist as being 5.0 x 5.5 cm in dimension, and nobody noticed until trial that the shotgun slug which caused it only had a diameter of 3/4 inch.
The metric system is great, and the sooner we adopt it the better, however the fact remains that most jurors in the US do not think in terms of centimeters, kilometers, joules, milliliters and ergs.
A dab of Vaseline or thick ointment will often hold a scale in position on the body surface while a photograph is taken.
In most cases it's highly desirable to document the body surface as completely as you can.
I'm not advocating a detailed view of each ear canal and the anus to show the absence of wounds in obscure locations, but it is most desirable to fully document the surface of the body including the back and sides to show the absence of wounds, particularly in high profile cases. Suppose for instance that a teenager of one racial group is shot by a police officer of another racial group, and that the usual racial allegations and slurs arise. If the bullet came to rest under the skin of the back and was recovered by making a 3/4 inch cut in the skin, than if the body is examined for a second time and the clothing is lost, there will be claims of a wound in the back and a cover-up. In such cases having several photographs to show that there was no wound of any kind in the back is simply invaluable.
When the average bullet travels into the body it generally follows a path that is close to being a straight line or Slightly curving.
The point is that, in most cases, the direction of the bullet within the body is easily recorded by inserting a stainless steel probe (or failing this a disposable dowel rod) in the wound track and photographing the angle in all three axes, front/back, right/left and up/down. In the event a bullet enters, strikes something such as bone and then deviates, the probe should be adjusted to best show the angle at which the bullet entered. Then a note should be added that it deviated before it exited. It would be worth recording the angles at which it exited if it did anything noteworthy after leaving the body.