This month's newsletter is brought to you by the 2019 CSI Winter Academy



Developing Methods to Improve the Quality and Efficiency of Latent Fingermark Development by Superglue Fuming





ABSTRACT:

The completed research program was designed to provide fundamental information that can be used to improve the superglue fuming method of developing latent fingermarks, by optimizing the acquisition of developed latent fingermarks and enhancing the quality of aged fingermarks. This has been realized by, first, using our expertise in polymer chemistry to explain the role of temperature on the superglue fuming of aged fingermarks and developing protocols to implement temperature control in a forensic laboratory. Our results show that fuming at lower temperatures improves the rate of polymerization that occurs during superglue fuming and thus, provides an easy and cost-effective method to improve the quality of aged prints developed by superglue fuming. More precisely the results of this project indicate that the optimum temperature of fuming is between 10 and 15 degrees C. Furthermore, any protocols that are devised to control the temperature of fuming must take into account the presence of the warm superglue fumes. The decrease in temperature also appears to improve the quality of aged latent prints.

Previous results also suggest that rehydration of an aged fingermark is critical to its successful development by superglue fuming, and thus we have investigated aggressive rehydration methods of aged latent fingermarks as a method to improve the quality of aged prints. Unfortunately, simply rehydrating fresh or aged prints by exposure to room temperature or boiling water vapor is not a sufficient method for improving print quality. In fact, exposure to boiling water vapor harms prints, presumably by removing initiators by dissolving them into the steam and releasing them from the print before fuming. Finally, we have completed Fourier Transform Infrared spectroscopy (FT-IR) experiments to monitor the molecular level changes during the polymerization of ethyl cyanoacrylate and the hardening process that occurs after polymerization, to provide guidelines that can be used to improve the turn-around time of obtaining a print that can be recorded and compared to a database. Thus, we have completed a series of experiments that provide fundamental information that forensic scientists in the field can use to create protocols to improve the effectiveness and optimize the process of the superglue fuming method to develop, visualize and analyze latent fingermarks.

Related articles
This Month's Featured Resource on the Crime Scene Investigator Network Website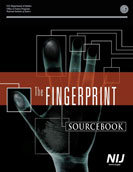 The idea of The Fingerprint Sourcebook originated during a meeting in April 2002. Individuals representing the fingerprint, academic, and scientific communities met in Chicago, Illinois, for a day and a half to discuss the state of fingerprint identification with a view toward the challenges raised by Daubert issues. The meeting was a joint project between the International Association for Identification and West Virginia University. One recommendation that came out of that meeting was a suggestion to create a sourcebook for friction ridge examiners, that is, a single source of researched information regarding the subject. This sourcebook would provide educational, training, and research information for the international scientific community.
<View the Publication>
Featured Video Presentation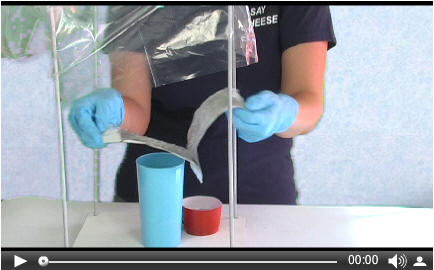 On our Video Presentations page:
Learn the basic technique for processing latent fingerprints with super glue.
New CSI and Forensic Job Announcements
The most comprehensive listing of Crime Scene Investigation and Forensic
employment opportunities on the internet! We typically have over 100 current listings!
Forensic Specialist I
Irvine Police Department, Irvine, California, USA
Final Filing Date: November 30, 2018
Locates, identifies, collects, protects, preserves and analyzes materials and substances as evidence at crime scenes and other locations using a variety of specialized equipment and techniques. Develops and lifts latent prints; prepares and enters latent prints into CAL-ID computer system; compares latent prints. Collects and classifies other types of impression evidence.
<View complete job listing>
Crime Scene Investigator I
Orange County Sheriff's Office, Orlando, Florida, USA
Final Filing Date: Open until filled
Responds to and processes various crime scenes by searching for, documenting the location of, collecting, preserving, analyzing, packaging, and preparing for presentation in court, evidence such as: paint, glass, printed matter, paper, ink, fabric, dust, dirt, combustible gases, hair, skin, blood, bones, human organs, human tissue, semen, urine, feces, saliva, vaginal secretions, narcotics, firearms and related materials, fingerprints, shoe/tire tracks, and currency.
<View complete job listing>
Crime Lab Forensic Technician - Biology Unit
Metro Nashville Police Department, Nashville, Tennessee, USA
Final Filing Date: November 26, 2018
Performs chemical and immunological tests on physical evidence. Interprets and evaluates serological test results. Collects DNA samples for training and the validation of laboratory equipment and procedures.
<View complete job listing>
---

---
Forensic Systems Analyst I/II
Yolo County District Attorney, Woodland, California, USA
Final Filing Date: November 30, 2018
Performs forensic examinations digital media such as hard drives, cell phones, videos, memory cards, and other electronic data storage media using the most current versions of a number of validated forensic software programs; performs data recovery tasks when files are damaged, fragmented, erased, hidden, etc. and from modified storage devices. Conducts field investigations at crime scenes to search for, collect, and preserve evidence for laboratory analysis; reconstructs situations utilizing physical and digital evidence.
<View complete job listing>
Fingerprint Technician
Arizona Department of Public Safety, Phoenix, Arizona, USA
Final Filing Date: November 25, 2018
Responsible for a variety of fingerprint duties, including the acquisition, classification, searching, comparison, identification and filing of fingerprints, either manually or via Arizona Automated Fingerprint Identification System (AZAFIS) processes; takes fingerprint impressions.
<View complete job listing>
Evidence Technician I
Illinois State Police, Belleville, Illinois, USA
Final Filing Date: November 29, 2018
Performs all the evidence handling processes associated with evidence as received or transferred by the State Police, which includes receiving, storing, distributing, collecting, and returning physical evidence to law enforcement agencies or assisting in the disposal of evidence. Chain of custody records are maintained, testimony may be provided in court concerning the chain of custody.
<View complete job listing>
Other Resources on the Crime Scene Investigator Network Website
Not Subscribed to this Newsletter?
To unsubscribe from future e-mail newsletters, please click here: UNSUBSCRIBE
or email newsletter@crime-scene-investigator.net with your request to unsubscribe.
---
Copyright ©2018 Crime Scene Resources, Inc.
Crime Scene Investigator Network
PO Box 1043
Wildomar, CA 92595-1043