Welcome to the September 2023 Crime Scene Investigator Network Newsletter



Visualizing Bloodstain Patterns on Dark or
Multi-colored, Multi-designed Clothing using
Luminol and Adobe Photoshop© Layers




Bloodstains on clothing or its absence is important evidence in any forensic investigation. The patterns can provide valuable information to a bloodstain pattern analyst. Once blood is located it needs to be documented utilizing notes and photography. Documentation can be difficult when bloodstains have been deposited on dark or multicolored fabric. Additional problems exist with fabrics that have been stained by liquids other than blood. The use of Photoshop© to create composites is an excellent way to assist with note taking and documentation of bloodstains on clothing or any other object. Exhibits can also be created to assist with trial testimony.

This documentation process can be achieved by the use of luminol photography and then creating a composite photograph in Photoshop©. The steps outlined are aimed at an analyst with previous Photoshop© skills. Photoshop© CS4 was the version used for the examples presented in this paper.

Example A: Back Side of Trousers Stained with Paint and Blood

Figure 1. Image 1 of trousers with proper lighting prior to the application of luminol.

Figure 2. Image 2 of trousers with luminol applied.



Figure 3. The composite of images 1 and 2 of the trousers.




< read the complete article and view more example photographs >




Article from the International Association of Bloodstain Pattern Analysts (IABPA) Journal of Bloodstain Pattern Analysis, Vol. 27, No.1.

Related Content
This Month's Featured Resource on the Crime Scene Investigator Network Website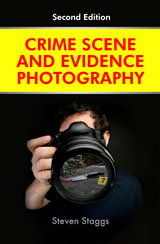 This book is currently out of print but the author/publisher is making the book available at no charge via download.
Crime Scene and Evidence Photography, 2nd Edition is designed for those responsible for photography at the crime scene and in the laboratory. It may be used by law enforcement officers, investigators, crime scene technicians, and forensic scientists. It contains instructions for photographing a variety of crime scenes and various types of evidence. It is a valuable reference tool when combined with training and experience. Crime Scene and Evidence Photography is also a helpful resource for students and others interested in entering into the field of crime scene investigation. This book has been used as a textbook by a number of Colleges and Universities in their forensic photography courses.
Featured Video Presentation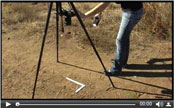 On our Video Presentations page:
Learn the basic technique for photographing footwear impressions.
New CSI and Forensic Job Announcements
The most comprehensive listing of Crime Scene Investigation and Forensic
employment opportunities on the internet! We typically have over 100 current listings!
Crime Scene Investigator
Palm Beach County Sheriff Office, West Palm Beach, Florida, USA
Final Filing Date: September 29, 2023
Responsible for the documentation, search, and collection of evidence at crime scenes that may include preparing sketches and diagrams, taking measurements and photographs, powder/chemical processing for detection/collection of latent prints, and the collection of potential DNA.
<View complete job listing>
Forensic Specialist
Wichita Falls Police Department, Wichita Falls, Texas, USA
Final Filing Date: September 29, 2023
Responds to crime scenes by documenting scenes through photos, videos and diagrams, measuring, processing evidence for fingerprints, examining items for trace evidence, packaging and transporting evidence, collecting shoe and tire impressions, completing gunshot residue tests on suspects, performing presumptive tests for semen and blood,
<View complete job listing>
Forensic Specialist
Spokane County Sheriff, Spokane, Washington, USA
Final Filing Date: Open until filled
Process and document crime scenes with or without the assistance of additional Forensic staff by taking all necessary photographs and/or video, searching for latent fingerprints, collecting items of evidence and preserving them for further analysis. Perform friction ridge examinations and run searches in the Automated Biometric Identification System (ABIS).
<View complete job listing>
Evidence and Property Technician
Galt Police Department, Galt, California, USA
Final Filing Date: September 27, 2023
Receives property and evidence, documents the receipt; maintains the physical integrity and control and the chain of custody, and physically stores property and evidence in the designated property and evidence room.
<View complete job listing>
---

---
Digital Forensics Analyst
Denton Police Department, Denton, Texas, USA
Final Filing Date: September 25, 2023
Responsible for utilizing a variety of advanced technical and scientific skills to forensically analyze digital evidence including digital/data storage devices such as smart phones, computers, tablets, digital storage media/devices, software/applications, and audio and video evidence in support of investigations.
<View complete job listing>
Forensic Science Technician (Fingerprint Technician)
Saint Louis Police Department, Saint Louis, Missouri, USA
Final Filing Date: July 28, 2023
Duties include fingerprinting conscious, unconscious and deceased subjects to establish identity; photographing subjects; transmitting fingerprints to other law enforcement agencies; chemically processing and logging items for evidence and attending pre-trial conferences and testifying in court as to prisoner identifications and evidence processing results.
<View complete job listing>
Forensic Scientist (Forensic Chemistry)
Department of Forensic Sciences, Washington DC, USA
Final Filing Date: October 1, 2023
The position is responsible for conducting forensic chemistry analytical work, to include controlled dangerous substance analysis as well as surveillance testing. The work includes data analysis and interpretation of the complex composition of molecules, physical and chemical properties molecular structure and chemical reactions.
<View complete job listing>
Forensic Services Supervisor
Gilbert Police Department, Gilbert, Arizona, USA
Final Filing Date: October 8, 2023
Overseeing a team of highly skilled Forensic Scientists and Crime Scene Specialists, guiding them through complex investigations, and ensuring every piece of evidence is meticulously examined and processed.
<View complete job listing>
Other Resources on the Crime Scene Investigator Network Website
Not Subscribed to this Newsletter?
Crime Scene Investigator Network
PO Box 423
Lawrenceburg, TN 38464-0423