Latent Fingerprints of Insufficient Value
Can be Used as an Investigative Lead




Attias D, Hefetz I, Ben-Shimon E

Abstract

The evidential and investigative value of a latent fingerprint with insufficient characteristics to identify can sometimes be an issue of debate. In this report the authors present the case of a latent fingerprint bearing details in agreement with no visible discrepancies, but with insufficient information to identify. This raises well-examined issues of decision making. In this case each expert in the laboratory who examined the latent fingerprint independently was not able to identify the suspect, who was on the list of candidates presented by the AFIS, even though there was information about a matching DNA profile. The authors suggest that in cases of latent fingerprints where there is insufficient minutiae for individualization, the fingerprints may be still be used as a searching tool and investigative aid for potential suspects. Latent fingerprints in these cases will not serve as evidence, but they can be a potentially useful tool for investigation purposes and intelligence units.

Background

In March 2012 a group of young teenagers began a violent fight by using knives and guns. One of them was badly injured and the others escaped. Police arrived at the scene and collected evidence such as a knife, a cigarette box and several beer bottles. By using cyanoacrylate fuming three latent fingerprints were developed on the cigarette box. This case of attempted murder was placed on a fingerprint examiner's desk. Analysis of the latent fingerprints led the examiner to evaluate two latent fingerprints as having value for identification and one as insufficient. From a list of fifteen candidates displayed by the Automated Fingerprint Identification System (AFIS), one person was notated as a potential source. The examiner processed comparative fingerprints and enlarged both the fingerprint image from the crime scene and the corresponding image of the AFIS record to size of 20X30 cm, but he could not reach a conclusion due to an insufficient number of details; only 6-7 minutiae with no contradiction were found, as presented in Figure 1.

The fingerprints were shown to an expert for his examination, but he as well could not reach a conclusion. Two other experts, independently, were asked to examine the print and the record. After marking several minutiae but not enough to positively identify the suspect, the three experts could not reach to a conclusion.

Given the contextual information in this case in the form of a combination of other evidence, what should the fingerprint experts do? Should they declare a "hit"?

This article appears in the Journal of Forensic Science & Criminology, Volume, Issue 3. Copyright: © 2015 Attias D. This is an open-access article distributed under the terms of the Creative Commons Attribution License, which permits unrestricted use, distribution, and reproduction in any medium, provided the original author and source are credited.

Related Content

Do You Have What It Takes to be a Forensic Fingerprint Examiner?, National Institute of Standards and Technology
Cognitive and Contextual Influences in Determination of Latent Fingerprint Suitability for Identification Judgments, Peter Fraser-Mackenzie, Itiel Dror, and Kasey Wertheim
Error Rates for Latent Fingerprinting as a Function of Visual Complexity and Cognitive Difficulty, Jennifer Mnookin, Philip J. Kellman, Itiel Dror,Gennady Erlikhman, Patrick Garrigan, Tandra Ghose, Everett Metler, Dave Charlton




---


CLEARANCE SALE
25% OFF
AND FREE SHIPPING!





Shirts by
ForensicWear.com

CLEARANCE SALE
25% OFF
AND FREE SHIPPING!

With coupon code
"CLEARANCE" at checkout
Limited to styles and sizes on hand.
Orders are shipped to
USA addresses only.



This Month's Featured Resource on the Crime Scene Investigator Network Website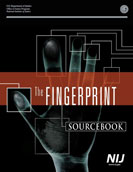 The idea of The Fingerprint Sourcebook originated during a meeting at which individuals representing the fingerprint, academic, and scientific communities met in Chicago, Illinois, for a day and a half to discuss the state of fingerprint identification with a view toward the challenges raised by Daubert issues. The meeting was a joint project between the International Association for Identification and West Virginia University. One recommendation that came out of that meeting was a suggestion to create a sourcebook for friction ridge examiners, that is, a single source of researched information regarding the subject. This sourcebook would provide educational, training, and research information for the international scientific community.
<View the Publication>
New CSI and Forensic Job Announcements
The most comprehensive listing of Crime Scene Investigation and Forensic
employment opportunities on the internet! We typically have over 100 current listings!
Crime Scene Investigator I
Aurora Police Department, Aurora, Colorado, USA
Final Filing Date: September 2, 2020
Investigates crime scenes to recover any potential evidence. Locates, identifies, classifies collects and preserves crime scene evidence. Prepares detailed reports on investigations. Photographs and videotapes crime scenes and evidence. Assists coroner at death scenes. Attends autopsies to collect evidence and photograph examinations. Measures evidence at crime scenes using a variety of manual, electronic and computerized measuring devices (FARO scanner) and creates scaled drawings/diagrams.
<View complete job listing>
Crime Scene Investigator
Grand Prairie Police Department, Grand Prairie, Texas, USA
Final Filing Date: September 20, 2020
Responds to crime scenes, gathers and processes physical evidence, photographs and sketches crime scene, directs other personnel at the scene, communicates extensively with uniformed and investigative officers to determine nature and extent of crime and shares information with investigators. Assures that evidence is collected and stored legally and safely. Writes comprehensive and technically correct reports regarding the processes used, evidence discovered and importance of the evidence to the investigation.
<View complete job listing>
Crime Scene Technician
Hemet Police Department, Hemet, California, USA
Final Filing Date: September 11, 2020
Identifies, collects, documents, and preserves physical evidence from crime scenes; this includes lifting latent fingerprints using a variety of methods; documents crime scenes and accident locations by conventional, digital and video photography and sketching; and documents and collects impressions of shoe prints, tire tracks and other objects at crime scenes.
<View complete job listing>
Crime Scene Evidence Property Technician
La Vergne Police Department, La Vergne, Tennessee, USA
Final Filing Date: September 7, 2020
Respond to crime scenes when directed or requested to conduct detailed inspections for the presence of evidence and properly process all evidence, such as latent prints, footwear and tire impressions, firearms evidence, blood and other physiological fluids, DNA evidence, controlled substances, trace evidence such as hair, fibers and gunshot residue. Photograph crime scenes, victims, autopsies, traffic crashes, property damage, stolen property, arson scenes, measure and map crime scenes and traffic crash scenes, and complete detailed logs and reports.
<View complete job listing>
---

---
Police Forensic Scientist - Latent Prints (I, II, or III)
Scottsdale Police Department, Scottsdale, Arizona, USA
Final Filing Date: September 7, 2020
Analysis, comparison, and evaluation of complex latent print evidence and the examination, development, and preservation of latent prints on submitted evidence. Duties will also include writing detailed reports and testifying to the methods used and the conclusions reached and conducting the evaluation and quality review of analytical results and reports. On rare occasions, may provide technical assistance and expertise at major crime scenes.
<View complete job listing>
Forensic Scientist I
Massachusetts State Police, Maynard, Massachusetts, USA
Final Filing Date: This requisition will remain open until filled; however, first consideration will be given to those applicants that apply by August 28, 2020.
Complete comprehensive training in current methods and techniques used to conduct chemical and biological laboratory or on-site tests including, but not limited to, analyzing biological specimens and organic and inorganic substances; preparing solutions to be used in testing; and operating laboratory equipment.
<View complete job listing>
DNA Laboratory Technician
Institute of Forensic Sciences, Houston, Texas, USA
Final Filing Date: September 9, 2020
Provides laboratory support to analysts in a forensic DNA laboratory setting. Performs routine housekeeping duties such as the cleaning of laboratory areas, equipment, and tools. Organizes laboratory working and storage areas. Maintains laboratory cleanliness. Prepares laboratory reagents and supplies in accordance with laboratory policy. Monitors supply inventory and order supplies as needed. Monitors and update temperature logs of various instruments. Removes bio-hazardous waste to appropriate storage location. Prepares blood and tissue samples from decedents for long term storage.
<View complete job listing>
Crime Lab Forensic Scientist 1 - Biology
Metro Nashville Police Department, Nashville, Tennessee, USA
Final Filing Date: Continuous
Participates and successfully completes the Forensic Biology training program set forth by the Technical Leader. Maintains and demonstrates efficiency in the field of Forensic Biology. Assists with the training of forensic technicians. Performs chemical, microscopic, and immunological tests on physical evidence. Interprets serological results. Evaluates quality of DNA data. Maintains technical forensic laboratory files and records of findings accurately. Prepares analytical reports and effectively communicates results of analyses. Provides expert testimony in court based on laboratory findings.
<View complete job listing>
Other Resources on the Crime Scene Investigator Network Website
Not Subscribed to this Newsletter?
Crime Scene Investigator Network
PO Box 1043
Wildomar, CA 92595-1043