This month's newsletter is brought to you by the
University of Florida's Online Master's Degree in Forensic Medicine





Sample Handling Considerations for
Biological Evidence and DNA Extracts




Introduction

This article will make recommendations for handling biological evidence from sample collection to sample storage. Depending upon the type of biological evidence, it may be very difficult to detect certain types of samples. Saliva and semen stains are often not visible. Even bloodstains may be difficult to find if they are on a dark substrate. Although specialized, forensic light sources are sometimes helpful in visualizing these stains, they cannot always be relied upon to find all biological stains. It is especially difficult to detect saliva or semen on some dark colored fabric with any of the widely used forensic light sources. Thus, a stereomicroscope or chemical mapping techniques may be required to improve the chances of finding all biological evidence. After a sample has been detected, steps must be taken to insure that the sample integrity is maintained and the chances of contamination are minimized.

Sample Collection in the Field

Once a sample has been located and a decision has been made to take the sample, issues arise as to how to collect, dry and package it for transportation to the laboratory. Considerations relevant at this stage include the ability to obtain as much sample as possible, to minimize degradation and finally to insure that samples are not inadvertently contaminated with other biological samples.

The standard recommendation for collecting biological evidence is not to remove the stain from an object but rather to collect the object with the stain. The advantages of this strategy are that the entire stain is obtained, it is not necessary to collect an "unstained control" sample and there are no further manipulations required that might negatively impact the sample. If the stain is on a smooth, non-porous surface (i.e. it can be easily "flaked" off), it will be necessary to protect the stain from contact with other objects. Depending upon the nature of the evidence, a stain can be protected by immobilizing the evidence item in a cardboard box (e.g. with pieces of wire) or by taping a piece of paper over the stain (if this will not destroy other evidence, such as fingerprints). Provided that the stain can be adequately protected, this is the optimum collection procedure.

Given that some stains are found on immovable objects, it is not always possible to collect the object with the stain. Some samples will need to be collected in the field. If the entire object cannot be collected then the next best way to collect biological evidence is to remove the stain by cutting it out (e.g. from a piece of carpet). Remember to use clean scissors and to cut out an "unstained" control. Scissors or tweezers can be cleaned by rinsing with clean water and then drying with tissue. Repeat this cleaning process twice prior to each sampling.

It is not necessary to clean tools with bleach. Improperly used, bleach could destroy biological evidence.

There will be occasions when it is not possible to collect a stain by cutting it from an object (e.g. stain is on a concrete floor). The two methods traditionally used to collect these stains are: (1) to use a dampened cotton swab, thread or piece of gauze to collect the stain or (2) to use a clean implement (e.g. razor blade) to scrape the stain into a clean paper bindle.

Related Content




---


CLEARANCE SALE
25% OFF
AND FREE SHIPPING!





Shirts by
ForensicWear.com

CLEARANCE SALE
25% OFF
AND FREE SHIPPING!

With coupon code
"CLEARANCE" at checkout
Limited to styles and sizes on hand.
Orders are shipped to
USA addresses only.



This Month's Featured Resource on the Crime Scene Investigator Network Website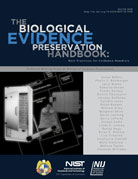 The Biological Evidence Preservation Handbook offers guidance for individuals involved in the collection, examination, tracking, packaging, storing, and disposition of biological evidence. This may include crime scene technicians, law enforcement officers, healthcare professionals, forensic scientists, forensic laboratory managers, evidence supervisors, property managers, storage facility personnel, lawyers, testifying experts, court staff members, and anyone else who may come in contact with biological evidence. While many of the recommendations relate to the physical storage, preservation, and tracking of evidence at the storage facility, this handbook also covers the transfer of the material between the storage facility and other locations and discusses how the evidence should be handled at these other locations.
This report is divided into five main sections that detail issues and make recommendations related to biological evidence storage, tracking, preservation, and disposition. A glossary, which provides standard definitions of the technical terms used in this report, follows these sections.
New CSI and Forensic Job Announcements
The most comprehensive listing of Crime Scene Investigation and Forensic
employment opportunities on the internet! We typically have over 150 current listings!
Crime Scene Investigator I/II/III
West Sacramento Police Department, West Sacramento, California, USA
Final Filing Date: August 9, 2020
The Crime Scene Investigator I/II/III collects, processes and performs analysis of physical evidence obtained from crime and/or fire scenes; provides responsible and technical staff assistance; and performs lead administrative and technical duties associated with the maintenance, control, and disposal of property and evidence within the Police Department.
<View complete job listing>
Forensic Technician
Spokane County Sheriff, Spokane, Washington, USA
Final Filing Date: August 7, 2020
The Forensic Technician is an entry-level technical, criminal identification position in the Spokane County Sheriff's Office responsible for latent print processing and crime scene investigation.
<View complete job listing>
Forensic Evidence Technician
County of Greenville, Greenville, South Carolina, USA
Final Filing Date: December 31, 2020
Provides photographic documentation of crime scenes, collects, and preserves physical evidence. Performs a variety of types of analysis of evidence that may be collected at a crime scene in accordance with federal, state, and local laws and department/division policy.
<View complete job listing>
Forensic Computer Analyst
United States Postal Service, Morrisville, North Carolina, USA
Final Filing Date: August 7, 2020
Conducts forensic analyses of digital and other multimedia evidence utilizing appropriate scientific methodologies, forensic techniques, and quality assurance practices in support of criminal and administrative investigations.
<View complete job listing>
---

---
Toxicology Technician
Institute of Forensic Sciences, Houston, Texas, USA
Final Filing Date: August 1, 2020
Receives, inventories, and properly stores toxicological evidence submitted by medical examiners and law enforcement agencies; maintains accurate chain of custody records from evidence receipt to final disposition. Performs liquid/liquid and solid phase extractions for screening and confirmation testing. Performs analyses including ELISA, CO-oximetry, and chemistries; performs and documents routine maintenance, troubleshooting and minor repair of associated instrumentation.
<View complete job listing>
Forensic Scientist - Latent Prints
Johnson County Sheriff's Office, Olathe, Kansas, USA
Final Filing Date: First review of applications will begin on August 14, 2020.
Examine developed latent prints utilizing the ACE-V process Process evidence, utilizing various physical and chemical methods, to develop latent prints. Enter and search latent prints in AFIS and NGI. Participation in training, competency testing, and proficiency testing according to established protocols. Performing technical review and administrative review of casework data.
<View complete job listing>
Forensic Scientist, DNA
Colorado Department of Public Safety, Arvada, Colorado, USA
Final Filing Date: August 20, 2020
Responsible for the preservation, screening/analysis and interpretation of biological evidence collected in criminal cases for federal, state and local law enforcement agencies.
<View complete job listing>
Property and Evidence Custodian, Toxicology Laboratory
Washington State Patrol, Seattle, Washington, USA
Final Filing Date: August 2, 2020
This position provides administrative support to the laboratory administrative staff and Toxicologists as needed, receives physical evidence into the laboratory and releases back to the submitting agency and records management at the Toxicology Laboratory. The incumbent in this position is responsible for screening requests, assigning case numbers and creating case files, enters evidence into a computerized database, storing evidence appropriately, releasing and receiving evidence to/from forensic scientists, disposes of evidence as required per procedures, and maintains case files and all evidence transaction records.
<View complete job listing>
Other Resources on the Crime Scene Investigator Network Website
Not Subscribed to this Newsletter?
Crime Scene Investigator Network
PO Box 1043
Wildomar, CA 92595-1043