Welcome to the January 2022 Crime Scene Investigator Network Newsletter



Detection of Inflicted Bruises by Alternate Light: Results of a Randomized Controlled Trial




Katherine N. Scafide Ph.D., R.N.
Daniel J. Sheridan Ph.D., R.N.
Nancy R. Downing Ph.D.
R.N.,Matthew J. Hayat Ph.D.




Abstract
Bruises are often difficult to detect on victims of violence, potentially impacting investigation and prosecution. The purpose of our randomized controlled trial was to measure the effectiveness of an alternate light source (ALS) within visible and long ultraviolet spectrums at improving bruise detection compared to white light over time. We also examined the effects of skin color, age, gender, localized fat, and injury mechanism on bruise detection. Participants included 157 healthy adults with balanced sampling across six skin color categories. Bruises were created under the controlled application of a paintball pellet and dropped weight to one upper and lower arm, respectively. Using a crossover design, both bruises were examined 21 times over 4 weeks. Ten different wavelength (350-535 nm) and filter (yellow, orange, red) combinations were used. Multilevel models were used to analyze 2903 examinations on both upper and lower arms. Results in multivariable models showed after controlling for other covariates 415 and 450 nm using a yellow filter had greater odds of detecting evidence of bruising than white light (Upper Arm: 415 nm: OR = 5.34, 95% CI: 4.35-6.56; 450 nm: OR = 4.08, 95% CI: 3.36-4.96). Under either light source, being female and having more localized fat had increased odds of detecting bruises created by the dropped weight (female: OR = 2.96, 95% CI: 2.37-3.70; fat: OR = 1.21, 95% CI: 1.09-1.34). Our results support ALS as an appropriate tool to enhance concurrent physical assessment of bruises in the presence of known history of injury. Future development and evaluation of clinical practice guidelines for ALS application are needed.

Bruising is one of the most common types of soft tissue injury noted on victims of violence, including intimate partner violence, sexual assault, child abuse, and vulnerable adult abuse. Such injuries are usually caused by blunt, compressive or squeezing force trauma resulting in damaged blood vessels. Evidence of bruising is usually identified by forensic clinicians through observed skin discoloration stemming from exsanguinated blood and its associated inflammation. Injuries, such as those from strangulation, can significantly impact clinical outcomes if they are not detected. Additionally, research indicates injury documentation is associated with greater victim engagement in the criminal justice process and may provide corroborative evidence in court.

Many factors contribute to being able to observe a bruise under normal lighting conditions, including the amount of extravasated blood; location on the body; depth; subject's age; bruise's age; and skin color. When blood is released into the extravascular space, hemoglobin is broken down through enzymatic processes to include bilirubin as one of its byproducts. On spectrophotometric analysis, hemoglobin exhibits the greatest amount of light absorption at a narrow peak of wavelengths around 415 nm, with a secondary, broader peak in light absorption around 543 and 576 nm. Bilirubin has a broad absorption peak around 460 nm. Gross observation of light absorption by these molecules requires the use of alternate light, specific wavelengths which may include the visible (400-700 nm) or long ultraviolet (290-400 nm) spectrums. Generally, light is reflected, transmitted, scattered, and/or absorbed by the skin's surface. Transmitted light can be absorbed and reflected by deeper structures, with longer wavelengths generally having greater skin penetration. Filters (e.g., colored goggles and camera lenses) can then be used to block the reflected light allowing the absorbed light to appear darker by comparison.

*Open Access Article

Related Content



Forensic Photographer
shirt by
ForensicWear.com
CLEARANCE SALE
25% OFF
AND FREE SHIPPING!
With coupon code
"CLEARANCE" at checkout
Limited to sizes on hand.
Orders are shipped to
USA addresses only.




---









Learn How to Become a
Crime Scene Investigator
or Forensic Scientist
This Month's Special Offer
This Month's Featured Resource on the Crime Scene Investigator Network Website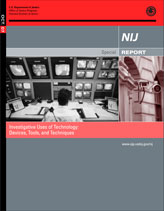 This special report is intended to be a resource to any law enforcement personnel (investigators, first responders, detectives, prosecutors, etc.) who may have limited or no experience with technology-related crimes or with the tools and techniques available to investigate those crimes. It is not all inclusive. Rather, it deals with the most common techniques, devices, and tools encountered.
Technology is advancing at such a rapid rate that the information in this special report must be examined in the context of current technology and practices adjusted as appropriate. It is recognized that all investigations are unique and the judgment of investigators should be given deference in the implementation of this special report.
New CSI and Forensic Job Announcements
The most comprehensive listing of Crime Scene Investigation and Forensic
employment opportunities on the internet! We typically have over 150 current listings!
Crime Scene Technician
Escambia County Sheriff's Office, Pensacola, Florida, USA
Final Filing Date: January 17, 2022
Performs office and fieldwork related to the crime scene investigation, collecting, examining, preserving, documenting, preparing, and review of physical evidence and providing courtroom testimony as required.
<View complete job listing>
Crime Scene Specialist
Austin Police Department, Austin, Texas, USA
Final Filing Date: January 19, 2022
Responds to crime and accident scenes, evaluates the scene and conducts searches for evidence utilizing disciplines related to crime scene investigation. Measures and/or photographs crime scenes, evidence, etc. Documents, collects, packages, preserves, and processes evidence.
<View complete job listing>
Crime Scene/Property Evidence Specialist
Menifee Police Department, Menifee, California, USA
Final Filing Date: January 29, 2022
Performs a variety of technical and specialized duties related to crime scene investigation and property and evidence management; identifies, diagrams, photographs, collects, transports and preserves evidence from crime scenes; receives, processes, stores, safeguards, delivers, releases, and disposes of police property, evidence and supplies;
<View complete job listing>
Forensic Trainee
Omaha Police Department, Omaha, Nebraska, USA
Final Filing Date: February 1, 2022
This is trainee work in the field of criminal identification. Work involves receiving on-the-job training regarding all tasks performed by Forensic Investigations and performing less complex, repetitive tasks, as well as testifying in court regarding evidence gathering.
<View complete job listing>
---

---
Firearms and Tool Marks Examiner
St. Louis County Police Department, St. Louis, Missouri, USA
Final Filing Date: January 23, 2022
Examines bullets, bullet fragments, cartridge cases, firearms and related evidence found at crime scenes or in the possession of suspects. Discharges weapons to produce spent ammunition for test firing characteristics and to facilitate microscopic comparisons of bullets and spent shells. Enters test shots and evidence from crimes into the National Integrated Ballistic Information Network (NIBIN).
<View complete job listing>
Toxicologist, Forensic Scientist I
North Carolina Department of Justice, Greensboro, North Carolina, USA
Final Filing Date: January 5, 2022
The Forensic Scientist I will complete prescribed Toxicology training requirements before beginning casework. The Forensic Scientist I performs casework on toxicology evidence seized by Law Enforcement officers in the course of Driving While Impaired (DWI) investigations.
<View complete job listing>
Forensic Scientist (Latent Print)
Henderson Police Department, Henderson, Nevada, USA
Final Filing Date: Open until filled
You will analyze, compare and evaluate latent prints/footwear impressions, utilize AFIS databases, write reports of findings, testify in court as an expert witness; and perform other related duties as assigned.
<View complete job listing>
Deputy Coroner
Northampton County Coroner, Nazareth, Pennsylvania, USA
Final Filing Date: March 31, 2022
Conducts a systematic scene investigation, to assist with determining the cause and manner of death. Takes custody of the remains in accordance with the prescribed protocol and procedure. Performs initial on scene examination of the remains, takes photographs and collects information relevant or related to the cause and manner of death. Conducts external examination of bodies and collects body fluids for the purposes of toxicology testing as may be required in individual cases.
<View complete job listing>
Other Resources on the Crime Scene Investigator Network Website
Not Subscribed to this Newsletter?
Crime Scene Investigator Network
PO Box 1043
Wildomar, CA 92595-1043