This month's newsletter is brought to you by the University of Florida



Handwriting Examiners in the Digital Age




The National Institute of Standards and Technology (NIST)

As the use of handwriting declines,
a forensic discipline finds itself at a crossroads

People are writing more than ever with their keyboards and phones, but handwritten notes have become rare. Even signatures are going out of style. Most credit card purchases no longer require them, and if they do, you can usually just scratch one out with your fingernail. The age-old art of handwriting is in decline.

This marks a profound shift in how we communicate, but for one group of experts it also raises an existential question. Forensic handwriting examiners authenticate handwritten notes and signatures — or reveal them to be fakes — by analyzing distinctive features in our writing. As people write less by hand, will handwriting examination become irrelevant?

A recent report from the National Institute of Standards and Technology (NIST) suggests that the answer is no — if the field changes to keep up with the times. But the times are changing in more ways than one, and the decline in handwriting is only one of the challenges that the field will have to reckon with.

A range of natural variation in one writer's uppercase letter "E." Credit: NIST

How the Experts Do It

Emily Will is a board-certified handwriting examiner in private practice in North Carolina. She has examined signatures on countless checks, wills, deeds and trusts. She has inspected medical records to assess whether a doctor's signature may have been added at a later date than indicated, perhaps after a lawsuit was filed. She has also examined longer forms of writing, such as threatening or harassing letters and suicide notes. If the apparent suicide victim didn't write the note, the police might have a homicide on their hands.

To assess whether a piece of handwriting was written by a particular person, examiners need something to compare it against, so they collect writing samples that are known to be from that person. The type of writing has to be the same, whether a signature, cursive writing, or hand printing. The known samples should be from roughly the same time period as the handwriting in question, because our handwriting evolves over time. And having multiple known samples to compare against is key, as that will allow the examiner to consider the variability in a person's writing style.

"You're not a robot, so every time you sign your name, it'll look different," Will said. "That's what makes handwriting examination so interesting."

< read the complete article. >

Related Content





Shirts by
ForensicWear.com
CLEARANCE SALE
25% OFF
AND FREE SHIPPING!
With coupon code
"CLEARANCE" at checkout
Limited to styles and sizes on hand.
Orders are shipped to
USA addresses only.




---



This Month's Featured Resource on the Crime Scene Investigator Network Website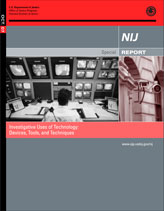 This special report is intended to be a resource to any law enforcement personnel (investigators, first responders, detectives, prosecutors, etc.) who may have limited or no experience with technology-related crimes or with the tools and techniques available to investigate those crimes. It is not all inclusive. Rather, it deals with the most common techniques, devices, and tools encountered.
Technology is advancing at such a rapid rate that the information in this special report must be examined in the context of current technology and practices adjusted as appropriate. It is recognized that all investigations are unique and the judgment of investigators should be given deference in the implementation of this special report.
New CSI and Forensic Job Announcements
The most comprehensive listing of Crime Scene Investigation and Forensic
employment opportunities on the internet! We typically have over 150 current listings!
Crime Scene / Evidence Technician
Salina Police Department, Salina, Kansas, USA
Final Filing Date: June 24, 2021
Processes crime scenes as directed, uses special equipment and evidence-gathering techniques; photographs crime scenes to record the appearance of evidence; identifies, collects, and secures physical evidence including blood, body fluids, hair, fibers, and firearms for laboratory testing and use as evidence in criminal prosecutions.
<View complete job listing>
Police Criminalist
Gresham Police Department, Gresham, Oregon, USA
Final Filing Date: June 24, 2021
Investigate crime scenes: search and process crime scenes for evidence; fingerprint suspects and other individuals; perform crime scene surveillance, evidence, and general department photography; process film and maintain photo case files.
<View complete job listing>
Crime Scene Specialist
Sahuarita Police Department, Sahuarita, Arizona, USA
Final Filing Date: June 25, 2021
Provides technical and forensic support in analyzing, photographing, collecting, preserving, and presenting physical evidence. Duties include documenting, collecting, and processing crime scenes and evidence for the Police Department as well as releasing property and evidence to appropriate personnel in accordance with state laws and Town code.
<View complete job listing>
Digital Forensic Examiner
Redlands Police Department, Redlands, California, USA
Final Filing Date: June 27, 2021
Conducts forensic examinations of digital devices, computer systems, storage media, and electronic storage devices to obtain evidence contained within; Restores recoverable deleted data and accesses password-protected and secured files;
<View complete job listing>
---

---
DNA Forensic Chemist III
Prince George's County Police Department, Landover, Maryland, USA
Final Filing Date: June 24, 2021
Conducts serological analysis on physical evidence to identify body fluids. Performs Short Tandem Repeat (STR) DNA analysis on evidence according to established protocols. Conducts qualitative analysis of the more difficult biological evidence. Testifies in court as required.
<View complete job listing>
Forensic Scientist I
Denver Police Department, Denver, Colorado, USA
Final Filing Date: Open until filled
performs forensic casework on evidentiary materials, including the evaluation and examination of physical evidence to include analysis of biological stains, development of forensic DNA profiles, preparation of case reports and files, and expert witness testimony in courts of law.
<View complete job listing>
Forensic Scientist (Impression Evidence/Latent Print)
Henderson Police Department, Henderson, Nevada, USA
Final Filing Date: Open-continuous recruitment
Determines evidentiary value of submitted and developed prints; conducts friction ridge impression examinations and comparisons, draws conclusions using scientific methodology including ACE-V; utilizes specialized photographic and digital imaging techniques to assist in the analysis and comparison of latent, patent, and plastic prints to known/exemplar prints.
<View complete job listing>
Death Investigator
Montgomery County Coroner's Office, Miami Valley Regional Crime Laboratory, Dayton, Ohio, USA
Final Filing Date: June 28, 2021
Conduct scene investigations and visual inspection of the deceased where required, and prepare reports documenting the condition of the body, i.e. injuries, degree of rigor and livor mortis, body temperature, position of the body, clothing and jewelry. Identify and collect evidence on or near the body which may be contributory to the death and work with law enforcement evidence technicians and detectives as necessary.
<View complete job listing>
Other Resources on the Crime Scene Investigator Network Website
Not Subscribed to this Newsletter?
Crime Scene Investigator Network
PO Box 1043
Wildomar, CA 92595-1043