This month's newsletter is brought to you by the University of Florida
Overview of
Investigative Genetic Genealogy
The Scientific Working Group on DNA Analysis Methods
This overview describes the technique known as investigative genetic genealogy and distinguishes it from the investigative use of law enforcement DNA databases, such as those in the Combined DNA Index System (CODIS). The overview also identifies issues for agencies considering the use of investigative genetic genealogy in their investigations.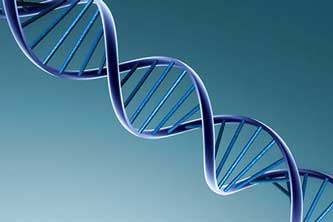 Investigative genetic genealogy refers to the DNA analysis of a crime scene sample or unidentified human remains (UHR) sample (both of which are referred to as a sample from a "person of interest"), using a high density single nucleotide polymorphism (SNP) array to generate genetic data that is used to search a third-party SNP database for genetic relatives of the person of interest. The potential genetic relatives identified by that search may then be researched by genealogists and law enforcement using genealogical and other available records to assess possible genealogical relationships to the person of interest. The goal of the SNP database search and genealogical research is to provide leads to identify the person of interest. There are several points during this process at which law enforcement intersects with vendor laboratories and third-party SNP databases. The steps of this process, some of which are described in more detail below, typically include the following:
Collection of a probative biological sample at a crime scene or collection of a UHR sample;
Development of a short tandem repeat (STR) DNA profile (consisting of the CODIS Core Loci) from the collected sample;
Pursuit of all viable investigative leads, including no matches resulting from a search of CODIS using the STR DNA profile;
Development of genomewide SNP data from the collected sample;
Search of one or more third-party SNP databases using the SNP data to identify potential genetic relatives in the database;
Assessment of possible genealogical relationships between the potential genetic relatives and the person of interest;
Investigation of leads generated by the research to identify the person of interest; and
Obtaining DNA from the person of interest for development of an STR DNA profile in order to perform a one-to-one comparison to the crime scene STR DNA profile for exclusionary/inclusionary purposes; or collection of DNA from potential relatives for development of an STR, YSTR or SNP profile, or mitochondrial DNA sequence, in order to perform a kinship analysis comparison with the UHR.
Most third-party SNP databases are maintained by direct-to-consumer (DTC) genetic testing providers. Currently, the providers that have the largest databases are Ancestry, FamilyTreeDNA, MyHeritage, and 23andMe. These providers generate genetic data from customers' DNA samples using SNP microarrays that produce between 600,000 to 700,000 SNPs. They then analyze certain markers in these SNPs for a range of purposes. Depending upon the provider, these purposes might include reporting to customers their biogeographical ancestry information and identifying potential genetic relatives for customers who elect to participate in relative matching services. They might also include reporting to customers their health, wellness, trait conditions or predispositions.
Related Content
This Month's Special Offer
This Month's Featured Resource on the Crime Scene Investigator Network Website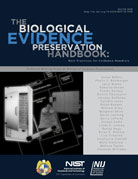 The Biological Evidence Preservation Handbook offers guidance for individuals involved in the collection, examination, tracking, packaging, storing, and disposition of biological evidence. This may include crime scene technicians, law enforcement officers, healthcare professionals, forensic scientists, forensic laboratory managers, evidence supervisors, property managers, storage facility personnel, lawyers, testifying experts, court staff members, and anyone else who may come in contact with biological evidence. While many of the recommendations relate to the physical storage, preservation, and tracking of evidence at the storage facility, this handbook also covers the transfer of the material between the storage facility and other locations and discusses how the evidence should be handled at these other locations.
This report is divided into five main sections that detail issues and make recommendations related to biological evidence storage, tracking, preservation, and disposition. A glossary, which provides standard definitions of the technical terms used in this report, follows these sections.
New CSI and Forensic Job Announcements
The most comprehensive listing of Crime Scene Investigation and Forensic
employment opportunities on the internet! We typically have over 100 current listings!
Forensic Services Technician
Arizona Department of Public Safety, Phoenix, Arizona, USA
Final Filing Date: March 19, 2023
Responds to requests for crime scene assistance and photography. Performs basic processing and triaging of crime scene evidence, produces reports, provides expert testimony in court. Performs initial screening, processing, and triaging of evidence from crime scenes. Performs function tests on firearms retrieved from crime scenes.
<View complete job listing>
Forensic Scientist
Glendale Police Department, Glendale, Arizona, USA
Final Filing Date: March 26, 2023
Performs professional and complex work applying sciences to the investigation of crimes by performing laboratory and field examinations, documenting, identifying, and evaluating physical evidence. Photographically documents physical and biological evidence in the lab and at crime scenes. Responds to complex crime scenes to gather, preserve, and identify...
<View complete job listing>
Crime Scene Investigator
Bowie Police Department, Bowie, Maryland, USA
Final Filing Date: March 31, 2023
Use proper techniques to collect, maintain, and package items of physical evidence for submission to laboratories and court (examine for fingerprints, conduct detailed photography, prepare diagrams, identify and preserve physical evidence, etc.). Gather facts regarding investigations through interviews of witnesses, patrol officers and investigators.
<View complete job listing>
Crime Scene Investigator
Charleston Police Department, Charleston, South Carolina, USA
Final Filing Date: February 28, 2023
Perform techniques to document a crime scene including digital photography, videography, forensic mapping, sketching and note taking. Perform techniques to search for and recover evidence at a crime scene including search by alternate and ultraviolet light sources, collection of biological fluids, trace evidence and gunshot residue, tool mark, impressions...
<View complete job listing>
---

---
Crime Laboratory Technician I
Baltimore Police Department, Baltimore, Maryland, USA
Final Filing Date: March 22, 2023
A Crime Laboratory Technician I learns to perform specialized crime laboratory work such as evidence detection, criminalistics, firearms, latent print examination or crime laboratory and crime scene photography.
<View complete job listing>
Criminalist II/III
Alameda County Sheriff's Office, Oakland, California, USA
Final Filing Date: March 27, 2023
Criminalists utilize scientific methods and techniques in the recognition, collection, and characterization of physical and digital evidence in the Crime Laboratory as well as at crime scenes. They prepare written reports regarding their findings and interpretations and provide expert testimony in court.
<View complete job listings>
Forensic Scientist II - Latent Prints Analyst
New Mexico Department of Public Safety, Santa Fe, New Mexico, USA
Final Filing Date: February 24, 2023
Upon successful completion of all training, and demonstrated and sustained competent performance, the incumbent will be responsible form independently collecting, classifying, identifying and analyzing latent fingerprint evidence related to criminal investigations.
<View complete job listing>
Property and Evidence Custodian
Smyrna Police Department, Smyrna, Georgia, USA
Final Filing Date: Open Until Filled
This position is responsible for the processing of crime scenes, the collection and preservation of evidence, and the management of the department's property and evidence inventory.
<View complete job listing>
Other Resources on the Crime Scene Investigator Network Website
Not Subscribed to this Newsletter?
Crime Scene Investigator Network
PO Box 423
Lawrenceburg, TN 38464-0423