Welcome to the December 2016 Crime Scene Investigator Network Newsletter



Experimental Detection of Blood
Under Painted Surfaces





Introduction

In August of 2005 the author was contacted by an investigator with the State Attorney General's office in Denver regarding a three year old homicide case. The suspect(s) were believed to have painted over the bloodstained walls in the crime scene shortly after the murder. The author was asked to investigate the possibility of detecting blood under painted surfaces and recommend a method of searching for and detecting blood under these conditions. To assist with this experiment the investigator was able to search the crime scene residence and recover the original paint buckets utilized for the paint on the walls at the time of the homicide. The investigators went to a local paint store where a fresh gallon of similar paint and color formula was obtained.

A search of the forensic literature resulted in few references describing this type of research. Vandenberg and van Oorschot 1 reported on finding blood under paint using the Polilight™ PL500 at about 415nm. In their experiments it appears that blood was deposited directly on wood, plaster, brick, and metal and then painted over with various colors of light colored water based paint and white acrylic paint. Blood was visible under three coats of paint. From the photographs it appeared that the blood absorbed the ultraviolet light giving it a dark appearance. The authors also reported that blood could be detected under wallpaper using the Polilight™. The authors reported that a full DNA profile was obtained from blood samples under paint. Samples were subjected to Chelex™ DNA extraction and then amplified using Profiler Plus™. No attempt was made to scrape or separate the blood from the paint samples. Ray 2 also reported limited success in visualizing blood under painted surfaces 2. In her experiment the author placed both single blood drops and blood swipes on wood and then painted over the stains with up to three coats of a latex paint. An Omniprint™ 1000 and Polilight™ (150 watt model) were used to examine the stains under paint. Both units were set at 530nm. No statement was made regarding the type of filter used. The author reported that the bloodstains were "visible" to "barely visible" with the use of an alternate light source after two coats of paint were applied. The third coat of paint made the bloodstains either not visible or "questionable" in appearance with the light sources. None of the authors discussed methods for paint removal.

Experiment Design

A 4 ft. by 4 ft. section of half inch drywall was obtained for the experiment. No texture was applied to the wallboard. The wall was first painted with two coats of Glidden Speed-Wall interior PVA Primer #GL 1050-1200 white. The coats were allowed to completely dry at least 12 hours. After drying, two coats of Glidden Speed-Wall interior latex flat paint #GL 1251-0110 white paint were applied. All paint was applied using a clean paint pad. The wall was then allowed to dry overnight. Once dried, several different types of bloodstain patterns were produced on the wall (Figure 1). Bloodstain patterns included those not likely to be seen on vertical surfaces (such as blood dripping into blood). Blood droplets ranged in size from less than 1mm to over 12mm in diameter. The wall also contained partial bloody shoe impressions and vertical blood flow. Horse blood was used to create all bloodstains in the experiment. The blood was photographed and allowed to dry approximately 12 hours.

*Article submitted by the author
This Month's Featured Resource on the Crime Scene Investigator Network Website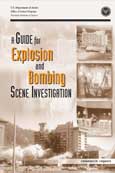 The principal purpose of this Guide is to provide an investigative outline of the tasks that should be considered at every explosion scene. They will ensure that proper procedures are used to locate, identify, collect, and preserve valuable evidence so that it can be examined to produce the most useful and effective information-best practices. This Guide was designed to apply to explosion and bombing scene investigations, from highly complex and visible cases, such as the bombing of the Alfred P. Murrah Federal Building in Oklahoma City, to those that attract less attention and fewer resources but may be just as complex for the investigator.
Featured Video Presentation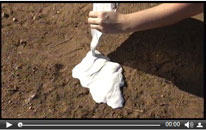 On our Video Presentations page:
Learn the basic technique for casting footwear impressions.
New CSI and Forensic Job Announcements
The most comprehensive listing of Crime Scene Investigation and Forensic
employment opportunities on the internet! We typically have over 250 current listings!
Forensic Investigator I
Sacramento Police Department, Sacramento, California, USA
Final Filing Date: January 6, 2017
Perform crime scene investigations, evaluate and process evidence, examine latent fingerprints and perform related duties and responsibilities in accordance with Police Department policies and procedures. This is the entry level of the Forensic Investigator series.
<View complete job listing>
Crime Scene Specialist
Costa Mesa Police Department, Costa Mesa, California, USA
Final Filing Date: Open until filled. The first application review date will be January 3, 2017
Under general supervision, performs a variety of specialized technical duties involved in processing crime scenes including collecting, protecting, and preserving evidence for criminal prosecution; and maintains records and prepares reports regarding activities. Exercises no supervision.
<View complete job listing>
Forensic Toxicologist or Trainee
Virginia Department of Forensic Science, Norfolk, Virginia, USA
Final Filing Date: January 8, 2017
The candidate will independently analyze human fluids and tissues in postmortem, DUI/D and other criminal cases using chemical and instrumental methodologies, critically evaluate data, prepare Certificates of Analysis, and interpret and defend results in courts of law. In the event a fully qualified Forensic Toxicologist candidate cannot be employed, a trainee position may be offered to the most suited candidate.
<View complete job listing>
---

---
Serologist / DNA Analyst
Hamilton County Coroner's Crime Laboratory, Cincinnati, Ohio, USA
Final Filing Date: January 20, 2017
Analyzes stain material by antigenic, genetic, orother biochemical means, and compares results to tests done on samples of known origin. DNA analyses will be done incompliance with the current version of the FBI DNA Quality Assurance Standards;
<View complete job listing>
Digital Forensic Analyst
Bozeman Police Department, Bozeman, Montana, USA
Final Filing Date: January 2, 2017
The Digital Forensic Analyst is responsible for supervising a secure Computer Forensic Laboratory, and working cooperatively with law enforcement with the goal of collecting, analyzing, preparing, and delivering digital evidence for criminal cases for the Bozeman Police Department.
<View complete job listing>
Latent Print Examiner
Miami Police Department, Miami, Florida, USA
Final Filing Date: December 30, 2016
Develops, compares, evaluates, identifies, and prepares latent fingerprints/palm prints for court exhibits, and testifies in all courts of law as a qualified expert witness.
<View complete job listing>
US State Police Have Spent Millions on Israeli Phone Cracking Tech
State police forces and highway patrols in the US have collectively spent millions of dollars on this sort of technology to break into and extract data from mobile phones, according to documents obtained by Motherboard.
Motherboard - Joseph Cox - December 21, 2016
Inside the DEA: A chemist's quest to identify mystery drugs
The proliferation of rapidly evolving synthetic opioids has become so fierce that the DEA says they now constitute an entire new class of drugs, which are fueling the deadliest addiction crisis the United States has ever seen.
San Francisco Chronicle - Erika Kinetz - December 21, 2016
Black Female Scientist Earns Grant to Improve Rape Investigation Methods
Along with a research team of 11 students, Dr. Bridge will look into methods of identifying rapists besides DNA. They'll be using instruments only available to the FBI and a few federal and state forensic labs to investigate the lubricants exchanged during sexual assault, drugs, toxicology and gunshot residue.
www.care2.com - Lauren Longo - December 20, 2016
New Haven police defend arrest of reporter at crime scene
A reporter for a local news website is facing criminal charges after police arrested him earlier this month while trying to photograph an investigation into possible explosive devices outside a library.
Record-Journal - Mike Savino - December 17, 2016
FBI's DNA profiles to include more data, making them even more powerful at solving cases
Since the FBI's National DNA Index System, or NDIS, came online in 1998, forensic labs in the United States have been generating profiles by analyzing a specific set of 13 genetic markers. Starting January 1, 2017, that number will rise to 20, an advance made possible by close collaboration between scientists at the FBI and the National Institute of Standards and Technology (NIST). The additional markers will vastly increase the statistical certainty of DNA identifications and allow investigators to identify suspects that could slip through the cracks today.
phys.org - December 16, 2016
Other Resources on the Crime Scene Investigator Network Website
Not Subscribed to this Newsletter?
To unsubscribe from future e-mail newsletters, please click here: UNSUBSCRIBE
or email newsletter@crime-scene-investigator.net with your request to unsubscribe.
---
Copyright ©2016 Crime Scene Resources, Inc.
Crime Scene Investigator Network
PO Box 1043
Wildomar, CA 92595-1043