Are you having trouble viewing this email? View it online here: www.crime-scene-investigator.net/newsletter/1014.html This message
was not sent unsolicited. You signed up for this newsletter. If you wish to unsubscribe see the instructions at the bottom of this message.
Welcome to the October 2014 Crime Scene Investigator Network Newsletter



Footwear and Tire Track
Impression Photography



Footwear Impressions

Footwear and tire impressions are perhaps the most overlooked evidence at a crime scene. When impressions are collected it is possible that identifications can be made linking a suspect or vehicle to the crime. Impression evidence can be collected by casting (filling the impression with a compound that hardens and retains the shape and characteristics of the impression) and with photography. Photographs of impressions are often used to make positive identifications, but casting of impressions provides the best evidence. This is because impressions are three-dimensional and casting preserves three-dimensional evidence. The depth of tread and imperfections on the sides of the tread are preserved with casting. At major crime scenes impressions should be photographed before they are casted. Photography is done first because casting the impression will destroy the original impression and eliminate the ability to photograph the impression afterward. Also, photographs of an impression are taken in case there is a problem with the cast. If the casting fails, the photograph may be used to make an identification.

At minor crime scenes impressions are usually photographed without casting. If the impression is properly photographed positive identification linking a suspect or vehicle to the crime is possible.

When taking photographs of footwear or tire impressions begin with a photograph to show where the impression is located in the crime scene. It is important to include a recognizable landmark in the photograph so the location of the impression is understood. If the impression is near a landmark, such as in a flowerbed at the corner of a house, a mid-range photograph probably would be adequate to show the location of the impression. If the impression is farther away from a recognizable landmark, such as an impression on a dirt driveway twenty yards from the house, additional photographs would be necessary. An overview photograph showing the driveway with the house in the background would be followed with a mid-range photograph of the impression on the driveway. It may be necessary to include an evidence marker in both the overview and mid-range photographs to clearly show the location of the impression in the photographs.

There may be times where it is not possible to show the exact location of an impression with photographs. The impression may be located in an area with no recognizable landmarks nearby, such as in an open area of the desert. In this case the use of a GPS device (to give location) and a compass (to indicate direction the evidence is oriented) may be the only way to document the exact position of the impression. In such a case you could record the GPS information in your notes, and in the photograph of the impression include an arrow that is oriented to indicate north.

After photographically documenting the location of the impression you must take close-up photographs to show the detail of the impression. If you are using a film camera it is best to photograph impression evidence with black-and-white film. Black-and-white film provides more contrast and detail than most color films.

When photographing with a digital camera all photographs should be taken as RAW file images in color mode. RAW files are uncompressed and will capture more detail than JPG or TIF file images. By photographing in color, subtle tones that could be lost when photographing in black-and-white mode will be captured. Later the color digital photograph can be changed into grayscale in a program such as Adobe® Photoshop®.

To take a close-up photograph of an impression, place the camera on a tripod and position the camera so the camera's film plane is parallel with the impression. This will minimize distortion in the photograph. An angle finder can be used to measure the angle of the impression and then, by placing the angle finder on the camera's

*Article submitted by the author
This Month's Featured Resource on the Crime Scene Investigator Network Website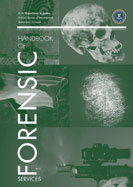 The Handbook of Forensic Services provides guidance and procedures for safe and efficient methods of collecting, preserving, packaging, and shipping evidence and describes the forensic examinations performed by the FBI's Laboratory Division and Operational Technology Division.

The successful investigation and prosecution of crimes require, in most cases, the collection, preservation, and forensic analysis of evidence. Forensic analysis of evidence is often crucial to determinations of guilt or innocence.


<View the Publication>
Featured Video Presentation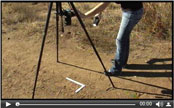 On our Video Presentations page:
Learn the basic technique for photographing footwear impressions.
New CSI and Forensic Job Announcements
The most comprehensive listing of Crime Scene Investigation and Forensic
employment opportunities on the internet! We typically have over 500 current listings!
Crime Scene Investigator
Orange County Sheriff, Florida, USA
Final Filing Date: Open until filled
Salary: $33,737 or $35,443 annually with 3+ years experience
Applies scientific principles to analyze, identify and classify physical evidence related to crime scenes by performing the following duties: Searches for, collects, photographs, and preserves evidence. Analyzes items such as paint, glass, printed matter, paper, ink, fabric, dust, dirt, gases, or other substances. Identifies hair, skin, tissue, blood, bones, or human organs. Performs a variety of analytical examinations. Processes the crime scene using chemicals, light source enhancement, and other methods. Reconstructs crime scene, preserving marks or impressions made by shoes, MORE
<View complete job listing>
Analyst — Computer Forensics
Las Vegas Metro Police Dept, Nevada, USA
Final Filing Date: December 12, 2014
Salary: $5,839.58 - $8,314.73 Monthly
Incumbents perform analytical work in the LVMPD's computer forensics lab. This analytical work is in support of programs and projects of the LVMPD. Incumbents also perform in-depth criminal investigation which require the use of computer forensics; and provide information and assistance to the public and others regarding assigned investigations.
<View complete job listing>
Forensic Scientist — DNA
Austin Police Department, Texas, USA
Final Filing Date: October 15, 2014
Salary: $22.76 - $28.93 per hour
Analyzes evidence for detection of body fluids. Performs DNA testing on biological evidence. Interprets DNA test results and prepares detailed analysis reports. Creates and maintains records and/or documents. Assists in the maintenance of laboratory instruments and reagent preparation. Testifies as an expert witness in court. Trains police personnel in evidence collection and preservation of DNA. Performs proficiency testing by correctly processing samples. Performs technical and administrative reviews of other DNA Scientist's casework. Participates in ongoing education in accordance with Federal Bureau of Investigation guidelines and requirements.
<View complete job listing>
---

---
Property Controller II
California Department of Justice, Riverside, USA
Final Filing Date: October 22, 2014
Salary: $3,363.00 - $4,208.00 per month
Performs a variety of evidence, property control and other related duties for the Bureau of Forensic Services, Riverside Laboratory. Receives and records controlled substances, blood alcohol, firearms, biological and other types of evidence from law enforcement agencies in person, via US mail, and/or other private couriers. Ensures that a proper chain of custody is maintained as well as maintains and organizes the evidence vault. Ensures that submittals conform to established laboratory and bureau policies relative to packaging, chain of custody and completion of MORE
<View complete job listing>
Fingerprint Technician 2 in-training
Washington State Patrol, Olympia, USA
Final Filing Date: October 26, 2014
Salary: $2,598.00 - $3,377.00 Monthly
These positions will work in a training capacity, under close supervision, performing technical fingerprint identification and criminal records work consisting of classifying and comparing fingerprints of unknown persons and crime suspects according to acceptable methods. NOTE: These positions will be hired at the Fingerprint Technician 1 level, in-training to a Fingerprint Technician 2. The training plan will continue for 3 years. At the end of the 3 years, if the incumbent successfully completes all portions of the in-training plan, they will promote to the Fingerprint Technician 2 level.
<View complete job listing>
Hi-Tech Crime Investigator
British Transport Police, London, UK
Final Filing Date: 23 October 2014
Salary: £30,101 - £34,058 per annum + £2470 London allowance
Secure, retrieve and examine data from computer and digital media utilising proprietary and bespoke software to ensure forensically sounds results. Secure, retrieve and examine data from mobile phones, satelitte navigation systems and other similar devices utilising proprietary and bespoke software to ensure forensically sounds results. Process and examine the recovered data in accordance with best practice and produce the resulting information in a form which can be readily understood and evaluated. Produce comprehensive reports suitable for presentation in an evidential format at court thus assisting the criminal justice process. MORE
<View complete job listing>
Other Resources on the Crime Scene Investigator Network Website
Not Subscribed to this Newsletter?
To unsubscribe from future e-mail newsletters, please click here: UNSUBSCRIBE
or email newsletter@crime-scene-investigator.net with your request to unsubscribe.
---
Copyright ©2014 Crime Scene Resources, Inc.
Crime Scene Investigator Network
PO Box 1043
Wildomar, CA 92595-1043