Abstract
In this study, the author examined the different types of physical preservation methods for dust print lifts. Dust impressions were collected with Kinderprint's electrostatic dust print lifter and documented at one week intervals with examination quality photography. Results indicated that storing dust print lifts taped to the top of cardboard mailing boxes produced the least amount of degradation to the print. Further, examination quality photography is widely heralded as the only sure method to maintain the detail of a freshly lifted dust impression. Therefore, the results of this study also illustrated the damaging effects of short term storage on dust print lifts and therefore highlighted the importance of immediate photography upon collection of dust impressions.
Introduction
By providing law enforcement and investigation agencies with a method in which to collect dust print impressions, the development of the electrostatic dust print lifter (ESDL) has significantly improved the ability to document and collect dust impression evidence during crime scene processing. In the field of crime scene investigation and footwear impression evidence, it is widely recognized that photography is the only certain method for preserving the detail of a electrostatic lifted dust impression.
Photographing dust print lifts immediately is especially important because they inherently degrade over time; one of the largest problems investigators have encountered with the use of the ESDL is the fragile nature of the dust print lift. Anything brushing against the impression could obscure the image or remove parts of it, which also remains a problem throughout the life of the print in storage. Further, the Mylar film used to collect the impression naturally attracts excess dust.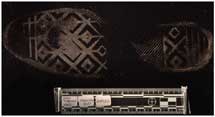 Despite the consensus that the most beneficial way to preserve the quality of dust print lifts for future examination purposes is immediate photography, there has been minimal research to suggest the best physical storage methods. Arrowhead Forensics recommends storing the dust print lift in an A-5031-F manila lift folder, as provided in their Arrowhead Stat-Lift Kit. Evident Crime Scene Products suggests using one of their film and cast boxes for preserving dust print lifts, which they sell separately. Recommendations from footwear impression evidence professionals include the use of folders and shallow boxes.
The Scientific Working Group for Shoeprint and Tire Tread Evidence (SWGTREAD) has published standards as a guide for lifting footwear impression evidence. They maintain that because electrostatic lifts retain a charge, packaging lifts in cardboard boxes or plastic bags should not be utilized. Instead, SWGTREAD recommends storing lifts in individual clean file folders. In sum, professional opinions vary on the physical storage methods for lifted prints, but there is a general agreement that dust print lifts should be photographed prior to storage and plastic containers should not be utilized.
In order to determine the best physical storage method for dust print lifts, a 35-day study was conducted using four storage methods: folders, boxes, mailing tubes, and polyethylene plastic envelopes.
Materials and Methods
Law enforcement agencies are known for employing unused pizza boxes and other cardboard containers to store dust print lifts, despite SWGTREAD's recommendation against the use of cardboard materials. Evident Crime Scene Products sells pre-sized boxes, but generic cardboard boxes serve the same purpose. Manila folders are also widely used as a storage method for dust print lifts and recommended by SWGTREAD and other footwear impression evidence and crime scene professionals. The folders should be of the quality of finished paper stock, like file folders, which can be purchased through Arrowhead Forensic Products or any office supply store.
Storage tubes are not generally used by law enforcement for shorter lifts (less than 12 in. long) because the rolling of the film inherently creates damage to the dust print lift. However, for the purposes of this study and because research is so lacking on this topic, storage tubes were used to prove or dispel their lack of preservation performance.
Although plastic generally attracts more dust than cardboard and is discouraged as a storage method, the poly envelopes used in this study were branded as anti-static.
*Article submitted by the author