Are you having trouble viewing this email? View it online here: www.crime-scene-investigator.net/newsletter/0614.html This message
was not sent unsolicited. You signed up for this newsletter. If you wish to unsubscribe see the instructions at the bottom of this message.
Welcome to the June 2014 Crime Scene Investigator Network Newsletter



Preservation Methods and the
Degradation of Dust Print Lifts





Abstract
In this study, the author examined the different types of physical preservation methods for dust print lifts. Dust impressions were collected with Kinderprint's electrostatic dust print lifter and documented at one week intervals with examination quality photography. Results indicated that storing dust print lifts taped to the top of cardboard mailing boxes produced the least amount of degradation to the print. Further, examination quality photography is widely heralded as the only sure method to maintain the detail of a freshly lifted dust impression. Therefore, the results of this study also illustrated the damaging effects of short term storage on dust print lifts and therefore highlighted the importance of immediate photography upon collection of dust impressions.

Introduction
By providing law enforcement and investigation agencies with a method in which to collect dust print impressions, the development of the electrostatic dust print lifter (ESDL) has significantly improved the ability to document and collect dust impression evidence during crime scene processing. In the field of crime scene investigation and footwear impression evidence, it is widely recognized that photography is the only certain method for preserving the detail of a electrostatic lifted dust impression.

Photographing dust print lifts immediately is especially important because they inherently degrade over time; one of the largest problems investigators have encountered with the use of the ESDL is the fragile nature of the dust print lift. Anything brushing against the impression could obscure the image or remove parts of it, which also remains a problem throughout the life of the print in storage. Further, the Mylar film used to collect the impression naturally attracts excess dust.

Despite the consensus that the most beneficial way to preserve the quality of dust print lifts for future examination purposes is immediate photography, there has been minimal research to suggest the best physical storage methods. Arrowhead Forensics recommends storing the dust print lift in an A-5031-F manila lift folder, as provided in their Arrowhead Stat-Lift Kit. Evident Crime Scene Products suggests using one of their film and cast boxes for preserving dust print lifts, which they sell separately. Recommendations from footwear impression evidence professionals include the use of folders and shallow boxes.

The Scientific Working Group for Shoeprint and Tire Tread Evidence (SWGTREAD) has published standards as a guide for lifting footwear impression evidence. They

*Article submitted by the author
This Month's Featured Resource on the Crime Scene Investigator Network Website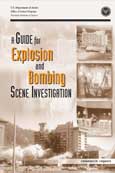 The principal purpose of this Guide is to provide an investigative outline of the tasks that should be considered at every explosion scene. They will ensure that proper procedures are used to locate, identify, collect, and preserve valuable evidence so that it can be examined to produce the most useful and effective information-best practices. This Guide was designed to apply to explosion and bombing scene investigations, from highly complex and visible cases, such as the bombing of the Alfred P. Murrah Federal Building in Oklahoma City, to those that attract less attention and fewer resources but may be just as complex for the investigator.
New CSI and Forensic Job Announcements
The most comprehensive listing of Crime Scene Investigation and Forensic
employment opportunities on the internet! We typically have over 475 current listings!
Crime Scene Technician
City of Grand Rapids, MI
Final Filing Date: June 12, 2014
Salary: $21.14 - $27.35 Hourly
This is technical work responsible for locating, identifying, and collecting evidence at crime scenes. Technical and scientific procedures are utilized to process and prepare the evidence for laboratory submission and court presentation.
<View complete job listing>
Analyst - Computer Forensics
Las Vegas Metropolitan Police Dept, Nevada
Final Filing Date: July 7, 2014
Salary: $5,753.29 - $8,191.86 per month
Incumbents perform analytical work in the LVMPD's computer forensics lab. This analytical work is in support of programs and projects of the LVMPD. Incumbents also perform in-depth criminal investigations which require the use of computer forensics; and provide information and assistance to the public and others regarding assigned investigations.
<View complete job listing>
Criminalist
Oklahoma State Bureau of Investigation, Edmond
Final Filing Date: June 16, 2014
Salary: $46,966.53 per year
This is the entry level where incumbents train to perform forensic analysis, and perform some limited supervised casework. Chemically process evidence for latent print development. Comparison of latent prints to known inked prints; manually and by AFIS operation. Comparison of shoe and tire impression evidence. Process crime scenes when requested.
<View complete job listing>
---

---
Senior Forensic Scientist
Albuquerque Police Dept, New Mexico
Final Filing Date: June 17, 2014
Salary: $24.48 - $39.66 Hourly
Lead, oversee and assign forensic caseloads and other related work to assigned staff responsible for examining, identifying, analyzing, evaluating and preserving evidence in the investigations of crimes and in the performance of a variety of other technical tasks, relative to assigned areas of responsibility; and participate in the more complex and difficult work required within the assigned areas of responsibility.
<View complete job listing>
Sheriff's Property Clerk
Santa Cruz County Sheriff, California
Final Filing Date: June 13, 2014
Salary: $3,626 - $4,583 per month
Responsible for evidence and property under the Sheriff's jurisdiction and other jurisdictions as required; to receive, load, transport, verify, store, record, safeguard, release and dispose of evidence and other property as needed by the Sheriff's Office and other jurisdictions; MORE
<View complete job listing>
Fingerprint Expert
British Transport Police, London, England
Final Filing Date: 16 June 2014
Salary: £28,014.90 per annum,+ London Allowance £2470
Process and compare finger and palm print marks (manually and via Ident 1) retrieved from crime scenes and developed by means of chemical treatments with: (a) Persons who have legitimate access (b) Persons who are suspects during an investigation. This will include processing 1st, 2nd and 3rd line identifications. Prepare and present finger and palm print evidence for court purposes MORE
<View complete job listing>
Other Resources on the Crime Scene Investigator Network Website
Not Subscribed to this Newsletter?
To unsubscribe from future e-mail newsletters, please click here: UNSUBSCRIBE
or email newsletter@crime-scene-investigator.net with your request to unsubscribe.
---
Copyright ©2014 Crime Scene Resources, Inc.
Crime Scene Investigator Network
PO Box 1043
Wildomar, CA 92595-1043