Are you having trouble viewing this email? View it online here: www.crime-scene-investigator.net/newsletter/0215.html This message
was not sent unsolicited. You signed up for this newsletter. If you wish to unsubscribe see the instructions at the bottom of this message.
Welcome to the February 2015 Crime Scene Investigator Network Newsletter



Sample Handling Considerations for
Biological Evidence and DNA Extracts




Introduction

This article will make recommendations for handling biological evidence from sample collection to sample storage. Depending upon the type of biological evidence, it may be very difficult to detect certain types of samples. Saliva and semen stains are often not visible. Even bloodstains may be difficult to find if they are on a dark substrate. Although specialized, forensic light sources are sometimes helpful in visualizing these stains, they cannot always be relied upon to find all biological stains. It is especially difficult to detect saliva or semen on some dark colored fabric with any of the widely used forensic light sources. Thus, a stereomicroscope or chemical mapping techniques may be required to improve the chances of finding all biological evidence. After a sample has been detected, steps must be taken to insure that the sample integrity is maintained and the chances of contamination are minimized.

Sample Collection in the Field

Once a sample has been located and a decision has been made to take the sample, issues arise as to how to collect, dry and package it for transportation to the laboratory. Considerations relevant at this stage include the ability to obtain as much sample as possible, to minimize degradation and finally to insure that samples are not inadvertently contaminated with other biological samples.

The standard recommendation for collecting biological evidence is not to remove the stain from an object but rather to collect the object with the stain. The advantages of this strategy are that the entire stain is obtained, it is not necessary to collect an "unstained control" sample and there are no further manipulations required that might negatively impact the sample. If the stain is on a smooth, non-porous surface (i.e. it can be easily "flaked" off), it will be necessary to protect the stain from contact with other objects. Depending upon the nature of the evidence, a stain can be protected by immobilizing the evidence item in a cardboard box (e.g. with pieces of wire) or by taping a piece of paper over the stain (if this will not destroy other evidence, such as fingerprints). Provided that the stain can be adequately protected, this is the optimum collection procedure.

Given that some stains are found on immovable objects, it is not always possible to collect the object with the stain. Some samples will need to be collected in the field. If the entire object cannot be collected then the next best way to collect biological evidence is to remove the stain by cutting it out (e.g. from a piece of carpet). Remember to use clean scissors and to cut out an "unstained" control. Scissors or tweezers can be cleaned by rinsing with clean water and then drying with tissue. Repeat this cleaning process twice prior to each sampling.
This Month's Featured Resource on the Crime Scene Investigator Network Website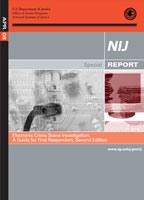 This guide is intended to assist State and local law enforcement and other first responders who may be responsible for preserving an electronic crime scene and for recognizing, collecting, and safeguarding digital evidence. It is not all inclusive but addresses situations encountered with electronic crime scenes and digital evidence. All crime scenes are unique and the judgment of the first responder, agency protocols, and prevailing technology should all be considered when implementing the information in this guide. First responders to electronic crime scenes should adjust their practices as circumstances—including level of experience, conditions, and available equipment—warrant.
Featured Video Presentation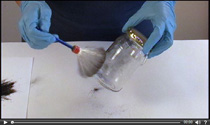 On our Video Presentations page:
Learn the basic technique for processing latent fingerprints by dusting with black powder.
New CSI and Forensic Job Announcements
The most comprehensive listing of Crime Scene Investigation and Forensic
employment opportunities on the internet! We typically have over 500 current listings!
Forensic Specialist (CSI)
Culver City Police Department, California, USA
Final Filing Date: February 16, 2015
Salary: $5,475 to $6,683 Monthly
This non-sworn position is responsible for performing a variety of tasks and procedures relating to crime scene investigation, documentation, analysis, and storing of physical evidence for investigative and law enforcement purposes. ...
<View complete job listing>
Crime Lab Analyst — Digital Evidence
Florida Department of Law Enforcement, Tallahassee, Tampa, Florida, USA
Final Filing Date: June 30, 2015
Salary: $40,948.18 - $75,649.72 per year
Analysts in the Digital Evidence section conduct detailed laboratory examination and analysis of computer evidence involved in criminal cases at the request of law enforcement agencies. ...
<View complete job listing>
Forensic Chemist I/II (DNA)
Prince George's County Police, Landover, Maryland, USA
Final Filing Date: February 24, 2015
Salary: $43,968.00 - $88,384.00 Annually
Conducts serologic analyses on physical evidence to identify body fluids; performs DNA analyses on serologic evidence according to established protocols; ...
<View complete job listing>
---

---
Property and Evidence Technician
Fresno Police Department, California, USA
Final Filing Date: February 17, 2015
Salary: $3,205 - $3,872 Monthly
Receive, store, and dispose of property and evidence held by the Police Department, safeguard inventories, maintain chain-of-evidence records and may be called upon to testify in court.
<View complete job listing>
Forensic Scientist 2 — Latent Fingerprints Analyst
New Mexico Department of Public Safety, Santa Fe, New Mexico, USA
Final Filing Date: February 19, 2015
Salary: $21.53 - $37.46 Hourly
As a Forensic Scientist 2, the incumbent will perform analysis of latent print evidence; the incumbent will be responsible for independently collecting, classifying, identifying and analyzing latent fingerprint evidence related to criminal investigations. ...
<View complete job listing>
Hi-Tech Crime Investigator
British Transport Police, Camden, UK
Final Filing Date: 18 February 2015
Salary: £36,516.11 per annum
Carry out computer crime investigations and forensic data recovery, support investigations and the subsequent forensic handling of digital data and evidence including the imaging of computer material. ...
<View complete job listing>
£6m investment boosts DNA profiling
New technology is allowing forensic scientists in Scotland to "lead the way" in DNA profiling following a £6 million investment, according to the Justice Secretary.
The Extra - February 2, 2015
Fingerprint Examiners Found to Have Very Low Error Rates
A large-scale study of the accuracy and reliability of decisions made by latent fingerprint examiners found that examiners make extremely few errors. Even when examiners did not get an independent second opinion about the decisions, they were remarkably accurate...
PRNewswire - February 2, 2015
Next-Gen Sequencing Maps 'Highly Degraded' DNA
Next-generation sequencing (NGS) technology can now profile highly damaged DNA samples that contain 75 percent less base-pair information, compared with previous systems. This is a significant improvement for law enforcement in cases involving missing persons or unidentified human remains.
Forensic Magazine - by Sean Allocca - January 30, 2015
NIST Forensic Science Standards Committees to Hold First Public Meetings in February 2015
The Organization of Scientific Area Committees (OSAC), which coordinates the development of standards and guidelines for the forensic science community under the auspices of the National Institute of Standards and Technology (NIST), will hold its first set of public meetings in Orlando, Fla., on Feb. 16 and 17, 2015. The meetings will include presentation and discussion of priorities for developing standards and guidelines for each forensic science discipline.
NIST - January 27, 2015
Reston company develops new forensic DNA analysis technique
"Our service, called 'Snapshot' is an entirely new way to use DNA in criminal analysis," said Ellen McRae Greytak, Ph.D., Parabon's Director of Bioinformatics. "It predicts &mdash with a high level of confidence — a person's physical appearance from a DNA sample using a process called DNA Phenotyping."
Fairfax Times - By Gregg MacDonald - January 22, 2015
Other Resources on the Crime Scene Investigator Network Website
Not Subscribed to this Newsletter?
To unsubscribe from future e-mail newsletters, please click here: UNSUBSCRIBE
or email newsletter@crime-scene-investigator.net with your request to unsubscribe.
---
Copyright ©2015 Crime Scene Resources, Inc.
Crime Scene Investigator Network
PO Box 1043
Wildomar, CA 92595-1043