This month's newsletter is brought to you by the 2018 CSI Winter Academy
Ridge Detail at a Crime Scene




Many very good articles and books have been written on fingerprint technology. For the crime scene investigator or evidence recovery technician assigned the task of recovering fingerprint impressions at the crime scene, it is important that they have a good solid foundation of the basic knowledge. The knowledge should include the basic terminology, the equipment that is available , safety standards for the products being used and the basic skills that are being applied in the field.

Fingerprint identification
In criminal investigations fingerprints are one of the oldest and most common types of physical evidence found at a crime scene. One of the primary goals of the investigation deals with identification. Whether the identification is that of an unknown victim (body found at the side of the road) or that of the perpetrator of a crime. The ridge detail developed and recovered at a crime scene and later identified by a fingerprint examiner becomes an investigative lead (starting point) for the detectives assigned to the investigation. A fingerprint is simply defined as friction ridge detail of the hands and the feet. The friction ridges serve two basic purposes. First they allow us to grip and hold on to various surfaces. In forensics, they serve as a method of individual identification.

Fingerprints and The Crime Scene Investigator/Technician
Departments and agencies throughout the country vary as to whom is assigned the duties of processing the crime scene and recovery of the latent impressions.

The goal of the crime scene investigator or evidence recovery technician is recognition and recovery of friction ridge detail that might be deposited on the many different surfaces at a crime scene. The crime scene investigator/technician must have an understanding of the types of ridge detail that may be deposited on the scene, the types of surfaces that would retain the detail, and the methods used in recovering those deposits. The biggest challenge for technology today is adopting to keep up with the ever-changing surface materials.

Categories of prints
Different regions of the country have different phrases used to describe the terminology and techniques in ridge detail deposit and recovery. There are three basic categories or types of impressions that may be deposited, detected, developed if need be and recovered at a crime scene.

1. Latent
The skin has deposits of oil and perspiration that normally coat the surface. When the hand touches the surface, some of the moisture is transferred from the hand to the object, leaving an impression of the friction ridge detail. These are referred to as latent impressions. On most surfaces the latent impressions are not readily visible. The word latent is defined as not visible. That does not mean that it is actually invisible. Using available or oblique lighting on most surfaces will reveal the impression. The impression must be enhanced or developed to be seen fully and collected.

2. Patent
A patent impression occurs as the result of transferring a foreign material coating the skin of the fingers. Examples of the foreign material would be substances like paint, tar, grease, blood, or ink. The best example of a patent impression would be the ink standards or elimination's that we as investigators collect from individuals. After the ink is applied it becomes the foreign material coating the hands of the individual. A card is used as a transfer medium, thus becoming the object touched and a transferring of the patent impression takes place. The word patent means obvious or evident. Patent impressions are visible and usually need no enhancement. They are simply photographed and the item that they are deposited on is collected if necessary. The photograph and or object actually becomes the investigators lift.

3. Plastic or Molded
A plastic or molded impression is deposited when the hands, fingers, or feet is pressed into a soft rubbery type material that will retain the impression of the ridge detail. Where a latent impression is deposited on the surface, a plastic or molded impression would be deposited into the surface. Examples of the materials where a plastic impression would be deposited are clay, wet paint , blood, or tar. Plastic or molded impressions are visible and usually need no enhancement. They are simply photographed and if necessary the item is collected and may have the ability to be caste.

As a further example; If we were to ask the question, "Is a bloody print the same as a print in blood" ? The answer to this question would be, "NO". The print in blood would be an example of depositing a plastic or molded impression into the surface of blood. The bloody print would be an example of having a foreign substance, such as the blood, coating the hand and depositing an impression from the blood coating to another surface.

Discovery
The discovery process or visual search for a latent impression starts at a point of entry and works the way into and surrounding the crime scene. The search is to discover items that have been handled, moved or anything that appears out of place. The most suitable surfaces are smooth, hard, non-absorbent and non-porous surfaces. Patience, common sense, and experience are needed to assure that all latent impressions are collected. Continued practice will give the confidence needed to collect all types of impressions from different surfaces.




Related articles
This Month's Featured Resource on the Crime Scene Investigator Network Website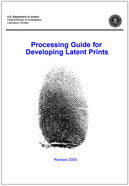 The beginning of this manual is a list of processes and procedures for different surface types. Also included are processing sequences that specifically involve prints that are left in blood. Following these lists are details for each process that is currently implemented in the Latent Print Unit (LPU) of the Federal Bureau of Investigation (FBI) Laboratory.
New CSI and Forensic Job Announcements
The most comprehensive listing of Crime Scene Investigation and Forensic
employment opportunities on the internet! We typically have over 200 current listings!
Evidence Technician I
Wyoming Police Department, Wyoming, Michigan, USA
Final Filing Date: January 7, 2018
This position is responsible for fingerprinting, photography, computer mapping/graphics, crime scene search/documentation, preservation of evidence, preparing court exhibits, records and reports and performing related work
<View complete job listing>
Crime Scene Specialist
Citrus County Sheriff's Office, Inverness, Florida, USA
Final Filing Date: Open until filled
Investigate and process crimes scenes through observation, photography, documentation, fingerprint development, casting, or by other means as necessary; Develop, collect, transport, and secure evidence or other property from criminal cases adhering to chain of custody and control measures;
<View complete job listing>
Criminalist
Ohio State Department of Public Safety, Franklin County, Ohio, USA
Final Filing Date: December 31, 2017
Performs analytical testing on crime-related evidence provided by law enforcement officers. Performs analysis on drugs, urine, blood, physical evidence, etc. Evaluates data & develops opinions based on knowledge, skills & sound analytical processes. Provides court testimony as an expert witness;
<View complete job listing>
---

---
Fingerprint Specialist III
Prince George's County Police Department, Landover, Maryland, USA
Final Filing Date: December 31, 2017
Provides expert testimony in civil and criminal proceedings in State and Federal Court cases; provides training to subordinate fingerprint personnel in techniques and methodology of latent print examination; analyzes and compares latent finger and palm impressions from crime scenes with inked impressions or live scans of known criminals;
<View complete job listing>
Evidence Technician
Round Rock Police Department, Round Rock, Texas, USA
Final Filing Date: December 31, 2017
Maintains all property and evidence seized or kept by the police department. This is accomplished by receiving and storing all evidence collected by the police department; ensuring a continuous chain of custody; responding to and fulfilling requests on evidence. The Evidence Technician is responsible for researching and using appropriate means to complete final dispositions.
<View complete job listing>
Photographic Specialist
Arizona Department of Public Safety, Phoenix, Arizona, USA
Final Filing Date: January 7, 2018
Photographs accident scenes, crime scenes, aerial scenes, and public relations opportunities. Produces photos from videotapes to provide photographic proof and pictures.
<View complete job listing>
NMU students prepare plot site for human decomposition program


Northern Michigan University's Forensic Research Outdoor Station program (FROST) is nearly underway. But before the FROST program can begin studying human decomposition in cold weather climates, the plot site must be prepared.
WLUC - Alex Kline - December 11, 2017
Real-life CSI: New device could help bomb squads 'catch the bad guys'


The device is intended to be used to track blood, other bodily fluids, fingerprints and explosive residues found after explosions. It is also being tested for other uses, such as identifying biological material on other planets.
coloradoan.com - Saja Hindi - December 11, 2017
New state crime lab to focus on drug, DNA evidence
A new crime lab in North Carolina aims to increase efficiency within the state's criminal justice system, particularly with drug and DNA evidence.
The Seattle Times Company - December 11, 2017
Moore sheriff adds drone to force
The primary use remains search and rescue operations, but it may be employed in other capacities such as searching for a suspect, crime scene photography and documenting natural or man-made disasters.
The Courier-Tribune - December 10, 2017
Fingerprint scanners identify bodies, crime suspects within seconds


What once took days or weeks can now be done almost immediately. The Missouri State Highway Patrol is using handheld fingerprint scanners that are assisting investigators to identify crime suspects, crash victims, and deceased individuals.
KY3 - Mike Landis - December 8, 2017
This machine that analyses art can also be used to solve crime
One of the shortfalls of traditional forensic science is the struggle to detect and image biological traces, like blood and sperm, from a surface too dark or fluorescent. This new CSI technique, however, can detect traces on any surface with ease, and it could even help to solve old crimes.
thenextweb.com - Camille Charluet - December 8, 2017
How Do Investigators Match Paint Chips To Cars Involved In Crimes?


When the evidence comes to the BCA, it is catalogued and sent to a search room. In that room, someone will scrape the clothing to remove any debris. That debris is then put under a microscope and any paint chips found in there are removed.
CBS Minnesota - Heather Brown - December 7, 2017
Luminescent nanoparticles leave a glowing fingerprint
A new fingerprinting technique that uses long-lived luminescent nanoparticles provides sharp images of otherwise invisible prints. The method offers better resolution than standard fingerprinting for forensic investigation, the researchers say.
Chemical & Engineering News - Melissae Fellet - December 4, 2017
Other Resources on the Crime Scene Investigator Network Website
Not Subscribed to this Newsletter?
To unsubscribe from future e-mail newsletters, please click here: UNSUBSCRIBE
or email newsletter@crime-scene-investigator.net with your request to unsubscribe.
---
Copyright ©2017 Crime Scene Resources, Inc.
Crime Scene Investigator Network
PO Box 1043
Wildomar, CA 92595-1043