Welcome to the December 2015 Crime Scene Investigator Network Newsletter



Increasing Crime Scene Integrity
by Creating Multiple Security Levels





I was a newly promoted detective for the Joplin Police Department. I really wanted to learn the ropes quickly, but this not what I had in mind. With 7 homicides in one year, we faced what constituted a crime wave for our small community. I stood in the doorway of one of these murder scenes, the beating death and robbery of a retired gentleman. Inside the house was a badly beaten murder victim; outside the house, but inside the yellow tape was a number of officers that equaled the population of a small city. The Chief was inside for an update, one detective was eating lunch, and a couple of cops were smoking. Officers were standing around talking. Some with only the jokes and usual speculation, but others were having meetings and discussing investigative possibilities. That was standard operating procedure then for Joplin PD, a Police Department of about 70 Officers and 50,000 citizens in Joplin, MO. We often faced big city crime without big city resources. We were seen as a very professional and progressive department, yet such a lack of crime scene integrity was normal operating procedure. Why? Officers were inside the tape to hide from the media, onlookers and curious gore chasers. They were careful not to disturb any obvious evidence, but shouldn't there be a better way to handle large scale scenes? The solution that I now teach to cops and college students is Multi-Level Containment. You may have seen large agencies use this technique, but you may not understand the value for all agencies faced with important crime scenes. Here is how your agency can insure crime scene integrity while conserving manpower and budget dollars:

First level containment

The most basic and superficial containment, this is the crime scene tape that surrounds the crime scene itself. The first level is usually determined by responding patrol officers and perhaps modified slightly after the initial chaos dies or the investigators show up. Properly done, this level of containment surrounds all places where evidence might be, with a bit more for extra insurance. Make sure to remember possible areas of entrance and egress by the suspect as these are the most commonly forgotten when containing a crime scene. Regrettably, first level containment is all the protection most crime scenes get. As illustrated earlier this just doesn't cut it for the big scenes because everyone does everything inside the tape.

Secondary Containment

Though taking security to a higher level, this is not as complicated as it sounds. When crime scene processing officers arrive, they put up a second barrier of crime scene tape that completely surrounds the first level making a buffer zone. The secondary level solves several problems: Officers and Command staff have a place to meet where they cannot be bothered by civilians. Equipment can be stored in this secondary area and even makeshift desks made from folding tables can be erected. If you have some sort of crime scene vehicle it can be parked in this area and the area can serve as an established place for taking breaks and for crime scene trash.

*Article submitted by the author
This Month's Featured Resource on the Crime Scene Investigator Network Website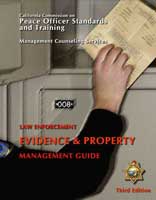 The POST Law Enforcement Evidence & Property Management Guide was developed as a resource for law enforcement agencies and personnel, noting best practices and providing standardized guidelines for the various aspects of the evidence and property function. The importance of this function in a law enforcement agency cannot be overstated. The agency has a fiduciary and legal obligation to store and protect items of evidence and property in its custody, and equally important, an obligation to legally restore property to the rightful owner as soon as practical or dispose of the property in a legal manner.
Featured Video Presentation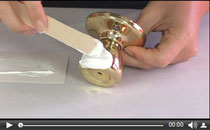 On our Video Presentations page:
Learn the basic technique for casting tool mark impressions with Mikrosil.
New CSI and Forensic Job Announcements
The most comprehensive listing of Crime Scene Investigation and Forensic
employment opportunities on the internet! We typically have over 600 current listings!
Field Evidence Technician Trainee
City of Oceanside Police Department, California, USA
Final Filing Date: December 28, 2015
Assist police officers in the processing of crime scenes; prepare detailed evidence collection and crime scene processing reports; prepare detailed investigative reports; examine photos and videotapes for crime scene evidence; photo and videotape crime scenes; collect, transport, and preserve evidence; lift, preserve, file, and compare latent prints; photograph and diagram crime scenes; properly process and package evidence; prepare courtroom exhibits; testify in court and at other designated proceedings; ...
<View complete job listing>
Crime Scene Investigator I
City of San Antonio, Texas, USA
Final Filing Date: December 14, 2015
Evaluates crime scene and ensures it is well protected. Photographs and videotapes crime scene. Searches crime scene thoroughly for physical evidence. Collects, marks, and preserves physical evidence and latent fingerprints. Prepares diagram of crime scene and other reports. Presents forensic evidence in official proceedings. Performs related duties and fulfills responsibilities as required.
<View complete job listing>
City of St. Louis, Missouri, USA
Final Filing Date: December 18, 2015
This is entry-level technical work performing moderately complex to complex testing of DNA and drug specimens for evidentiary purposes. Incumbents perform a variety of duties to personally process evidence; perform DNA analysis and drug chemistry analysis; prepare documentation and reports on findings, and present findings in court.
<View complete job listing>
---

---
Crime Lab Analyst — Digital Evidence
Florida Department of Law Enforcement, Tallahassee or Tampa, Florida, USA
Final Filing Date: December 31, 2015
Analysts in the Digital Evidence section conduct detailed laboratory examination and analysis of computer evidence involved in criminal cases at the request of law enforcement agencies.
<View complete job listing>
Criminalist — Crime Scene/Latent Prints
Iowa Division of Criminal Investigation Crime Laboratory, Polk County, Iowa, USA
Final Filing Date: November 29, 2015
This position will collect and preserve evidence at scenes of crimes and perform scientific analyses of physical materials in the investigation of crimes for the Division of Criminal Investigation Crime Laboratory, and will be assigned to the Latent Print Section. This person will locate, develop, analyze and compare fingerprints, palm prints, foot prints, footwear and tire impressions, to identify or eliminate persons, shoes or tires used in criminal activities. Other related work is required, i.e., results of comparisons are relayed to the criminal justice system by written reports and in courtroom testimony, photography, entering of prints into automated fingerprint systems, speaking to and training peace officers, and other professional activities.
<View complete job listing>
Field Deputy Medical Investigator
University of New Mexico Medical Investigator, Albuquerque, New Mexico, USA
Final Filing Date: December 31, 2015
Investigators respond to unattended, traumatic, and/or suspicious deaths to help determine the cause and manner of death. Field deputies interview families, witnesses, and law enforcement as to the circumstances of the death, conduct a preliminary examination of the decedent on scene, collect blood, urine, and vitreous fluids for toxicology testing, order and review medical records, take legal custody of the body, arrange for transportation to a holding facility, and generate a written report of findings ...
<View complete job listing>
Other Resources on the Crime Scene Investigator Network Website
Not Subscribed to this Newsletter?
To unsubscribe from future e-mail newsletters, please click here: UNSUBSCRIBE
or email newsletter@crime-scene-investigator.net with your request to unsubscribe.
---
Copyright ©2015 Crime Scene Resources, Inc.
Crime Scene Investigator Network
PO Box 1043
Wildomar, CA 92595-1043