Are you having trouble viewing this email? View it online here: www.crime-scene-investigator.net/newsletter/1214.html This message
was not sent unsolicited. You signed up for this newsletter. If you wish to unsubscribe see the instructions at the bottom of this message.
Welcome to the December 2014 Crime Scene Investigator Network Newsletter



Scales, Numbering and Directional Devices




Scales and measuring devices

Scales and measuring devices are frequently used in crime scene and evidence photographs. While they are sometime used to orient the viewer of the photograph to the relative size of the object in the photograph, scales are primarily used to serve as a basis for making enlargements to a specified magnification level, such as life size. This is critical for photographs of evidence that later will become the basis for a comparison—such as a photograph of a footwear impression that will be compared with the shoe of a suspect—since a photograph must be printed to life size. A variety of scales must be available for photographing different types of subjects.

Small self-adhesive scales are used to photograph evidence such as fingerprints and bullet holes in walls.


6 inch scales are used for photographing most small to medium sized evidence. Some 6 inch scales have small numbers for extreme close-up photographs and others have large numbers for photographing larger items. The larger numbers allow easy reading of the scale from a greater distance.


Large "L" shaped scales are frequently used for photographing footwear impression evidence while small "L" shaped scales are used for photographing injuries such as bruises and bite marks.


Longer scales with large, easy to read numbers are used for photographing tire tread impressions and bloodstain scenes. These long scales can be metal or cloth tape measures or plastic scales.

When using scales in photographs, two photographs of each item of evidence must be taken. One photograph must be taken without the scale in view and one photograph taken with the scale. The first photograph will document that the photographer did not cover or block other evidence with the scale.

Numbering and directional devices

Numbering devices are commonly used to identify similar appearing evidence. For example, several bullet holes in a wall would need to be individually numbered. It is usually unnecessary to place numbering devices in a photograph to identify items of evidence that cannot be confused with other items.

< read the complete article and view example photographs >

*Article submitted by the author
This Month's Featured Resource on the Crime Scene Investigator Network Website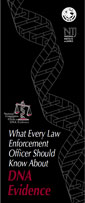 Just as today's law enforcement officer has learned to look routinely for fingerprints to identify the perpetrator of a crime, that same officer needs to think routinely about evidence that may contain DNA. Recent advancements in DNA technology are enabling law enforcement officers to solve cases previously thought to be unsolvable. Today, investigators with a fundamental knowledge of how to identify, preserve, and collect DNA evidence properly can solve cases in ways previously seen only on television. Evidence invisible to the naked eye can be the key to solving a residential burglary, sexual assault, or child's murder. It also can be the evidence that links different crime scenes to each other in a small town, within a single State, or even across the Nation.
Featured Video Presentation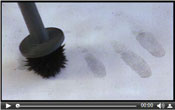 On our Video Presentations page:
Watch this video to learn how to develop fingerprints using magnetic powder.
New CSI and Forensic Job Announcements
The most comprehensive listing of Crime Scene Investigation and Forensic
employment opportunities on the internet! We typically have over 500 current listings!
Photographer, GS 10/11
Federal Bureau of Investigation, Los Angeles, California, USA
Final Filing Date: December 22, 2014
Salary: $58,785.00 to $83,960.00 per year
Performs investigative and non-investigative photography assignments in a variety of environments. Uses a variety of photography equipment. Monitors inventory of photography equipment. Prepares photographs for evidence or courtroom purposes. Prepares written documents concerning items photographed. Orally provides technical advice regarding use of photography equipment, procedures, etc.
<View complete job listing>
Senior Crime Scene Technician
Coral Gables Police Dept, Florida, USA
Final Filing Date: January 16, 2015
Salary: $$43,388.80 - $59,571.20 Annually
The Crime Scene Technician performs supervisory and specialized, technical work gathering evidence at crime scenes.
<View complete job listing>
Crime Laboratory Analyst — Digital Evidence
Florida Division of Law Enforcement, Statewide, USA
Final Filing Date: December 31, 2014
Salary: $40,948.18 - $75,649.72
Analysts in the Digital Evidence section conduct detailed laboratory examination and analysis of computer evidence involved in criminal cases at the request of law enforcement agencies. The results of these examinations are incorporated into written reports which form a basis for associated legal proceedings.
<View complete job listing>
---

---
Forensic Scientist
Indiana State Dept of Toxicology, Indianapolis, USA
Final Filing Date: December 25, 2014
Salary: Hire salary will be dependent on selected applicant's overall qualifications, including experience and education but will minimally be $46,709.
An entry level Forensic Scientist performs technical work, testing and analyzing drugs and drugs of abuse and their metabolites for law enforcement and governmental agencies using state of the art instrumentation and analytical techniques. These results will often be used in court cases to determine guilt or innocence. Assists the Lab Director with routine functions and management of the lab. May act on Director's behalf during periods of absence.
<View complete job listing>
Property and Evidence Technician
Bristol Police Department, Connecticut, USA
Final Filing Date: December 31, 2014
Salary: $23.28 per hour
Performs a variety of duties involved in the care, custody, control and disposal of all evidence, property and/or contraband that comes under the custodial control of the police department property room. Maintains documentation of all property transactions and proper chain of custody for all court proceedings as needed. Operates department computer equipment and software programs. Works with investigators, courts and other law enforcement agencies in matters relating to property and evidence. Maintains established guidelines and accurate records. Answers subpoenas for evidence. Responds to inquiries.
<View complete job listing>
Forensic Scientist 2 — Latent Prints
Minnesota Department of Public Safety, St Paul, USA
Final Filing Date: December 29, 2014
Salary: $25.69 - $38.11 hourly
To provide to the Criminal Justice System the results and interpretation of analyses of submitted evidence. To participate in the design and validation of new technology and methods for use in casework. To assist in the development of training programs and train new scientists in section methods and procedures. To testify as an expert witness as required.
<View complete job listing>
Other Resources on the Crime Scene Investigator Network Website
Not Subscribed to this Newsletter?
To unsubscribe from future e-mail newsletters, please click here: UNSUBSCRIBE
or email newsletter@crime-scene-investigator.net with your request to unsubscribe.
---
Copyright ©2014 Crime Scene Resources, Inc.
Crime Scene Investigator Network
PO Box 1043
Wildomar, CA 92595-1043