Welcome to the November 2016 Crime Scene Investigator Network Newsletter



Communicating Forensic Science

How jurors respond to forensic identification
expert testimony presented at trial




N. J. Schweitzer, Principal Investigator
Arizona State University




Background and Purpose

The broad purpose of this project was to contribute to the sparse knowledge that currently exists regarding how jurors respond to forensic identification expert testimony presented at trial. We pursued this goal by conducting a series of controlled studies involving jury simulations or mock trials. Jury simulations are experimental studies in which the researcher attempts to construct a setting that mirrors, in fundamental ways, a jury decision-making environment. Jury simulations vary widely in terms of participants, materials, physical settings, realism, methods, independent variables, dependent measures, and other experimental features. As we describe later, we produced a series of mini-trials for our studies, and went to great lengths to incorporate a variety of realistic features into those trials and subsequent mock juror deliberations.

The law expects witnesses to present, accurately and completely, relevant information of which they have personal or expert knowledge. Jurors, in turn, are expected to understand the testimony and to assign it appropriate weight in deliberations when they integrate it with other relevant evidence. But what factors affect how a juror will understand and weigh complex forensic identification expert testimony? For example, will jurors assume that experienced experts are more trustworthy (or less trustworthy) than less experienced ones? Will they assume that forensic results that are the product of highly sophisticated technology are more probative than equivalent results that emerge from less sophisticated technology? Will they assume that forensic methods that have been scientifically tested are more reliable than those that have not been tested? We suspected that matters might become more complicated when forensic methods have some potentially desirable properties (e.g., high technology methods that have been scientifically tested) but not others (e.g., expert is not experienced). Under these conditions, how will jurors weigh the forensic evidence that they hear?

We also set out to examine whether the forensic expert's expressed level of subjective certainty and his/her degree of willingness to concede the possibility of error could impact jurors' views of the strength of the forensic evidence. Consider subjective confidence levels. On the one hand, and for obvious reasons, extreme levels of professed certainty (e.g., "I'm 100% certain") might bolster a factfinder's confidence in the forensic result. But if such certainty seems unwarranted or comes across as hyperbole or bias, jurors might treat those forensic results as less reliable than they otherwise would.
This Month's Featured Resource on the Crime Scene Investigator Network Website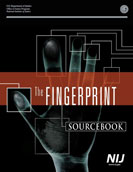 The idea of The Fingerprint Sourcebook originated during a meeting in April 2002. Individuals representing the fingerprint, academic, and scientific communities met in Chicago, Illinois, for a day and a half to discuss the state of fingerprint identification with a view toward the challenges raised by Daubert issues. The meeting was a joint project between the International Association for Identification and West Virginia University. One recommendation that came out of that meeting was a suggestion to create a sourcebook for friction ridge examiners, that is, a single source of researched information regarding the subject. This sourcebook would provide educational, training, and research information for the international scientific community.
<View the Publication>
Featured Video Presentation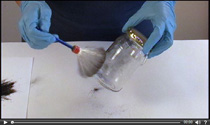 On our Video Presentations page:
Learn the basic technique for processing latent fingerprints by dusting with black powder.
New CSI and Forensic Job Announcements
The most comprehensive listing of Crime Scene Investigation and Forensic
employment opportunities on the internet! We typically have over 250 current listings!
Crime Scene Technician
Wilmington Police Department, Wilmington, North Carolina, USA
Final Filing Date: November 18, 2016
Assist officers with the processing of crime scenes and evidence by responding to crime scenes, documenting scenes, collecting and packaging evidence, photographing, video and diagramming scenes, collecting and comparing fingerprints, and photographing and fingerprinting arrestees.
<View complete job listing>
Forensic Evidence Technician - Latent Print/Crime Scene Examiner
Monterey County Sheriff's Office, Salinas, California, USA
Final Filing Date: December 6, 2016. Applications received after December 6th, will be screened on an as needed basis.
Candidates will be considered at both the Forensic Evidence Technician (Trainee) and Forensic Evidence Technician (Journey level). Candidates appointed to the Forensic Evidence Technician (Trainee) ($4,608.90 – $6,294.60/Mo.) will be promoted to the Forensic Evidence Technician level subject to meeting the employment standards for the higher job class and receiving a recommendation for promotion by the appointing authority.
<View complete job listing>
Forensic Scientist I-III (DNA Analysis)
Texas Department of Public Safety, Corpus Christi, Texas, USA
Final Filing Date: November 21, 2016
Performs a variety of complex, independent laboratory tests, analyses, classifications, comparisons and identifications of all types of physical evidence from crime scenes with emphasis and specific recognized expertise in an optional or specialty area identified above.
<View complete job listing>
---

---
Crime Lab Scientist - Firearms/Toolmark Examiner
Georgia Bureau of Investigation, Decatur, Georgia, USA
Final Filing Date: November 30, 2016
Performs laboratory examinations and comparisons on physical evidence (firearms and components, bullets and cartridge cases, distance determination tests, tool markings, serial number restoration, and NIBIN database) submitted by local, state and federal law enforcement agencies for investigative and legal purposes.
<View complete job listing>
Fingerprint Technician
St. Louis Police Department Crime Lab, St. Louis, Missouri, USA
Final Filing Date: November 23, 2016
Responsible for fingerprinting individuals and classifying, analyzing, and comparing those records to state and federal automated fingerprint identification systems. Also, assist with the maintenance of fingerprint files. This is an entry-level technical classification in the Police Services Series - Identification Group job family within the City of St. Louis.
<View complete job listing>
Police Property Specialist
Fairfield Police Department, Fairfield, California, USA
Final Filing Date: November 23, 2016
Perform duties associated with the acceptance, recording, storage, control and disposal of police evidence and property; to protect the integrity of evidence throughout the judicial process; and to ensure compliance with all state and local laws regarding the storage and disposition of property and evidence.
<View complete job listing>
Other Resources on the Crime Scene Investigator Network Website
Not Subscribed to this Newsletter?
To unsubscribe from future e-mail newsletters, please click here: UNSUBSCRIBE
or email newsletter@crime-scene-investigator.net with your request to unsubscribe.
---
Copyright ©2016 Crime Scene Resources, Inc.
Crime Scene Investigator Network
PO Box 1043
Wildomar, CA 92595-1043