Welcome to the November 2015 Crime Scene Investigator Network Newsletter



Collection and Preservation of
Blood Evidence from Crime Scenes





Preliminary Considerations
Since blood evidence associated with a crime can provide information that may solve the case, it is essential to correctly document, collect, and preserve this type of evidence. Improperly handled blood evidence can weaken or destroy a potential source of facts in a case. Properly collected and preserved blood evidence can establish a strong link between an individual and a criminal act. Blood evidence or the lack of blood evidence can also be used to bolster or contradict a witness statement or any statements that the suspect may make. Blood evidence can also point the investigator in the direction he or she needs to go to solve the case. If blood evidence is documented, collected, and stored suitably, it can be presented to a judge or jury several years from the time of the criminal act. Perhaps the most powerful application of blood evidence is the ability to absolutely eliminate a person as a potential suspect in a crime.

Communication is the key to effectively processing blood evidence. Clear and open communication must exist between a crime scene's first responding officer, the case detective, the crime scene investigator, the forensic scientist analyzing the evidence, and the assistant district attorney handling the case. Of prime importance is the communication between the crime scene investigator and the forensic scientist. A crime scene investigator should know the crime lab's capabilities, the methods of blood collection and preservation preferred by the crime lab, the investigative information relevant to the forensic scientist, and the type of reference samples required by the crime lab. This information may change periodically as technology changes, lab policies change, lab personnel change, or lab administrations change. The preferences of forensic scientists also vary from lab to lab. A good method of blood evidence collection for one forensic scientist may not be a good method for another forensic scientist. The crime scene investigator should meet regularly with his or her crime lab's forensic scientists to determine the most suitable manner for collecting and preserving blood evidence. This ensures that the evidence is collected efficiently and effectively.

The technological state of blood evidence analysis has rapidly advanced in the last 20 years. ln the early seventies, most crime labs relied upon the ABO blood grouping system to characterize bloodstains. This meant that the blood could have come from 4 to 49% of the population. In the 1990's, most crime labs are relying on DNA analysis to characterize bloodstains. A blood source can now be statistically narrowed down to one person out of several million or even several billion. A crime scene investigator should know which method or methods of bloodstain analysis are available from his or her crime lab, the FBI lab, and private labs.

Currently, bloodstain analysis falls into three broad categories. A crime lab may use one, two, or all three methods when analyzing blood. These three categories are:

Conventional serological analysis
Analysis of the proteins, enzymes, and antigens present in the blood. These substances are more susceptible to degradation than DNA and this type of testing usually requires a "large" sample (quarter size) in good condition for optimal results. This type of testing is rarely statistically individualizing.

*Article submitted by the author
This Month's Featured Resource on the Crime Scene Investigator Network Website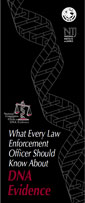 Just as today's law enforcement officer has learned to look routinely for fingerprints to identify the perpetrator of a crime, that same officer needs to think routinely about evidence that may contain DNA. Recent advancements in DNA technology are enabling law enforcement officers to solve cases previously thought to be unsolvable. Today, investigators with a fundamental knowledge of how to identify, preserve, and collect DNA evidence properly can solve cases in ways previously seen only on television. Evidence invisible to the naked eye can be the key to solving a residential burglary, sexual assault, or child's murder. It also can be the evidence that links different crime scenes to each other in a small town, within a single State, or even across the Nation.
Featured Video Presentation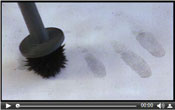 On our Video Presentations page:
Watch this video to learn how to develop fingerprints using magnetic powder.
New CSI and Forensic Job Announcements
The most comprehensive listing of Crime Scene Investigation and Forensic
employment opportunities on the internet! We typically have over 600 current listings!
Crime Scene Investigator
City of Delray Beach Police Department, Florida, USA
Final Filing Date: November 20, 2015
This is advanced technical work in crime scene investigation. Work involves processing of scenes, photography, evidence identification and collection with associated report preparation.
<View complete job listing>
Crime Scene Technician
City of Miramar Police Department, Florida, USA
Final Filing Date: November 25, 2015
Conducts thorough crime scene investigations, including searching for, locating, collecting, identifying, processing, documenting and preserving physical evidence. Obtains casts or impressions of footprints, tire impressions and tool marks. Photographs/diagrams crime scenes, evidence and victims as necessary. Properly logs, stores, maintains and handles all evidence taken into custody. ...
<View complete job listing>
Criminalist — Laboratory Unit
Adams County Sheriff, Commerce City, Colorado, USA
Final Filing Date: November 18, 2015
The Criminalist assigned to the Laboratory Unit is responsible for responding to crime scenes to collect, preserve, and document evidence, and to evaluate, examine, analyze and identify evidence collected. (physical evidence, photographs, video, sketches, documentation).
<View complete job listing>
---

---
DNA Analyst III-Serology/DNA Ops Tech
Harris County Institute of Forensic Sciences, Houston, Texas, USA
Final Filing Date: December 11, 2015
Performs scientific examination and analysis of biological evidence collected in connection with death and criminal investigations. Testing may also include screening for the presence of biological fluids and DNA analysis using Polymerase Chain Reaction/Short Tandem Restraints (PCR/STR) based methods. Analyst may be required to testify regarding analysis in a court of law as an expert witness in legal proceedings. ...
<View complete job listing>
Forensic Computer Examiner
Comal County Sheriff, New Braunfels, Texas, USA
Final Filing Date: November 29, 2015
Forensic examination of computers. Forensic examination of cell phones and digital devices. Submit and retrieve evidence to and from the Property Room. Research and testing of new products, techniques and procedures relating to computer and cell phone technology. Prepares reports, presents and testifies to forensic evidence in official proceedings. Courtroom testimony. ...
<View complete job listing>
Forensic Scientist — Latent Prints
Nebraska State Patrol, Lincoln, Nebraska, USA
Final Filing Date: November 30, 2015
Examine and/or process evidence to visualize/develop friction ridge detail; analyze, compare and evaluate friction ridge detail; photograph all latent prints; utilize Adobe Photoshop CS6 for digital latent image processing; compare received/developed latent impressions with known inked fingerprints, and/or enter latents into Automated Fingerprint Identification System (AFIS) for comparisons; ...
<View complete job listing>
Other Resources on the Crime Scene Investigator Network Website
Not Subscribed to this Newsletter?
To unsubscribe from future e-mail newsletters, please click here: UNSUBSCRIBE
or email newsletter@crime-scene-investigator.net with your request to unsubscribe.
---
Copyright ©2015 Crime Scene Resources, Inc.
Crime Scene Investigator Network
PO Box 1043
Wildomar, CA 92595-1043