Are you having trouble viewing this email? View it online here: www.crime-scene-investigator.net/newsletter/1114.html This message
was not sent unsolicited. You signed up for this newsletter. If you wish to unsubscribe see the instructions at the bottom of this message.
Welcome to the November 2014 Crime Scene Investigator Network Newsletter



Bullet Holes in Plastic-Composite Material




Abstract

When investigating crimes involving gunshots and bullet holes, crime scene technicians must be cognizant of holes and defects in rubberized plastic-composite materials used in most new cars' bumpers, fascias and guard strips and investigate accordingly to determine if the damage was caused by a bullet. Accurate measurements of well-formed bullet holes are necessary to properly determine the angle of impact.

Scenario

An argument in a crowded shopping center parking lot leads to an exchange of gunfire between two rivals that resulted in the death of one of the men. Witnesses at the scene provided conflicting accounts of the incident. Some said each man fired one shot at close range. Others reported hearing only one shot. The surviving participant claimed the victim fired at him first. Crime scene techs who processed the scene recovered and documented evidence accounting for the shot fired by the first man but cannot account for the shot fired by the second man, the victim of the homicide.

Overview

During a recent crime scene tech training session on shooting incident reconstruction, an interesting facet of bullet holes in the plastic-composite door guard strip on the car door panels used for the training session was noticed. In preparation for the training, instructors fired several bullets at different angles, known and unknown, at car door panels. After classroom lecture and exercises, the crime scene tech "students" examined the holes in the door panels to determine the trajectory and angle of impact of the fired bullets.

The door panels used during the training session were scrap parts from old, accident-damaged Lincoln police cruisers. The panels were equipped with rubber-plastic composite bumper guard strips. These strips run the length of the door panel just under the "LINCOL" decal.

While these bumper guards were not the specific intended targets of the test-fired bullets, a few of the shots struck and penetrated these plastic-composite strips. In examining this damage more closely, several techs noted the entrance "wounds" in the plastic material appeared markedly different than the bullet strikes in the metal door panel. The elasticity of the plastic material did not leave what would be considered a characteristic bullet hole.
This Month's Featured Resource on the Crime Scene Investigator Network Website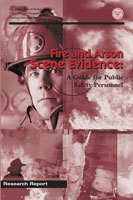 It is the intention of this Guide to acquaint a broad spectrum of public safety personnel with the fire investigation process, so they may understand their role in this important task and help identify, locate, and preserve evidence in its varied forms, to either assist a specialist investigator when one is needed or to adequately document and collect evidence when no assistance is needed or available. This Guide focuses on the documentation and collection of physical evidence at fire/arson scenes.


<View the Publication>
Featured Video Presentation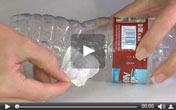 On our Video Presentations page:
Learn the basic technique for using Mikrosil to lift fingerprints from irregular surfaces.
New CSI and Forensic Job Announcements
The most comprehensive listing of Crime Scene Investigation and Forensic
employment opportunities on the internet! We typically have over 500 current listings!
Crime Scene Specialist
Carmel Police Department, Indiana, USA
Final Filing Date: December 5, 2014
Salary: $57,299.00 - $68,760.00 Annually
Identifies, collects, packages and preserves physical evidence, latent prints and forensic evidence at crime scenes and from recovered vehicles and other property. Submits evidence and documentation to state police laboratories, toxicology laboratories, Federal Bureau of Investigation, Drug Enforcement Agency and Department of Alcohol, Tobacco and Firearms for testing and analysis. Takes photographs of crime scenes and evidence; mounts photographs for trials; makes copies of photographs and videocassette tapes for prosecutor, defense attorneys, officers and insurance companies; maintains photographs and negatives for use in court. Collects fingerprints at crime scenes using chemical latent fingerprinting, fluorescent fingerprinting, electrostatic lifter, supergluing, DFO and physical developing MORE
<View complete job listing>
Computer Forensic Crime Analyst
Maricopa County Sheriff, Phoenix, Arizona, USA
Final Filing Date: December 3, 2014
Salary: $24.49 - $37.62 Hourly
Assist all MCSO personnel in the seizure of computer and related high technology storage devices. Perform forensics search and analysis of information stored on computers and external storage media including information that is hidden, encrypted, and deleted. Present evidence to investigators, and testify in court regarding evidence MORE
<View complete job listing>
Forensic Scientist I — Toxicology
Regional Forensic Science Center, Wichita, Kansas, USA
Final Filing Date: December 1, 2014
Salary: Not stated
Seeking a qualified entry level applicant to perform postmortem analyses in the Toxicology Laboratory of the Center. The successful candidate will independently perform chemical analyses of human fluids and tissues on postmortem cases, and may also examine human performance (DUI/DUID) and other criminal cases utilizing chemical and instrumental methodologies. This position may be called upon to testify as an expert witness in a court of law.
<View complete job listing>
---

---
Evidence Technician
Texas Department of Public Safety, Midland, Texas, USA
Final Filing Date: November 18, 2014
Salary: $2,748.00 - $3,134.43 Monthly
Performs routine laboratory evidence technician duties to include receiving, storing, returning, and/or destroying crime evidence items according to court orders or to comply with applicable statutes and properly and accurately documenting transactions involving evidence receipt, disposition, inventory, and destruction. MORE
<View complete job listing>
Latent Print Examiner
City of Miami, Florida, USA
Final Filing Date: December 5, 2014
Salary: $58,002.88 - $77,898.08 Annually
Develops, compares, evaluates, identifies, and prepares latent fingerprints/palm prints for court exhibits, and testifies in all courts of law as a qualified expert witness. Utilizes the Automated Fingerprint Identification System for search of latent prints, generated from open criminal cases, in an attempt to identify criminals. MORE
<View complete job listing>
Forensic Video Technician
Township of Langley, British Columbia, Canada
Final Filing Date: 16 November 2014
Salary: $27.21 - $31.99 per hour
Responsible for receiving and reviewing video evidence from various sources, preparing materials and reports to support criminal investigations; appearing in Court to present testimony on any work performed; act as a resource person and provide guidance to Detachment members and other agencies in the field of forensic video analysis. MORE
<View complete job listing>
Other Resources on the Crime Scene Investigator Network Website
Not Subscribed to this Newsletter?
To unsubscribe from future e-mail newsletters, please click here: UNSUBSCRIBE
or email newsletter@crime-scene-investigator.net with your request to unsubscribe.
---
Copyright ©2014 Crime Scene Resources, Inc.
Crime Scene Investigator Network
PO Box 1043
Wildomar, CA 92595-1043