Crime Scene Investigator Network Newsletter
NOVEMBER 2010
Welcome to the November 2010 Crime Scene Investigator Network Newsletter

Collection and Preservation of
Blood Evidence from Crime Scenes

George Schiro
Forensic Scientist
Louisiana State Police Crime Laboratory

Preliminary Considerations
Since blood evidence associated with a crime can provide information that may solve the case, it is essential to correctly document, collect, and preserve this type of evidence. Improperly handled blood evidence can weaken or destroy a potential source of facts in a case. Properly collected and preserved blood evidence can establish a strong link between an individual and a criminal act. Blood evidence or the lack of blood evidence can also be used to bolster or contradict a witness statement or any statements that the suspect may make. Blood evidence can also point the investigator in the direction he or she needs to go to solve the case. If blood evidence is documented, collected, and stored suitably, it can be presented to a judge or jury several years from the time of the criminal act. Perhaps the most powerful application of blood evidence is the ability to absolutely eliminate a person as a potential suspect in a crime.

Communication is the key to effectively processing blood evidence. Clear and open communication must exist between a crime scene's first responding officer, the case detective, the crime scene investigator, the forensic scientist analyzing the evidence, and the assistant district attorney handling the case. Of prime importance is the communication between the crime scene investigator and the forensic scientist. A crime scene investigator should know the crime lab's capabilities, the methods of blood collection and preservation preferred by the crime lab, the investigative information relevant to the forensic scientist, and the type of reference samples required by the crime lab. This information may change periodically as technology changes, lab policies change, lab personnel change, or lab administrations change. The preferences of forensic scientists also vary from lab to lab. A good method of blood evidence collection for one forensic scientist may not be a good method for another forensic scientist. The crime scene investigator should meet regularly with his or her crime lab's forensic scientists to determine the most suitable manner for collecting and preserving blood evidence. This ensures that the evidence is collected efficiently and effectively.

The technological state of blood evidence analysis has rapidly advanced in the last 20 years. ln the early seventies, most crime labs relied upon the ABO blood grouping system to characterize bloodstains. This meant that the blood could have come from 4 to 49% of the population. In the 1990's, most crime labs are relying on DNA analysis to characterize bloodstains. A blood source can now be statistically narrowed down to one person out of several million or even several billion. A crime scene investigator should know which method or methods of bloodstain analysis are available from his or her crime lab, the FBI lab, and private labs.

Currently, bloodstain analysis falls into three broad categories. A crime lab may use one, two, or all three methods when analyzing blood. These three categories are:

Conventional serological analysis
Analysis of the proteins, enzymes, and antigens present in the blood. These substances are more susceptible to degradation than DNA and this type of testing usually requires a "large" sample (quarter size) in good condition for optimal results. This type of testing is rarely statistically individualizing.

< read the complete article. >

*Article submitted to the Crime Scene Investigator Network by the author.
Featured Video Presentation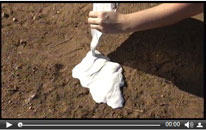 New on our Video Presentations page:
Casting Footwear Impressions
Watch this video to learn how to cast footwear impressions.

<Video Presentations>
New CSI and Forensic Job Announcements
To be notified of job openings as they are posted, follow us on Twitter: <Receive Job Opening Alerts via Twitter>
Forensic Technician
| Sarasota County, FL Sheriff's Office
Final Filing Date: December 2, 2010
Salary: $28,653 (adjusted up to $33,162 for approved prior experience) per year
Perform a variety of duties that will include, but not limited to, collect and preserve prints, evidence and property. Examine crime scenes, document and photograph, when applicable, conduct tests, generate case books, coordinate with crime lab and prepare and submit investigative reports. Demonstrate competence in all aspects of the duties, including testimony at trials, in order to sustain the integrity and professionalism of the agency.
<
View complete job listing
>
Criminalist I & II | Broward County, FL Sheriff's OfficeFinal Filing Date: December 3, 2010
Salary: Criminalist I: $47,408 - $77,223 per year -- Criminalist II: $52,214 - $85,865 per year (To be determined based on training and experience)
Position performs specialized technical and scientific work in the application of advanced laboratory techniques in DNA analysis. Position is responsible for the formal reporting of and testifying to the findings of such analysis.
<
View complete job listing
>
Criminalist III | San Francisco Police Department, CAFinal Filing Date: Open Until Filled. Please file immediately, announcement may close at anytime.
Salary: $106,756.00 - $129,766.00 per year
Under the general direction of the Criminalistics Laboratory Manager, the Criminalist III serves as DNA Technical Lead and supervises the day-to-day activities of the Forensic Biology (DNA) Unit of the San Francisco Police Department Criminalistics Laboratory. Essential functions of the job include: reviewing and assigning requests for laboratory services; developing, updating and implementing written procedures to ensure compliance with ASCLD/LAB accreditation and federally mandated DNA Quality Assurance Standards for Forensic Testing Laboratories; providing technical assistance to staff in the examination and evaluation of physical evidence; conducting administrative and technical reviews of case files and reports; overseeing safety programs; administering proficiency testing (internal and external), reviewing results and recommending remedial action as necessary; maintaining records; training, supervising and evaluating sworn and civilian subordinates; preparing written budget requests; managing state and/or federal grant programs; preparing the DNA Unit for yearly audits; interacting with other departmental personnel, law enforcement agencies and vendors; performing the more complex identification, analyses and interpretation of physical evidence; presenting court testimony as an expert witness. The Criminalist III also performs related duties as required.
<
View complete job listing
>
---

---
Latent Print, Trace and Photo Technicians | Lorton, VAFinal Filing Date: Open until filled
Salary: Not stated
Ron Smith & Associates, Inc. is ramping up in Northern Virginia to serve the needs of the United States Government in the examination of forensic materials (I.E.D.s, etc.) for the presence and identification of latent prints, and the collection of trace evidence materials. To accomplish this task RS & A, Inc. anticipates bringing on board ten (10) Latent Print Examiners, two (2) Senior Latent Print Technicians, ten (10) Latent Print Technicians, two (2) Senior Latent Print/Trace Evidence Technicians, five (5) Latent Print/Trace Evidence Technicians, two (2) Senior Latent Print Photographers and four (4) Latent Print Photographers. Our RS & A team members will work side by side with similar forensic experts of American Systems of Chantilly, Virginia, who serves as the prime contractor in this vitally important project. American Systems and Ron Smith & Associates, Inc. are responsible for the design and implementation of a high quality, high production and continually moving forensic examination process which delivers the greatest value to the Department of Defense and other federal government partners. This project is to be carried out in Lorton Virginia and will not require overseas deployment. Individuals who qualify for these
entry level positions
will be assigned to one of three teams: Latent Print Processing Team, Latent Print/Trace Team or Latent Print Photography Team. Assignments will be based upon individual skill sets, experience, training previously received and pre-employment screening and interviews. For the purpose of this job announcement, these three positions will be referred to collectively as "Forensic Technicians".
<
View complete job listing
>
Forensic Drug Chemist | Valdosta, GA Police DepartmentFinal Filing Date: Open until filled
Salary: $39,440 - $53,043 per year
This position is responsible for analyzing physical evidence collected or seized in connection with a criminal investigation and prosecution efforts including performing qualitative and quantitative controlled substances confiscated by law enforcement agencies as well as other physical evidence.
<
View complete job listing
>
Latent Print Examiner | Sarasota County, FL Sheriff's OfficeFinal Filing Date: Applications will be accepted until filled
Salary: $36,081 (adjusted up to $41, 759 for approved prior experience) per year
The Latent Print Examiner will engage in a variety of activities including, but not limited to: Evaluate latent prints determining criteria met for AFIS search or comparison; Search AFIS database for identification in order to compare and identify prints of arrested persons; Update AFIS latent unsolved files; Conduct fingerprint comparisons; Process outside requests for AFIS entries; Provide latent print technical assistance regarding latent print matters to crime scene technicians; Prepare well organized, detailed, factual, and informative exhibits for court proceedings at the request of the SAO.
<
View complete job listing
>
CSI In The News
Telltale bacteria could reveal time of drowning
Dickson and colleagues have discovered how the type of marine bacteria colonising a body changes as it decomposes, providing a "clock" of how long bodies have been in the water.
New Scientist - by Wendy Zukerman
- November 16, 2010
Criminals put off by new DNA spray
DNA Guardian, now available in Australia through ADT Security, is an all-in-one high tech crime fighting tool which establishes a forensic link between suspects and specific crime scenes.
PRWire - NSW Australia
- November 15, 2010
Linguistics as an identification tool
Forensic linguists associate each writer with a unique style of writing, which is called idiolect, or linguistic fingerprint.
Livemint.com & The Wallstreet Journal - New Delhi - by VR Narayanaswami
- November 15, 2010
Blood camera to spot invisible stains at crime scenes
The prototype camera, developed by Stephen Morgan, Michael Myrick and colleagues at the University of South Carolina in Columbia, can detect blood stains even when the sample has been diluted to one part per 100.
New Scientist - by Helen Knight
- November 12, 2010
Psychiatry of Inmates Feigning Mental Illness
Dr. Andrew Nanton, assistant professor of Psychiatry at the UCF College of Medicine, recently presented his research on inmates who feign mental illness in an attempt to gain an advantage behind bars.
UCF Today - Orlando, FL
- November 12, 2010
Forensic meteorologists look back, not to the future
John Scala says attorneys use forensic meteorologists in may areas -- from personal injury cases and car accidents to even criminal trials.
Pittsburgh Tribune-Review - Pittsburgh, PA - by Jennifer Reeger
- November 12, 2010
Money, Technology Helping Metro Solve Cold Cases
The Las Vegas Metropolitan Police Department is on a hot streak when it comes to cracking cold cases.
KLAS-TV 8 News NOW - Las Vegas, NV
- November 10, 2010
Government of Canada Introduces Legislation to Fight Crime in Today's High-Tech World
The Honourable Rob Nicholson, P.C., Q.C., M.P. for Niagara Falls, Minister of Justice and Attorney General of Canada, together with Dave MacKenzie, M.P. for Oxford and Parliamentary Secretary to the Minister of Public Safety, and Daniel Petit, M.P. for Charlesbourg-Haute-Saint-Charles and Parliamentary Secretary to the Minister of Justice, today re-introduced in the House of Commons two bills that would provide law enforcement and national security agencies with up-to-date tools to fight crimes such as gang- and terrorism-related offences and child sexual exploitation.
Marketwire - Toronto, ON
- November 1, 2010
Other Resources on the Crime Scene Investigator Network Website
Not Subscribed to this Newsletter?
If you are not subscribed to this newsletter, you may subscribe by clicking here:
SUBSCRIBE
To Unsubscribe
To unsubscribe from future e-mail newsletters, please click here:
UNSUBSCRIBE
or email newsletter@crime-scene-investigator.net with your request to unsubscribe.
---
Copyright ©2010 crime-scene-investigator.net
Crime Scene Investigator Network
PO Box 1043
Wildomar, CA 92595-1043
To ensure future delivery of Crime Scene Investigator Network newsletters to your inbox (not bulk or junk folders) please add our "from" address to your address book or e-mail whitelist.