Welcome to the October 2015 Crime Scene Investigator Network Newsletter



Basic Stages for a Crime Scene
Investigation—Possible Homicide





Approach the Scene
The crime scene investigator returns the microphone to its clip and begins the drive to the latest assignment. A crime scene investigation begins well before the CSI enters a structure, an open field or wooded area. Usually the radio dispatch message is brief and seldom reveals the full nature of the incident. Most often this is done to avoid drawing on-lookers and the media who may be monitoring the dispatch frequency. As the CSI turns onto the street in question, his first obligation is to "turn on" his powers of observation. He may make a mental note of what he sees, hears and smells-or better still-records them on a digital voice recorder. His first reaction to the scene must be, "Does anything look out of place? What odors may be noticeable and are there unusual sounds.

Secure and Protect the Scene
Hopefully the first responders haven't caused too much disruption to any potential physical evidence. Before even stepping inside the structure, ingress and egress to it must be controlled. Sentries at all possible entrances should be put in place. The CSI, after learning the basic facts—in this case it appears that a white male appears to have a single bullet wound the head and rigor has set in—this from the first responders, so the CSI will establish the boundaries of the crime scene. Then ... out comes the crime scene tape.

Initiate Preliminary Survey
Again... before entering the structure an exterior survey is needed. This may be nothing more that walking around the exterior of the structure to see if any obvious evidence is apparent. This would include open windows, damaged doors, ladders and the like. The question the CSI is asking is ... how was entry made to the structure? Once indoors, the CSI will make a visual survey of the actual room in which the incident reported took place. This is a good time to also take overall photos of the scene. He will then survey adjoining rooms to determine if these spaces may have information relative to the incident. Most law enforcement agencies conduct such investigations of an unattended death (no physician present) as a possible homicide-until it is determined otherwise. Unlike some TV dramas, the CSI is on site for the purpose of finding, evaluating and collecting physical evidence. In most agencies, statements from witnesses and survivors are handled by the investigators/detectives.

Of course, during this entire survey period, the CSI is taking notes and/or recordings of his sensory observations.

Evaluate Physical Evidence Possibilities
The very nature of what appears to be obvious should trigger the thought-processes of the CSI. What happened here, when did it happen and what sort of evidence should be present? Questions that should be answered initially are:

*Article submitted by the author
This Month's Featured Resource on the Crime Scene Investigator Network Website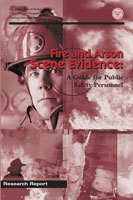 It is the intention of this Guide to acquaint a broad spectrum of public safety personnel with the fire investigation process, so they may understand their role in this important task and help identify, locate, and preserve evidence in its varied forms, to either assist a specialist investigator when one is needed or to adequately document and collect evidence when no assistance is needed or available. This Guide focuses on the documentation and collection of physical evidence at fire/arson scenes.


<View the Publication>
New CSI and Forensic Job Announcements
The most comprehensive listing of Crime Scene Investigation and Forensic
employment opportunities on the internet! We typically have over 600 current listings!
Crime Scene Investigator
Arlington Police Department, Texas, USA
Final Filing Date: October 18, 2015
Salary: $48,761 - $66,906 annually
Perform a variety of highly skilled technical identification tasks both in the field and laboratory to include; collecting, preserving, comparing, identifying physical evidence found at crime scenes, photographing and sketching crime scenes, preparing comprehensive and technically correct reports and testifying as an expert witness in court proceedings.
<View complete job listing>
Crime Scene Technician
Richmond City Police Department, California, USA
Final Filing Date: October 16, 2015
Salary: $4,727.00 - $5,577.00 Monthly
Photographs crime and accident scenes including burglaries, robberies, deaths, thefts and assault victims to record the appearance of evidence using highly-skilled photographic and evidence-gathering techniques. Identifies, collects and secures physical evidence including: blood, bodily fluids, hair, fibers, and firearms for laboratory testing and use as evidence in criminal prosecutions. Searches for and develops latent prints at crime scenes. Photographs and fingerprints suspects, victims (including deceased individuals), witnesses, and applicants. Produces castings of footprints, tire tracks, and other impressions. ...
<View complete job listing>
Criminalist DNA Analyst
Charlotte Police Department, North Carolina, USA
Final Filing Date: October 9, 2015
Salary: $64,362 per year
Performs complex laboratory analyses of biological evidence obtained from crime scenes or elsewhere; uses advanced laboratory techniques, materials, and analytical instrumentation in the analysis and typing of DNA from body fluids and tissues. Interprets results, formulates independent conclusions and prepares reports of findings for use by the criminal justice system. Provides expert testimony in court relating to results of analyses; provides technical advice and guidance to laboratory personnel and members of the criminal justice system in forensic matters. ...
<View complete job listing>
---

---
Digital Forensic Investigator
Monterey County District Attorney, Salinas, California, USA
Final Filing Date: October 9, 2015
Salary: $66,206.40 - $90,376.00 Annually
Conduct forensic examinations of electronic evidence, including computer-related equipment, cell phones, network devices, information systems, and digital software. Disassemble and examine computers, other hardware and related peripherals. Use forensic software applications to analyze various forms of digital evidence. Work with Investigators and Prosecutors to assist in the preparation of search warrants, participate in investigations and evaluate information in preparation for court hearings. ...
<View complete job listing>
Latent Print Examiner
Miami Police Department, Florida, USA
Final Filing Date: October 9, 2015
Salary: $63,405.26 - $119,560.27 Annually
Develops, compares, evaluates, identifies, and prepares latent fingerprints/palm prints for court exhibits, and testifies in all courts of law as a qualified expert witness. Develops and maintains latent fingerprint/palm print files; keeps files on single and partial fingerprints/palm prints found at crime scenes for possible future identification. Utilizes the Automated Fingerprint Identification System for search of latent prints, generated from open criminal cases, in an attempt to identify criminals. ...
<View complete job listing>
Forensic Investigator
Maryland Chief Medical Examiner, Baltimore, Maryland, USA
Final Filing Date: October 12, 2015
Salary: $30,472.00 - $47,710.00 per year
Conducts investigation of cases that are referred to the Office of the Chief Medical Examiner. Investigations include screening cases, gathering information, conducting an examination of body at location of the incident and producing an investigation report that will assist the Forensic Pathologist in the determination of cause and manner of death.
<View complete job listing>
Other Resources on the Crime Scene Investigator Network Website
Not Subscribed to this Newsletter?
To unsubscribe from future e-mail newsletters, please click here: UNSUBSCRIBE
or email newsletter@crime-scene-investigator.net with your request to unsubscribe.
---
Copyright ©2015 Crime Scene Resources, Inc.
Crime Scene Investigator Network
PO Box 1043
Wildomar, CA 92595-1043