Welcome to the August 2017 Crime Scene Investigator Network Newsletter



Crime Scene Contamination Issues




Hayden B. Baldwin, B.S.
Cheryl Puskarich May, Ph.D.

The issue of contamination of physical evidence has painfully brought notoriety to several criminal cases. Webster's Dictionary defines contamination as; "to make impure, corrupt, by contact; pollute, taint." Potential contamination of physical evidence can occur at the crime scene, during the packaging, collection and transportation of the evidence to a secured facility or laboratory, and during evidence analysis and storage.

While forensic scientists in the laboratory are sensitive to the issue of contamination and have developed protocols to identify and reduce the risk of contamination, law enforcement has been slower to incorporate precautions in contamination prevention. Recent advances in forensic DNA technology are making it even more important that crime scene personnel become more sensitive to the issues of contamination.

The Crime Scene
Crime scene contamination usually results through the actions of the personnel at the scene. In general, the grater number of personnel at the scene, the more likely it is that the scene/evidence will be contaminated. Scene personnel can deposit hairs, fibers or trace material from their clothing or destroy latent footwear or fingerprints. Footwear patterns can also be deposited by crime scene personnel or anyone entering the scene. As Professor Locard has taught us, when two objects come in contact with each other they exchange trace evidence. Each time we enter a crime scene, we not only potentially leave trace evidence behind, but also take evidence away from the scene.

Forensic DNA analysis has become an increasingly powerful investigative tool. Analysis of biological fluids and now cells found at crime scenes can, with relatively high confidence, exclude/include a possible suspect and provide a numerical estimate of the similarity of the crime scene and suspect's DNA. The DNA technology being used in crime laboratories around the country can take samples that are very small or degraded and xerox the DNA present to provide a large enough sample to be analyzed. Because of the analyst's ability to xerox very small amounts of DNA from biological evidence, reducing the potential for contamination at crime scenes becomes ever more significant. Single hairs, perspiration and/or saliva inadvertently deposited by an investigator while at a crime scene can now cost valuable time and create the potential for excluding a viable suspect as well as cloud or confuse the interpretations of the physical evidence.

About the Authors

Hayden B. Baldwin, B.S. is the Director of Forensic Enterprises, Inc. 15774 South LaGrange Road, PMB 385, Orland Park, IL 60462-4766, and is the Executive Director of the International Crime Scene Investigators Association
Cheryl Puskarich May, Ph.D. is the Assistant Director of the Criminal Justice Institute, Forensic Sciences Education Center, 7723 Asher Avenue, Suite B, Little Rock, AR 72204
This Month's Featured Resource on the Crime Scene Investigator Network Website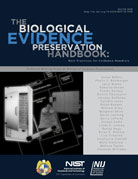 The Biological Evidence Preservation Handbook offers guidance for individuals involved in the collection, examination, tracking, packaging, storing, and disposition of biological evidence. This may include crime scene technicians, law enforcement officers, healthcare professionals, forensic scientists, forensic laboratory managers, evidence supervisors, property managers, storage facility personnel, lawyers, testifying experts, court staff members, and anyone else who may come in contact with biological evidence. While many of the recommendations relate to the physical storage, preservation, and tracking of evidence at the storage facility, this handbook also covers the transfer of the material between the storage facility and other locations and discusses how the evidence should be handled at these other locations.
This report is divided into five main sections that detail issues and make recommendations related to biological evidence storage, tracking, preservation, and disposition. A glossary, which provides standard definitions of the technical terms used in this report, follows these sections.
This month's newsletter is brought to you by ForensicWear.com
$2.00 off each shirt
with coupon code
Summer2017
(valid through September 8, 2017)
Orders shipped to USA addresses only.
New CSI and Forensic Job Announcements
The most comprehensive listing of Crime Scene Investigation and Forensic
employment opportunities on the internet! We typically have over 200 current listings!
Crime Scene Specialist
Austin Police Department, Austin, Texas, USA
Final Filing Date: August 31, 2017
Responds to crime and accident scenes, evaluates the scene and conducts searches for evidence utilizing disciplines related to crime scene investigation. Measures and/or photographs crime scenes, evidence, etc. Documents, collects, packages, preserves, and processes evidence.
<View complete job listing>
Crime Scene Technician
Fayetteville Police Department, Fayetteville, Arkansas, USA
Final Filing Date: Open until filled
Photograph and sketch crime scenes, collect all evidence and write detailed reports. Regularly collect all forms of evidence including but not limited to: Fingerprint, tool mark, footwear and fabric impressions, tire and bite marks. Forensic biology including blood, semen, bodily fluids, hair, nail scrapings and blood stain patterns. Trace evidence to include gunshot residues, arson accelerant, paint, glass and fibers. Firearms to include weapons, gun powder patterns, casings, projectiles, fragments, pellets, wadding and cartridges.
<View complete job listing>
Criminalist I/II - Forensic Biology/DNA
San Mateo County Sheriff's Office Forensic Laboratory, Redwood City, California, USA
Final Filing Date: September 5, 2017
Examine and identify physiological fluids such as blood, urine, and semen. Perform microscopic examinations to identify biological cells. Perform DNA extractions. Perform quantitations of DNA extractions. Analyze and interpret DNA instrumentation results. Prepare evidence for presentation at court and appear as an expert witness to testify on the results of laboratory analysis.
<View complete job listing>
---

---
Police Property/Evidence Clerk
Idaho Falls Police Department, Idaho Falls, Idaho, USA
Final Filing Date: January 31, 2017
This position performs a variety of working level technical clerical, and routine administrative duties as needed to expedite the processing, storage, retention and destruction of evidence and property obtained in connection with law enforcement activities within the city. Will also act as support and backup to the Crime Scene Technician Officer.
<View complete job listing>
Police Latent Print Examiner
Alexandria Police Department, Alexandria, Virginia, USA
Final Filing Date: January 31, 2017
Examines latent finger, palm and foot prints for identification purposes. This process involves analyzing, comparing and verifying latent prints to known prints. The job includes documenting, evaluating, analyzing and preserving friction ridge evidence. The incumbent will complete reports, provide documentation of analysis, and provide information to investigators, detectives and/or attorneys. The Latent Print Examiner testifies in court as an expert witness as needed.
<View complete job listing>
Forensic Autopsy Technician
San Mateo County Coroner's Office, Redwood City, California, USA
Final Filing Date: August 31, 2017
Forensic Autopsy Technicians assist pathologists in the performance of autopsies where trauma, unnatural or suspicious deaths are examined; maintain the morgue and autopsy room in sanitary and orderly condition; provide temporary care of corpses in custody.
<View complete job listing>
Other Resources on the Crime Scene Investigator Network Website
Not Subscribed to this Newsletter?
To unsubscribe from future e-mail newsletters, please click here: UNSUBSCRIBE
or email newsletter@crime-scene-investigator.net with your request to unsubscribe.
---
Copyright ©2017 Crime Scene Resources, Inc.
Crime Scene Investigator Network
PO Box 1043
Wildomar, CA 92595-1043