Welcome to the August 2015 Crime Scene Investigator Network Newsletter



Examination and Documentation
of the Crime Scene





Examination of the Crime Scene

Before the investigators begin examining the scene of the crime, they should gather as much information as possible about the scene. Once again, a slow and methodical approach is recommended. Information is gathered to prevent destruction of valuable and/or fragile evidence such as shoeprints, trace evidence, etc. Once all of the information is gathered, a mental plan is formulated as to how the crime scene will be analyzed. Copious notes and relevant times should be kept on every aspect of the crime scene investigation. The examination of the scene will usually begin with a walk through of the area along the "trail" of the crime. The trail is that area which all apparent actions associated with the crime took place. The trail is usually marked by the presence of physical evidence. This may include the point of entry, the location of the crime, areas where a suspect may have cleaned up, and the point of exit. In some cases, a walk through may become secondary if potential evidence is in danger of being destroyed. In that case, this evidence should be preserved, or documented and collected as quickly as possible.

The purpose of the walk through is to note the location of potential evidence and to mentally outline how the scene will be examined. The walk through begins as close to the point of entry as possible. The first place the investigators should examine is the ground on which they are about to tread. If any evidence is observed, then a marker should be placed at the location as a warning to others not to step on the item of interest.

A good technique to use indoors on hard floors is the oblique lighting technique (also known as side lighting). A good flashlight with a strong concentrated beam is the only tool needed. The room should be darkened as much as possible. If a light switch which a suspect may have touched needs to be turned off, then make sure the switch has been dusted for fingerprints first. Do not close any blinds or shades until after all general photographs have been taken. In the side lighting technique, a flashlight is held about one inch from the floor. The beam is then angled so that it just sweeps over the floor surface and is almost parallel to the surface. The light is then fanned back and forth. Any evidence, such as trace evidence and shoeprints, will show up dramatically. Under normal lighting conditions, this evidence may be barely visible or completely invisible.

As the walk through progresses, the investigators should make sure their hands are occupied by either carrying notebooks, flashlights, pens, etc. or by keeping them in their pockets. This is to prevent depositing of unwanted fingerprints at the scene. As a final note on the walk through, the investigators should examine whatever is over their heads (ceiling, tree branches, etc.). These areas may yield such valuable evidence as blood spatters and bullet holes. Once the walk through is completed, the scene should be documented with videotape, photographs, and/or sketches.

*Article submitted by the author
This Month's Featured Resource on the Crime Scene Investigator Network Website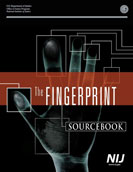 The idea of The Fingerprint Sourcebook originated during a meeting in April 2002. Individuals representing the fingerprint, academic, and scientific communities met in Chicago, Illinois, for a day and a half to discuss the state of fingerprint identification with a view toward the challenges raised by Daubert issues. The meeting was a joint project between the International Association for Identification and West Virginia University. One recommendation that came out of that meeting was a suggestion to create a sourcebook for friction ridge examiners, that is, a single source of researched information regarding the subject. This sourcebook would provide educational, training, and research information for the international scientific community.
<View the Publication>
New CSI and Forensic Job Announcements
The most comprehensive listing of Crime Scene Investigation and Forensic
employment opportunities on the internet! We typically have over 600 current listings!
Crime Scene Investigator I
Boynton Beach Police Department, Florida, USA
Final Filing Date: August 28, 2015
Salary: $19.08 - $28.62 Hourly
This is a civilian position responsible for complex crime scene investigations as well as using various types of equipment; locating, processing, securing, and packaging physical evidence for scientific evaluation and comparison; preparing detailed reports on the observations and activities at the scene and in the BBPD crime lab; and testifying in court regarding the findings and processing methods used at the scene and in the BBPD crime lab. Employees in this classification are eligible for noncompetitive career ladder promotion to Crime Scene Investigator II after meeting the established career ladder requirements.
<View complete job listing>
Data Management Analyst 1
Minnesota Public Safety Department, St Paul, Minnesota, USA
Final Filing Date: August 21, 2015
Salary: $17.76 - $25.69 hourly
To provide computer forensic examination capability to the Internet Crimes Against Children unit. To assist federal, state, and local investigations in identifying, seizing, and safeguarding electronic evidence. To perform a full range of complex analyses of various types of electronic and digital evidence.
<View complete job listing>
Forensic Chemist I
Kentucky State Police, Franklin County, Kentucky, USA
Final Filing Date: August 23, 2015
Salary: $32,042.40 - $42,656.40 yearly
Receive specialized training in designated forensic disciplines. Writes, reviews and signs laboratory reports as to the analysis of submitted evidence. Maintains review of work-related literature and other documents. Provides expert testimony throughout the commonwealth pertaining to forensic analysis and reports. Receives and releases evidence and is responsible for the security of such evidence until released. Maintains laboratory instrumentation. Responds to crime scenes and other work-related special details.
<View complete job listing>
---

---
Forensic Scientist 2, Latent Prints Analyst
New Mexico Department of Public Safety, Santa Fe, New Mexico, USA
Final Filing Date: August 31, 2015
Salary: $44,782.40 - $77,916.80 Annually
The incumbent will be responsible for independently collecting, classifying, identifying and analyzing latent fingerprint evidence related to criminal investigations. Producing formal reports that accurately identify and analyze physical evidence to determine their significance to the investigation. Presenting the results, conclusions and expert opinion in the scientific analysis of the latent print evidence. Providing expert witness testimony regarding their findings in courts of law throughout the State of New Mexico.
<View complete job listing>
Coroner Investigator
Clark County Coroner, Las Vegas, Nevada, USA
Final Filing Date: August 25, 2015
Salary: $41,350.40 - $64,043.20 Annually
Responds to the scene of death; secures or assists in securing the scene of death and protecting evidence; ensures identification of the decedent and arranges for transport to the morgue. Interviews individuals at the scene to obtain relevant information; reports any unusual or suspicious circumstances to the appropriate law enforcement agency and provides appropriate information to their personnel. Conducts follow-up investigations by searching records, personal effects, etc., and by interviewing individuals who may have relevant information; maintains contact with law enforcement agencies as required. Gathers, documents and maintains the chain of evidence; maintains accurate records and files. Prepares written reports of findings and distributes to the proper authorities; testifies in court regarding the content and validity of the findings.
<View complete job listing>
Digital Forensic Investigator
Manchester, UK
Final Filing Date: 7 September 2015
Salary: £29,800 - £34,100 per annum
Conduct intelligence led digital forensic investigations on computers and other digital devices providing evidence and expert interpretation of the evidence in a secure format acceptable to the court. Responsible for all levels of digital investigations specifically complex digital investigations.
<View complete job listing>
Other Resources on the Crime Scene Investigator Network Website
Not Subscribed to this Newsletter?
To unsubscribe from future e-mail newsletters, please click here: UNSUBSCRIBE
or email newsletter@crime-scene-investigator.net with your request to unsubscribe.
---
Copyright ©2015 Crime Scene Resources, Inc.
Crime Scene Investigator Network
PO Box 1043
Wildomar, CA 92595-1043