Welcome to the May 2023 Crime Scene Investigator Newsletter



Optimized Development of Latent Fingerprints
on Unfired and Fired Brass Cartridge Casings





Cartridge casings found at crime scenes may contain fingerprint evidence to introduce or help convict a suspect; however, there are few articles on the subject of the best method to develop fingerprints on cartridge casings. The purpose of this research was to compare the best development methods for unfired casings found in previous research along with other commonly used development methods. After the most effected method was determined, that method was then applied to fired brass cartridge casings. Five different methods and five hundred unfired .40 caliber brass cartridge casings with one fingerprint on each were used. The two techniques that yielded the best results were cyanoacrylate fuming followed by gun blue followed by BY40 and cyanoacrylate fuming followed by BY40 followed by acidified hydrogen peroxide. The technique that produced the highest average of fingerprints of comparison value was cyanoacrylate fuming followed by gun blue followed by BY40; this method was the method chosen to be applied to the fired cartridge casings. Phase II consisted of firing fifty .40 caliber bullets from a .40 caliber handgun after one sebaceous fingerprint was placed on each casing. Although cyanoacrylate fuming followed by gun blue followed by BY40 yielded clear fingerprints with unfired casings, this method did not produce any clear fingerprints on fired cartridge casings due to the factors a casing sustains during the firing process.

Introduction

Fingerprint comparison and examination has been used to connect suspects to evidence and crime scenes since 1892, when a trial in Argentina used a bloody fingerprint found at a crime scene to convict Francisca Rojas of murdering her two children (Lee and Gaensslen 2001). The science behind fingerprint examination involves the patterns of ridges and furrows found on the palms of the hands and the soles of the feet. These ridges have pores that secrete perspiration, and when a finger comes in contact with an object, the perspiration can leave an impression of the ridges. The use of fingerprint comparison to convict a suspect relies on the concept that ridges of a fingerprint remain the same over the course of one's lifetime, and that no two people have the same fingerprint (Lee and Gaensslen 2001).

The National Institute of Justice describes three different levels of detail used to describe the characteristics of a fingerprint. First level detail describes the overall direction of ridge flow in a print. A print described using first level detail would be classified as a loop, arch, or whorl. First level detail is a class characteristic and cannot be used for individualization. Second level detail describes the path of an individual ridge. Ridge endings and bifurcations, where one ridge splits into two, can be seen if second level detail is present. Second level detail can be used for individualization. Third level detail includes the morphology of a ridge. The texture and position of pores of the ridges can be seen if third level detail is present (NIJ 2011).

An example of evidence that could contain fingerprints is cartridge casings. Before a bullet and its casing are loaded into a gun, it is presumably handled and marked with fingerprints. After the bullet has been fired, its casing is ejected from the gun. If not retrieved, this casing is left at the scene. Fingerprints left on casings found at a crime scene could be evidence to introduce or help convict a suspect. However, there are few articles on the subject of the best method to develop fingerprints on brass cartridge casings.

Fingerprints are rarely recovered from fired cartridge casings due to the factors a casing sustains during the firing process. One factor affecting the likelihood of developing a fingerprint from a casing is the friction between the casing and the gun through the firing process. Friction occurs between the magazine and casing as the casing is loaded into the magazine. Friction also occurs when the casing enters the chamber before firing and when the casing is ejected from the chamber after firing. The casing is exposed to high temperatures and combustion gases during the firing process that can affect the oils and sweat from a fingerprint on a casing that would be used in development (Champod et al. 2005).

< Read the complete article and view photographs >




Related articles
This Month's Featured Resource on the Crime Scene Investigator Network Website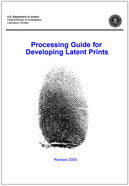 The beginning of this manual is a list of processes and procedures for different surface types. Also included are processing sequences that specifically involve prints that are left in blood. Following these lists are details for each process that is currently implemented in the Latent Print Unit (LPU) of the Federal Bureau of Investigation (FBI) Laboratory.
Featured Video Presentation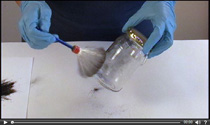 On our Video Presentations page:
Learn the basic technique for processing latent fingerprints by dusting with black powder.
New CSI and Forensic Job Announcements
The most comprehensive listing of Crime Scene Investigation and Forensic
employment opportunities on the internet! We typically have over 150 current listings!
Crime Scene/Property Evidence Specialist
Menifee Police Department, Menifee, California, USA
Final Filing Date: May 24, 2023
Performs a variety of technical and specialized duties related to crime scene investigation and property and evidence management; identifies, diagrams, photographs, collects, transports and preserves evidence from crime scenes; receives, processes, stores, safeguards, delivers, releases, and disposes of police property, evidence and supplies;
<View complete job listing>
Crime Scene Technician
Fort Myers Police Department, Fort Myers, Florida, USA
Final Filing Date: May 24, 2023
Responsible for processing crime scenes including, but not limited to collection, and preservation of physical evidence, photographing the crime scene and evidence. Responsible for the processing of crime scenes and evidence for latent fingerprints for use of identification.
<View complete job listing>
Crime Scene Technician
Wichita Falls Police Department, Wichita Falls, Texas, USA
Final Filing Date: May 31, 2023
Responding to crime scenes and documenting scenes through videography, photography, diagram and measurements, collecting and packaging evidence, collecting and comparing fingerprints, maintaining digital images, examining items for trace evidence, and photographing and fingerprinting victims, suspects, and new employees.
<View complete job listing>
Forensic Analyst (Crime Scene)
Denton Police Department, Denton, Texas, USA
Final Filing Date: June 5, 2023
Locates, documents, collects, and preserves physical and digital evidence at scenes and in the laboratory. Reconstructs crime scenes by using available physical evidence to determine actions and activities of suspect(s) and victim(s) through accepted forensic disciplines and scientific practices.
<View complete job listing>
---
---
Latent Print Specialist
Escondido Police Department, Escondido, California, USA
Final Filing Date: May 29, 2023
Performs latent print examination and identification; identifies, photographs, collects and preserves latent print evidence from crime scenes; provides technical guidance and leadership in latent print analysis and performs difficult and complex examination of latent prints in connection with the investigation of crimes; conduct latent print development; gives expert testimony in the courts in all phases of latent print examination;
<View complete job listing>
Forensic Photographer I - Digital Media Specialist
Institute of Forensic Sciences, Houston, Texas, USA
Final Filing Date: May 23, 2023
Produces postmortem examination photographs using professional digital cameras to document pertinent findings as determined by the forensic pathologists, provides photographic coverage of trainings and events as needed
<View complete job listing>
Forensic Scientist I-VI Bio/DNA
Texas Department of Public Safety, Austin, Texas, USA
Final Filing Date: May 25, 2023
Examines stains to determine the presence of blood and other human body tissues and secretions, perform procedures used to extract DNA from these tissues, and conduct DNA testing to compare evidence with samples of known origin. Evaluates, interprets, and documents the DNA tests, and reviews the work of other DNA analysts.
<View complete job listing>
Forensic Technician
Jackson County Medical Examiner's Office, Kansas City, Missouri, USA
Final Filing Date: Open until filled
Responsible for providing forensic autopsy assistance to the Medical Examiners and custodial maintenance services to the equipment and facilities in the morgue and related areas. May at times be asked to perform investigator duties including responding to scenes and conducting death investigations.
<View complete job listing>
Other Resources on the Crime Scene Investigator Network Website
Not Subscribed to this Newsletter?
To unsubscribe from future e-mail newsletters, please click here: UNSUBSCRIBE
or email newsletter@crime-scene-investigator.net with your request to unsubscribe.
---
Copyright ©2018 Crime Scene Resources, Inc.
Crime Scene Investigator Network
PO Box 1043
Wildomar, CA 92595-1043