Are you having trouble viewing this email? View it online here: www.crime-scene-investigator.net/newsletter/0515.html This message
was not sent unsolicited. You signed up for this newsletter. If you wish to unsubscribe see the instructions at the bottom of this message.
Welcome to the May 2015 Crime Scene Investigator Network Newsletter



Developing Methods to Improve the Quality
and Efficiency of Latent Fingermark
Development by Superglue Fuming




Abstaract:

The completed research program was designed to provide fundamental information that can be used to improve the superglue fuming method of developing latent fingermarks, by optimizing the acquisition of developed latent fingermarks and enhancing the quality of aged fingermarks. This has been realized by, first, using our expertise in polymer chemistry to explain the role of temperature on the superglue fuming of aged fingermarks and developing protocols to implement temperature control in a forensic laboratory. Our results show that fuming at lower temperatures improves the rate of polymerization that occurs during superglue fuming and thus, provides an easy and cost-effective method to improve the quality of aged prints developed by superglue fuming. More precisely the results of this project indicate that the optimum temperature of fuming is between 10 and 15 °C. Furthermore, any protocols that are devised to control the temperature of fuming must take into account the presence of the warm superglue fumes. The decrease in temperature also appears to improve the quality of aged latent prints.

Previous results also suggest that rehydration of an aged fingermark is critical to its successful development by superglue fuming, and thus we have investigated aggressive rehydration methods of aged latent fingermarks as a method to improve the quality of aged prints. Unfortunately, simply rehydrating fresh or aged prints by exposure to room temperature or boiling water vapor is not a sufficient method for improving print quality. In fact, exposure to boiling water vapor harms prints, presumably by removing initiators by dissolving them into the steam and releasing them from the print before fuming. Finally, we have completed Fourier Transform Infrared spectroscopy (FT-IR) experiments to monitor the molecular level changes during the polymerization of ethyl cyanoacrylate and the hardening process that occurs after polymerization, to provide guidelines that can be used to improve the turn-around time of obtaining a print that can be recorded and compared to a database. Thus, we have completed a series of experiments that provide fundamental information that forensic scientists in the field can use to create protocols to improve the effectiveness and optimize the process of the superglue fuming method to develop, visualize and analyze latent fingermarks.
This Month's Featured Resource on the Crime Scene Investigator Network Website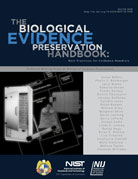 The Biological Evidence Preservation Handbook offers guidance for individuals involved in the collection, examination, tracking, packaging, storing, and disposition of biological evidence. This may include crime scene technicians, law enforcement officers, healthcare professionals, forensic scientists, forensic laboratory managers, evidence supervisors, property managers, storage facility personnel, lawyers, testifying experts, court staff members, and anyone else who may come in contact with biological evidence. While many of the recommendations relate to the physical storage, preservation, and tracking of evidence at the storage facility, this handbook also covers the transfer of the material between the storage facility and other locations and discusses how the evidence should be handled at these other locations.
This report is divided into five main sections that detail issues and make recommendations related to biological evidence storage, tracking, preservation, and disposition. A glossary, which provides standard definitions of the technical terms used in this report, follows these sections.
New CSI and Forensic Job Announcements
The most comprehensive listing of Crime Scene Investigation and Forensic
employment opportunities on the internet! We typically have over 600 current listings!
Crime Scene Technician I
Palm Bay Police Department, Florida, USA
Final Filing Date: May 20, 2015
Salary: $34,864.00 Annually
Conducts crime scene searches to collect and preserve physical evidence; photographs crime scenes and accidents; processes physical evidence turned in by investigating officers for such possible identifying elements as latent fingerprints, bloodstains, hair and fiber, and tool marks. Analysis of identified evidence, and preserves all evidence for presentation in court; transports evidence to the State laboratory for detailed analysis if warranted. ...
<View complete job listing>
Forensic Digital Evidence Specialist
Phoenix Police Department, Arizona, USA
Final Filing Date: May 18, 2015
Salary: $36,816 - $53,872 annually
Responsible for entering audio, photographic, and video material into a digital evidence database, retrieving video evidence from crime scenes, and scanning legacy photographic formats for still and digital images. Duties also include processing requests for law enforcement, criminal justice entities and public records requests by redacting video, audio and photographic evidence, copying digital evidence to CDs and DVDs and transferring digital media to hard drives or portable drives all while maintaining proper evidentiary chain of custody protocols. ...
<View complete job listing>
Assistant Chemist
Hudson County Prosecutor, Jersey City, New Jersey, USA
Final Filing Date: May 23, 2015
Salary: Not stated
Carry out examinations of suspected controlled dangerous substances submitted by law enforcement agencies using chemical and instrumental analysis. Utilization of GC/MS, FTIR, and microscopic instruments; process and interpret chromatographic data; perform peer review and administrative review of case files; ...
<View complete job listing>
---
---
Fingerprint Examiner
Wichita Police Department, Kansas, USA
Final Filing Date: May 15, 2015
Salary: $24.07 - $34.02 Hourly
Processes physical evidence for latent fingerprints / palm prints using a variety of light-based, physical and chemical methods. Evaluates, compares and identifies latent fingerprints / palm prints using established scientific methodology. Utilizes the Automated Fingerprint Identification System (AFIS) and the Next Generation Identification (NGI) System for search of latent fingerprints / palm prints generated from criminal cases. ...
<View complete job listing>
Forensic Autopsy Technician
Iowa Department of Public Health, Polk County, Iowa, USA
Final Filing Date: May 15, 2015
Salary: $32,905 - $48,193 per year
Assist the Forensic Pathologist/Physician Assistant with moving bodies in the autopsy suite and eviscerating organs from the bodies. Maintains toxicology, evidence, and tissue specimens for easy retrieval and keeps appropriate logbooks and chain of custody when collecting, receiving, storing, or transferring bodies, evidence, toxicology, and tissue specimens.
<View complete job listing>
Forensic Police Vehicle Examiner
North Wales Police, St Asaph, UK
Final Filing Date: 20 May 2015
Salary: £26,658 - £30,939 per annum
To attend the scene when advised necessary and gather evidence and report on all fatal, life threatening serious collisions; police vehicle collisions involving personal injury; pursuit incidents which lead to a collision and any other incident as directed. ...
<View complete job listing>
Solving Crimes With Pollen, One Grain Of Evidence At A Time
Dallas Mildenhall, a white-haired scientist in his 70s, is a forensic palynologist - a pollen and spores expert who helps solve crimes. One of only a handful of such experts in the world, he has helped solve cases of murder, arson and art forgery all over the globe...
npr.org - April 25, 2015
LIMS vs QMS: What Are They and Do I Need Both?
So what is a LIMS and a QMS? If I run a laboratory, do I need one of these or do I need both? Let us start with a description of the two systems. A LIMS is a Laboratory Information Management System...
Forensic Magazine - by Juliann Poff - April 24, 2015
Crime scene discovery - separating the DNA of identical twins
Since its first use in the 1980s - a breakthrough dramatised in recent ITV series Code of a Killer - DNA profiling has been a vital tool for forensic investigators. Now researchers at the University of Huddersfield have solved one of its few limitations by successfully testing a technique for distinguishing between the DNA - or genetic fingerprint - of identical twins.
PHYS.ORG - April 23, 2015
The Maps Within: Using Viruses in Forensic Biology
...There are, of course, certain events that can pose enormous challenges in identifying the deceased. The huge scope of mass casualty events such as wars, terrorist attacks, and environmental disasters can eclipse the capacities of forensic scientists...
Discover Magazine - By Rebecca Kreston - April 19, 2015
The Impact of Forensic Science Research and Development
In crime labs across the United States, scientists and technicians are being armed with increasingly sophisticated technologies that they can use to help bring criminals to justice and prevent the innocent from going to prison. Innovations from forensic science research and development (R&D) are bringing new techniques to crime solving and increasing the reliability and efficiency of forensic testing.
National Institute of Justice - April, 2015
Other Resources on the Crime Scene Investigator Network Website
Not Subscribed to this Newsletter?
To unsubscribe from future e-mail newsletters, please click here: UNSUBSCRIBE
or email newsletter@crime-scene-investigator.net with your request to unsubscribe.
---
Copyright ©2015 Crime Scene Resources, Inc.
Crime Scene Investigator Network
PO Box 1043
Wildomar, CA 92595-1043