Are you having trouble viewing this email? View it online here: www.crime-scene-investigator.net/newsletter/0415.html This message
was not sent unsolicited. You signed up for this newsletter. If you wish to unsubscribe see the instructions at the bottom of this message.
Welcome to the April 2015 Crime Scene Investigator Network Newsletter



Crime Scene Photography Requirements
of Criminal Investigative Analysis




Behavioral Science Investigative Support Unit
FBI Academy, Quantico, Virginia

This paper reflects on currents approaches to crime scene photography described in numerous photographic publications but also includes the observations and suggestions of profilers and photographic examiners who analyze these photographs for behavioral and forensic evidence.

For purpose of criminal investigative analysis (profiling), it is important to record much more than those areas in which acts of violence took place. Photographs can be instrumental in recording the victim's lifestyle and personality; the topography and socioeconomic conditions surrounding the crime scene; and much more which is important to any investigator or analyst who is unable to visit the crime scene.

When photographing violent crime scenes, the aim should be to record a maximum of useful information which will enable the viewer to understand where and how the crime was committed. The term "crime scene" refers not only to the immediate locality where the crime took place, but adjacent areas where important acts occurred immediately before or after the commission of the crime. Long range, medium range and close-up photographs should be taken to enable the viewer to gain a clear concept of where each object or area interrelates to another. Aerial photographs are particularly important in serial rape or murder investigations since they geographically link crime scenes together.

Overlapping photographs should be taken of the exterior of the crime scene to show its locale in relation to the rest of the neighborhood. Place the camera on a tripod or hold it steady at eye level so the horizon line is constant for each shot. The photograph can be cut and pasted together to create a panoramic view of the scene. Also photograph any crowds which gather at a crime scene and the license plates of vehicles parked in the vicinity, since the killer may still be in the area observing the investigation.

The point of entry and exit should be shown in such a manner that the marks of force will be shown clearly. A scale should also be visible but never place a suspect tool into the tool mark because it may alter the evidence.

When photographing the interiors of room with a 35mm camera, use a normal lens (45mm to 55mm) in stead of a wide angle lens. A wide angle lens creates distortion, especially when close up photographs are taken. (the distance between objects appears to be greater than it actually is).

The camera should be held with a vertical format and overlapping photographs should be obtained. A vertical format insures that the scene will be observed from the top of the walls to the floor. Once again, a composite photograph can be created. Photograph every room in the residence but overlapping photographs need only be taken at the crime scene itself.
This Month's Featured Resource on the Crime Scene Investigator Network Website

This third edition of the Best Practices for Seizing Electronic Evidence was updated as a project of the United States Secret Service and participating law enforcement agencies. A working group of various law enforcement agencies was convened to identify common issues encountered in today's electronic crime scenes. <View the Pocket Guide>
Featured Video Presentation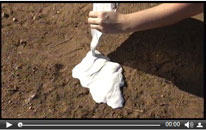 On our Video Presentations page:
Learn the basic technique for casting footwear impressions.
New CSI and Forensic Job Announcements
The most comprehensive listing of Crime Scene Investigation and Forensic
employment opportunities on the internet! We typically have over 600 current listings!
Crime Scene Specialist
Tucson Police Department, Arizona, USA
Final Filing Date: April 12, 2015
Salary: $16.79 - $26.64 per hour
Documents all types of crime scenes for the recognition, collection and preservation of physical evidence including latent fingerprints, body fluids, hair and fibers, weapons, and other materials in sometimes stressful and unpleasant environments. Photographs and/or diagrams crime scenes, physical injuries, victims, evidence, and postmortem examinations. Analyzes, collects, packages, and preserves evidence.
<View complete job listing>
Forensic Scientist I, Digital Evidence
North Carolina Dept of Justice, Raleigh, Greensboro, and Asheville, USA
Final Filing Date: April 9, 2015
Salary: $42,667.00 - $69,177.00 Annually
This is entry level professional forensic analysis work that requires the analysis of forensic evidence in a crime laboratory setting. Employees examine and analyze evidence from simple to moderately complex casework, make judgments and testify in court as necessary to explain and defend their findings.
<View complete job listing>
Criminalist — Biology
Oklahoma State Bureau of Investigation, Edmond, Oklahoma, USA
Final Filing Date: April 13, 2015
Salary: $49,901.94 per year
This is the entry level where incumbents train to perform forensic analysis, and perform some limited supervised casework. All aspects of assigned tasks are clearly defined and all work is technically and administratively reviewed during performance and upon completion.
<View complete job listing>
---

---
Latent Print Examiner
Miami Police Department, Florida, USA
Final Filing Date: April 24, 2015
Salary: $58,002.88 - $77,898.08 Annually
Develops, compares, evaluates, identifies, and prepares latent fingerprints/palm prints for court exhibits, and testifies in all courts of law as a qualified expert witness.
<View complete job listing>
Forensic Medical Investigator I
Travis County Medical Examiner, Austin, Texas, USA
Final Filing Date: April 21, 2015
Salary: $42,382.08 - $52,977.60 Annually
Investigates the physical and medical aspects of natural and unnatural deaths by responding to scenes or taking reports over the telephone, which will provide the Medical Examiner with a basis on which to determine the cause and manner of death. ...
<View complete job listing>
London Metro Police, UK
Final Filing Date: 17 April 2015
Salary: £35,404 plus £3,501 location allowance per annum
You'll join us in our Evidence Recovery Unit where you'll be responsible for examining, evaluating and reporting forensic findings from exhibits and crime scenes.
<View complete job listing>
IUPUI chemist earns grant to improve drug screening in forensics
IUPUI analytical chemist Nicholas E. Manicke has received a $273,826 award from the U.S. Department of Justice's National Institute of Justice to improve the speed and accuracy of mass spectrometry for detecting drugs and poisons in blood samples.
IUPUI Newsroom - March 31, 2015


International Association of Arson Investigators-Certified Fire Investigator Board Receives Accreditation from Forensic Specialties Accreditation Board
The Forensic Specialties Accreditation Board (FSAB) announces its recent accreditation of the International Association of Arson Investigators-Certified Fire Investigator Board and...
PR Newswire - March 31, 2015

Tracks Inspector simplifies digital evidence collection and analysis for law enforcement
Most online crimes leave digital evidence. Tracks Inspector aids non-technical investigators in collection and analysis...
NETWORKWORLD - By Linda Musthaler - March 26, 2015

PML Helps Lead Standardization for Firearm and Toolmark Examinations
...At present, there are no national standards in this field. Current guidelines and recommendations in the Firearms and Toolmarks field are used as quality check documents, however these guidelines have not gone through a standards development process...
NIST - March 24, 2015

ISACA Lays Out Forensics for the Data Breach Era
When faced with a data breach, the first order of business for companies is to find out what happened, and then how it happened and who did it. To aid in the process, which is unfortunately no longer a rare scenario, ISACA has issued a new set of guidelines that outline the digital forensics process and identify the key steps for organizations to consider when dealing with attacks.
Infosecurity Magazine - by Tara Seals - March 24, 2015
Other Resources on the Crime Scene Investigator Network Website
Not Subscribed to this Newsletter?
To unsubscribe from future e-mail newsletters, please click here: UNSUBSCRIBE
or email newsletter@crime-scene-investigator.net with your request to unsubscribe.
---
Copyright ©2015 Crime Scene Resources, Inc.
Crime Scene Investigator Network
PO Box 1043
Wildomar, CA 92595-1043