Welcome to the March 2016 Crime Scene Investigator Network Newsletter



Latent Blood Prints
Methods For Chemical Enhancement





Blood is often found on various surfaces at crime scenes where physical violence occurred. Therefore, blood acts as a transfer medium for latent fingerprints and shoeprints. On some occasions the blood residue retains enough color and detail to permit direct photographic recovery, but generally the blood marks are too faint to permit photography using conventional light sources.

In a report published by the California Department of Justice, Bureau of Forensic Services. scientists conducted significant research indicating that certain reagents may be introduced to the visible stains or areas suspected of containing latent blood impressions.

For many years, forensic scientists have used reagents such as Leucomalachite or Ninhydrin to develop blood stains, but both of these substances have a tendency to run off or distort the prints on non-porous surfaces. On the other hand, Amido Black has proven to be quite useful.

This article reviews three popular methods for blood print enhancement: Amido Black, Leuco Crystal Violet (LCV) and Hungarian Red

Amido Black

Amido black is very sensitive and works well on non-porous surfaces but its high background color (light to medium blue) compromises contrast on multi-colored porous surfaces.

Amido Black is a protein stain, and as such should not be considered as even a presumptive test for blood, let alone a confirmatory test. The protein may be present in other body fluids, in addition to blood. However, other actual presumptive tests may be successful after the application of amido black.

The Amido Black staining solution can be methanol—or water-based. Amido Black in methanol has a greater staining power, but due to the toxicity of the methanol, it is also more dangerous. For use on a crime scene (for example, shoeprints in blood) the water-based staining solution is advised.

Leuco Crystal Violet

This reagent does not react to the normal finger constituents found in latent fingerprints like eccrine or sebaceous deposits. Rather, this reagent has an affinity for heme-based materials. When LCV and hydrogen peroxide come into contact with the hemoglobin in blood, a catalytic reaction occurs and a blue to purple/violet reaction product occurs. Leuco Crystal Violet may be used on both porous and non-porous surfaces, and may be applied with a fine mist spray or by immersing an object in the solution.

*Article submitted by the author
This Month's Featured Resource on the Crime Scene Investigator Network Website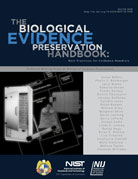 The Biological Evidence Preservation Handbook offers guidance for individuals involved in the collection, examination, tracking, packaging, storing, and disposition of biological evidence. This may include crime scene technicians, law enforcement officers, healthcare professionals, forensic scientists, forensic laboratory managers, evidence supervisors, property managers, storage facility personnel, lawyers, testifying experts, court staff members, and anyone else who may come in contact with biological evidence. While many of the recommendations relate to the physical storage, preservation, and tracking of evidence at the storage facility, this handbook also covers the transfer of the material between the storage facility and other locations and discusses how the evidence should be handled at these other locations.
This report is divided into five main sections that detail issues and make recommendations related to biological evidence storage, tracking, preservation, and disposition. A glossary, which provides standard definitions of the technical terms used in this report, follows these sections.
Featured Video Presentation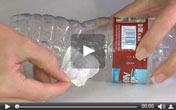 On our Video Presentations page:
Learn the basic technique for using Mikrosil to lift fingerprints from irregular surfaces.
New CSI and Forensic Job Announcements
The most comprehensive listing of Crime Scene Investigation and Forensic
employment opportunities on the internet! We typically have over 400 current listings!
Crime Scene Investigator
City of Council Bluffs, Iowa, USA
Final Filing Date: March 25, 2016
Photographs and makes diagrams of crime and accident scenes; Fingerprints suspects, victims, and deceased persons; Processes stolen and recovered vehicles of criminal offenses; Searches for, collects, and preserves physical evidence of crime scenes and accident scenes; Interviews victims and witnesses; Processes scenes and/or evidence for latent fingerprints; Takes plaster casts and impressions; Performs gunshot residue tests ...
<View complete job listing>
Crime Scene Technician I
City of Tampa Police Department, Florida, USA
Final Filing Date: March 28, 2016
Photographs and processes crime scenes for latent fingerprints/evidence; photographs and fingerprints deceased persons; Makes plaster casts; performs gunshot residue tests. Collects, processes and preserves evidence; processes booking reports; processes and issues non-motorized vehicle reports; processes civil applications utilizing the Live Scan. ...
<View complete job listing>
Forensic Scientist - Controlled Substances
Virginia Department of Forensic Science, Manassas, Virginia, USA
Final Filing Date: April 4, 2016
Use current state-of-the-art methodologies and instrumentation to analyze controlled substances; Prepare Certificates of Analyses on findings for use by the criminal justice system; Testify in court as a qualified expert for the Commonwealth at criminal proceedings as to the results of laboratory findings and perform other duties assigned.
<View complete job listing>
Lead Forensic Scientist - Digital Evidence
District of Columbia Department of Forensic Sciences, Washington, DC, USA
Final Filing Date: April 3, 2016
Articulates and communicates to the team, projects, problems to be solved, actionable events, milestones, and/or program issues under review, and deadlines and time frames for completion. Trains or arranges for training for the employees in methods and techniques of team building and working in teams to accomplish tasks or projects, ...
<View complete job listing>
Evidence/Property Technician
Nevada County Sheriff, Nevada City, California, USA
Final Filing Date: March 25, 2016
Receives, tags and stores property/evidence from crime scenes. Prepares narcotics and fingerprints for analysis by Department of Justice. Transports fingerprints and narcotics to Department of Justice for analysis, and destroys narcotics according to legal and administrative procedures and practices ...
<View complete job listing>
Criminalist I - Latent Print Processing
Santa Clara County Crime Laboratory, San Jose, California, USA
Final Filing Date: March 29, 2016
development of latent finger and palmprints on both porous and non-porous items of physical evidence in criminal cases using a variety of chemical techniques; digital photography; microscopy; report writing; and expert testimony.
<View complete job listing>
Washington poised to become first state to track all rape kits
Supporters say the bill will enable rape survivors to keep track of what's happening in their cases, while pinpointing problems that have caused an estimated 6,000 rape kits to go untested in Washington.
The Olympian - MELISSA SANTOS - March 15, 2016
A look inside the Brandon Police Forensic Identification Unit
Lanny Stewart of the Westman Journal recently spent an afternoon with the Brandon Police Service Forensic Identification Unit, getting an all-access pass to what goes on 'behind the scenes'.
Westman Journal - Lanny Stewart - March 15, 2016
Solving the crime lab conundrum: Technology could bring lab to crime scene
In his lab, Mulligan has managed to miniaturize an existing instrument known as the mass spectrometer. This device could be used by law enforcement investigators to detect evidence, for example, by swabbing a table top or a suspect's hand looking for traces of cocaine or an explosive too small to be seen by the unaided eye.
Illinois State University News - John Moody - March 14, 2016
Tying lipstick smears from crime scenes to specific brands
For years, forensic scientists have applied various methods to remove lipstick samples from crime scenes and analyze their chemical constituents. Many current methods involve difficult or expensive steps such as a tedious lipstick removal process or examination of samples by Raman spectroscopy or X-ray diffraction. But these methods require specialized equipment and training, which are in short supply in under-funded and over-worked forensics labs.
Physics.org - March 13, 2016
Miami Beach investigators use forensic scanner to fight crime
The forensic scanner is used by both the accident investigation and crime scene units to capture a 360-degree view of the scene. The $88,000 tool cuts the time the units spend at a crime scene nearly in half.
WSVN.com - March 9, 2016
Other Resources on the Crime Scene Investigator Network Website
Not Subscribed to this Newsletter?
To unsubscribe from future e-mail newsletters, please click here: UNSUBSCRIBE
or email newsletter@crime-scene-investigator.net with your request to unsubscribe.
---
Copyright ©2016 Crime Scene Resources, Inc.
Crime Scene Investigator Network
PO Box 1043
Wildomar, CA 92595-1043