Are you having trouble viewing this email? View it online here: www.crime-scene-investigator.net/newsletter/0315.html This message
was not sent unsolicited. You signed up for this newsletter. If you wish to unsubscribe see the instructions at the bottom of this message.
Welcome to the March 2015 Crime Scene Investigator Network Newsletter



Replication of Known Dental Characteristics
in Porcine Skin: Emerging Technologies
for the Imaging Specialist




The use of this concept will aid the crime laboratory
imaging specialist and forensic odontologist in their
analysis of bite marks (patterned injuries).

This research project was proposed to study whether it is possible to replicate the patterns of human teeth (bite marks) in porcine skin, be able to scientifically analyze any of these patterns and correlate the pattern with a degree of probability to members of our established population data set.

The null hypothesis states: It is not possible to replicate bite mark patterns in porcine skin, nor can these bite mark patterns be scientifically correlated to a known population data set with any degree of probability.

Bite marks were produced on twenty-five pigs with a bite pattern replication device using 50 sets of models of blinded dentitions. The models were selected randomly from a previously quantified data set of 469. Prototyped dental models were mounted on a semi-automated mechanical device which records the model number, physical location on the pig where the force applied and the duration it was applied. Four patterns were created on each side of twenty-five anesthetized pigs in predetermined areas. These sites were tested previously in a pilot study; notably the hind quarter, abdomen, thorax and fore limb. Digital photographs of the patterned injuries (bite marks) were exposed following the guidelines of the Scientific Working Group on Imaging Technology (SWGIT) and the American Board of Forensic Odontology (ABFO). Two hundred images of each dental arch were selected from the eight hundred photographs taken during the laboratory sessions and analyzed biometrically using a previously validated software program. Images were categorized as complete, partially complete or unusable, based on the presence, partial presence or absence of the six anterior teeth in each arch. Intersecting angles, the widths of the lateral and central incisors and the arch width measured on the scaled images of the unknown models. The images were analyzed independently by two investigators. Their measurements were then statistically compared to an established population data set of 469 males, ages 18 to 44 years. Statistical analysis was achieved using two models; Pearson's correlations and distance metric analysis. Pearson's correlation results based on width only, angle only and widths plus angles were reported by each investigator. Angles measured along with widths and compared to the known data set ranked each set of models from 1 to 469 with a ranking of one showing the lowest p values. Investigator #1 ranked 5 out of 143 images as number 1, 10 out of 143 in the top 1%, 34 out of 143 in the top 5% and 59 out of 143 in the top 10 %.
This Month's Featured Resource on the Crime Scene Investigator Network Website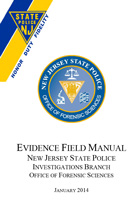 The importance of physical evidence in a case cannot be underestimated. The credibility and integrity of the evidence are directly predicated upon the proper handling of the evidence from its initial observance through presentation in court.
The evidence procedures in this manual have been developed for the purpose of providing the investigator with a working knowledge of physical evidence handling. As such, this manual should be considered as a guideline of procedures relative to the handling of physical evidence.
Featured Video Presentation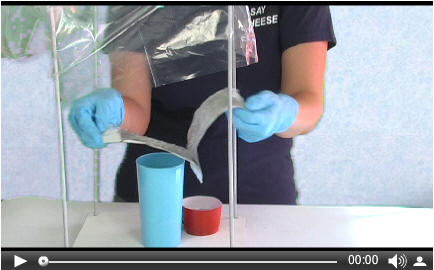 On our Video Presentations page:
Learn the basic technique for processing latent fingerprints with super glue.
New CSI and Forensic Job Announcements
The most comprehensive listing of Crime Scene Investigation and Forensic
employment opportunities on the internet! We typically have over 600 current listings!
Crime Scene Specialist I
City of Phoenix, Arizona, USA
Final Filing Date: March 16, 2015
Salary: $16.98 - $24.65 hourly
The Crime Scene Specialist I position provides technical support to Police Officers and Forensic Scientists in analyzing, photographing, collecting, and preserving physical evidence. Crime Scene Specialists photograph and record crime scenes showing correlation between evidence and scene, and perform various analytical techniques such as chemical and photographic processes in the field and / or laboratory to analyze, develop, and preserve evidence. Work is performed in the field, including crime scenes, at the Medical Examiner's Office, and in the Laboratory.
<View complete job listing>
Crime Lab Technician I
City of Baltimore, Maryland, USA
Final Filing Date: March 16, 2015
Salary: $37,774.00 - $45,563.00 Annually
A Crime Laboratory Technician I learns to perform specialized crime laboratory work such as evidence detection, criminalistics, firearms, latent print examination or crime laboratory and crime scene photography. ...
<View complete job listing>
Evidence Technician, GS 8/9
Federal Bureau of Investigation, Chicago, Illinois, USA
Final Filing Date: March 11, 2015
Salary: $48,022.00 to $68,950.00 per year
Provide advice, guidance, and training for the Special Agents and Professional Staff on various aspects of evidence processing and procedures including search, protocol, evidence packaging, and proper completion of paperwork. Responsible for the receipt, retention and disposition of evidence for the field office. Retrieves, releases and secures the return of evidence to/from the Evidence Control Room or other approved storage locations. Establishes automated history of evidence using an automated database.
<View complete job listing>
---

---
Forensic Scientist — Latent Prints
Virginia Department of Forensic Science, Richmond, Virginia, USA
Final Filing Date: March 30, 2015
Salary: $50,139 - $83,880 per year
Document examinations, prepare reports of findings for use by the criminal justice system and testify in court as an expert witness. Communicate with medical and legal officials on testing procedures, results, and conclusions. Instruct law enforcement officials on the handling of evidence.
<View complete job listing>
Police Service Technician
Vancouver Police Dept, Washington, USA
Final Filing Date: March 13, 2015
Salary: $3,162.00 - $4,043.00 Monthly
Interview citizens in person or by telephone to obtain specific information; provide citizens with general and specific information on a wide variety of criminal, civil and social service issues. Assist commissioned officers in investigations. Collect evidence and fingerprints from minor crime scenes. Testify in courts and administrative hearings. Photograph and videotape crime scenes or law enforcement related activities. ...
<View complete job listing>
Assistant Forensic Investigator — Footwear
Warwickshire Police, Worcester, UK
Final Filing Date: 17 March 2015
Salary: £14,928 - £16,581 per annum
To assist in the maintenance of the Force's footwear database(s). To interrogate the database to identify any prisoner to scene footwear links or scene to scene links. To ensure the correct classification of required footwear exhibits and to update and maintain accurate records. To process custody footwear samples.
<View complete job listing>
Dusting for Cyber Fingerprints: Computer Scientists Use Coding Style to Identify Anonymous Programmers
A team of computer scientists, led by researchers from Drexel University's College of Computing & Informatics, have devised a way to lift the veil of anonymity protecting cybercriminals by turning their malicious code against them.
DrexelNOW - February 26, 2015
Forensic Benefits Of Video Analytics
Video analytics have earned a reputation as solutions that can provide real-time intelligence to enable immediate response. However, another aspect of video analytics is how the technology can be used for forensics...
SourceSecurity.com - By Larry Anderson - February 24, 2015, 2015
DOJ R&D Agency Awards Grants For Speedier Digital Forensics
The US Department of Justice's R&D agency has awarded grants for the development of new tools that speed up the process of examining hard drives in the wake of a cyberattack or other types of criminal cases.
DARKReading - by Kelly Jackson-Higgins - February 23, 2015
Inside the ATF lab: The world's largest fire investigation facility
"If it will burn, we'll set it on fire," said Lenwood S. Reeves, a certified investigator at the Fire Research Laboratory in Beltsville, MD., where he and nearly 70 colleagues with the Bureau of Alcohol, Tobacco, Firearms and Explosives work to understand how fires start and why.
The Washington Post - By Lynh Bui - February 20, 2015
SRU alumna develops method for finding evidence in crimes
A SRU alumna has developed a method that allows trace evidence examiners to identify remnants of cosmetic preservatives when there is contact between victim and suspect.
The Rocket - By Bridget McClure - February 19, 2015
Other Resources on the Crime Scene Investigator Network Website
Not Subscribed to this Newsletter?
To unsubscribe from future e-mail newsletters, please click here: UNSUBSCRIBE
or email newsletter@crime-scene-investigator.net with your request to unsubscribe.
---
Copyright ©2015 Crime Scene Resources, Inc.
Crime Scene Investigator Network
PO Box 1043
Wildomar, CA 92595-1043