This month's newsletter is brought to you by the 2018 CSI Summer Academy
Landscape Study of Alternate Light Sources




U.S. Department of Justice
National Institute of Justice
Office of Investigative and Forensic Sciences




Introduction to Alternate Light Sources

Fluorescence

Alternate light sources (ALS) enhance the visualization of evidence not readily apparent to the naked eye, facilitating collection, documentation, and processing of evidence. The technology uses light emitted at a controlled range of wavelengths to improve the contrast of evidence against a background. Alternate light sources that emit light in the visible range (400–700 nanometers [nm] within the electromagnetic spectrum) cause multiple types of evidence to be visualized through fluorescence.

Fluorescence is the emission of light of a longer wavelength by a substance that has absorbed light of a shorter wavelength. When a fluorophore, or molecule capable of fluorescence, is subjected to a light source at a specific wavelength (called the excitation wavelength), it absorbs energy and transitions into a higher-energy excited state. Shortly after light exposure, the molecule returns to its normal state, or ground state, and the excess energy is emitted as light. This wavelength of light (called the emission wavelength) is of a longer wavelength than the excitation wavelength, and is detected as fluorescence.

Some types of evidence important to a crime scene investigation—such as hairs, fibers, or biological fluids that may contain DNA—naturally fluoresce when excited by a certain wavelength or range of wavelengths. Developing agents applied to evidence such as fingerprints may also fluoresce with illumination. ALS devices in the visible spectrum emit light at different colors, which are controlled ranges of visible light wavelengths with specific peak wavelengths (most of the light emitted by the device is at this wavelength). Figure 1 shows the types of evidence that can be detected at specific wavelength ranges (colors of light). Table 1 gives the general wavelength ranges for each color of visible light.

Barrier Filters

Visualizing and documenting evidence by ALS illumination requires use of a barrier filter. During the fluorescence process, light emitted by the ALS (at the excitation wavelength) is reflected back to the eye, overpowering the emitted fluorescence (at the emission wavelength), often rendering it undetectable. Barrier filters enable visualization of fluorescence by preventing transmission of light at the same wavelength as the excitation light to the eye or detector (such as a digital camera). Light produced by the fluorescing compound passes through the barrier filter and is detected by the eye or camera. Figure 2 demonstrates the role of a barrier filter in visualizing evidence. Barrier filters are manufactured in the form of goggles, flat viewing panes, and filters for digital cameras — any combination of the aforementioned barrier filters and detectors can be used with single and multiwavelength units. The appropriate barrier filter depends on the wavelength of light used; for example, evidence illuminated by blue light can most often be visualized through an orange barrier filter. Without these filters, the illuminated evidence would most likely be undetectable to the naked eye.

In most circumstances, the barrier filters used for ALS that emit visible light are longpass filters. These optical filters block transmission of light with wavelengths below a certain range. Light with a longer wavelength (and lower energy) cannot be perceived by the viewer. When the appropriate color barrier filter is used, it can effectively block the excitation light emitted by the ALS.

Barrier filters must transmit precise wavelengths of light to effectively detect evidence. Filters that block light transmission at a defined wavelength range may more reliably block the transmission of ALS excitation light, enabling better visualization of evidence. This means that undesired wavelengths of light are less likely to "leak" through the barrier filter, obscuring the fluorescence. Figure 3 demonstrates the importance of barrier filters with a semen stain illuminated by blue light and visualized (a) with and (b) without an orange barrier filter.




Related articles
This Month's Featured Resource on the Crime Scene Investigator Network Website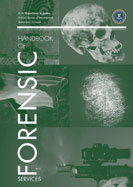 The Handbook of Forensic Services provides guidance and procedures for safe and efficient methods of collecting, preserving, packaging, and shipping evidence and describes the forensic examinations performed by the FBI's Laboratory Division and Operational Technology Division.

The successful investigation and prosecution of crimes require, in most cases, the collection, preservation, and forensic analysis of evidence. Forensic analysis of evidence is often crucial to determinations of guilt or innocence.


<View the Publication>
Featured Video Presentation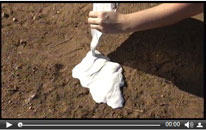 On our Video Presentations page:
Learn the basic technique for casting footwear impressions.
New CSI and Forensic Job Announcements
The most comprehensive listing of Crime Scene Investigation and Forensic
employment opportunities on the internet! We typically have over 200 current listings!
Crime Scene Technician
Port St. Lucie Police Department, Port St. Lucie, Florida, USA
Final Filing Date: March 5, 2018
Responds to crime scenes as required to locate, identify, document, record, recover and process as necessary all items of evidentiary value using the latest accepted scientific and technological methods and equipment documenting such activity in written reports.
<View complete job listing>
Crime Scene Specialist
Marion County Forensic Services Agency, Indianapolis, Indiana, USA
Final Filing Date: Open until filled
Responsible for forensic support in the identification, preservation and collection of forensic evidence at crime scenes, providing a wide variety of crime scene activities involving crimes against persons (homicides, suicides, rapes, aggravated assaults, etc.) to include, but not limited to, finger print processing, DNA collection/swabbing, and firearm evidence.
<View complete job listing>
Crime Scene Investigator
Hillsborough County Sheriff's Office, Tampa, Florida, USA
Final Filing Date: January 22, 2018
Conduct crime scene investigations to locate, identify, preserve, photograph, and prepare collected evidence to establish and maintain chain of custody and for submission to crime laboratories for analysis. Photograph and videotape major crime scenes using 35mm cameras, video cameras, and digital imagery.
<View complete job listing>
---

---
Forensic Scientist, Toxicology
Colorado State Department of Public Safety, Pueblo, Colorado, USA
Final Filing Date: March 20, 2018
This position is responsible for the preservation, analysis and interpretation of the physical evidence collected in criminal cases for federal, state and local law enforcement agencies.
<View complete job listing>
Forensic Evidence Technician
San Diego Sheriff's Department, San Diego, California, USA
Final Filing Date: March 6, 2018
The current opening is in the Crime Laboratory's Latent Print Unit, where the position will be responsible for processing evidence items for fingerprints and inputting crime scene fingerprints into an Automated Fingerprint Identification System (AFIS).
<View complete job listing>
Property Clerk
Saint Paul Police Department, Saint Paul, Minnesota, USA
Final Filing Date: March 5, 2018
Receives and electronically logs property and evidence impounded by police personnel due to parking violations, arrests, criminal activity, improper registration, health hazards, accidents, and recovered, stolen, lost, and abandoned property. Prepares documents accurately describing the evidence or property.
<View complete job listing>
Other Resources on the Crime Scene Investigator Network Website
Not Subscribed to this Newsletter?
To unsubscribe from future e-mail newsletters, please click here: UNSUBSCRIBE
or email newsletter@crime-scene-investigator.net with your request to unsubscribe.
---
Copyright ©2018 Crime Scene Resources, Inc.
Crime Scene Investigator Network
PO Box 1043
Wildomar, CA 92595-1043