Welcome to the February 2016 Crime Scene Investigator Network Newsletter



Footwear,
The Missed Evidence





In almost every criminal investigation it is necessary to determine and prove that a particular person or persons may or may not have been present at the scene of a crime. For this reason, the collection, preservation and analysis of physical evidence has become more frequent in the law enforcement community.

Around 1910, a criminologist by the name of Edmond Locard arrived at a theory that every time something comes into contact with another it either takes or leaves a portion of itself or another. This theory is called the Edmond Locard Theory, which simply states "Every contact leaves its trace." This theory is continually used today in crime scene investigations and the analysis of physical evidence.

Since criminals must enter and exit crime scene areas it should therefore, be reasonably assumed that they may leave traces of their footwear. Criminals have become smarter and wiser by beginning to frequently wear protection over their hands to avoid leaving fingerprints, and masks over their faces to avoid eyewitness identification. However, they are rarely aware of, or make little attempt to conceal footwear. During an every day routine it is normal to see an individual wearing gloves, but it's not normal to see individuals wearing protection over their shoes.

Unfortunately, when a crime scene is improperly secured or is disorganized, the search of the scene often results in this type of impression evidence being overlooked or destroyed. When this type of physical evidence is properly collected and preserved by the crime scene investigator, followed up by a detailed examination by a footwear expert, it can become an important part in proving or disproving a suspect was at the crime scene.

Why are Footwear Impressions Overlooked?

Footwear impressions are overlooked for two important reasons,

The lack of training and education in the proper searching, collection and preservation of the evidence and;
The evidence is undervalued or not understood.

The failure to properly collect this type of evidence revolves around the above-mentioned two reasons but he lack of success in finding this evidence is often due to:

Not believing that the impressions can be found at the scene after people have walked over the scene
Incomplete searches of the crime scene;
Weather conditions;
The impression has been intentionally destroyed.

In many cases, footwear evidence can lead to positive identifications of which particular known shoe made the print. Footwear evidence can provide investigators with certain information that can assist them in locating a suspect. Most footwear evidence, when collected and preserved properly can provide the type, make, description, approximate size, the number of suspects, the path through and away form the crime scene, the involvement of the evidence, and the events that occurred during the crime.

*Article submitted by the author
This Month's Featured Resource on the Crime Scene Investigator Network Website

This third edition of the Best Practices for Seizing Electronic Evidence was updated as a project of the United States Secret Service and participating law enforcement agencies. A working group of various law enforcement agencies was convened to identify common issues encountered in today's electronic crime scenes. <View the Pocket Guide>
Featured Video Presentation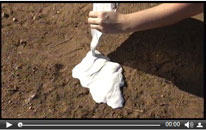 On our Video Presentations page:
Learn the basic technique for casting footwear impressions.
New CSI and Forensic Job Announcements
The most comprehensive listing of Crime Scene Investigation and Forensic
employment opportunities on the internet! We typically have over 400 current listings!
Civilian Crime Scene Investigator
Larimer County Sheriff's Department, Colorado, USA
Final Filing Date: March 1, 2016
Examines crime scenes to discover, preserve, collect, photograph, video, and identify physical evidence. Collects trace evidence. Prepares sketches and diagrams to include dimensions of the scene and to establish location of evidence and relationships of all relevant data. ...
<View complete job listing>
Criminalist
City of Omaha Police Department, Nebraska, USA
Final Filing Date: March 2, 2016
Assigns and reviews the work of subordinates, addresses personnel problems, and assists in planning work schedules and determining disciplinary action. Provides technical advice and practical experience to subordinates regarding all phases of crime scene investigations. Provides technical advice and practical experience to subordinates regarding specialty areas, such as firearms and toolmark examinations, calibration and maintenance of breath-testing equipment, photo printing, advanced forensic graphics, and fingerprint identification confirmation. ...
<View complete job listing>
Forensic Toxicologist or Trainee
Virginia Department of Forensic Science, Richmond, Virginia, USA
Final Filing Date: March 8, 2016
Independently analyze human fluids and tissues in postmortem, DUI/D and other criminal cases using chemical and instrumental methodologies, Critically evaluate data, Prepare Certificates of Analysis, Interpret and defend results in courts of law.
<View complete job listing>
---

---
Police Property and Evidence Custodian
Salt River Pima-Maricopa Indian Community Police, Scottsdale, Arizona, USA
Final Filing Date: March 3, 2016
Performs manual and clerical tasks involved with receiving, packaging, marking, logging, inventorying, and storing all items of evidence, safekeeping, destruction or found property submitted by Police Officers; bar codes property and enters information into computerized inventory system; affixes proper tags and labels for inventory control; observes and ensure the proper chain of custody for property and evidence in accordance to Tribal, State and Federal laws; ...
<View complete job listing>
Latent Print Examiner, Trainee
Seattle Police Department, Washington, USA
Final Filing Date: March 1, 2016
Analyze, compare, and evaluate latent print impressions. Develop and preserve latent print impressions and other physical evidence in the laboratory and at major crime scenes. Locate, develop, recover, and preserve latent print impressions on a wide variety of surfaces using physical and chemical techniques. ...
<View complete job listing>
Medicolegal Death Investigator
Adams County Office of the Coroner, Brighton, Colorado, USA
Final Filing Date: March 3, 2016
Conducts thorough death scene investigations, including photographing the death scene and the decedent, and conducting interviews. Determines investigative technique, scope, timing, and direction of investigations. Coordinates with law enforcement agencies in the preservation and collection of evidence, maintenance of chain-of-custody, and processing of the death scene. ...
<View complete job listing>
Agency partnership provides crime scene kits to police
The kits, filled with disposable evidence collection materials, evidence markers and scales, will help police departments collect evidence in the most accurate way possible, Hopwood said.
The Anniston Star - Kirsten Fiscus - February 18, 2016
FBI Can Use Dead Suspects' Fingerprints To Open iPhones -- It Might Be Cops' Best Bet
As Apple makes iPhones increasingly secure, the FBI has found it more difficult to get at data within suspects' iOS devices. Hence the All Writs Act 1789 order that landed earlier this week asking Apple to write a special version of iOS that could be installed on the iPhone of San Bernardino shooter Syed Farook. That unique operating system would allow the FBI to make unlimited guesses at his passcode, without any of the purposeful delays and data wiping normal users get as security measures.
Forbes - Thomas Fox-Brewster - February 18, 2016
Columbus Crime Lab gives forensic equipment to MSU
On Wednesday, the Columbus Police Department Crime Lab presented Mississippi State University with equipment for the university's forensics program. Biochemistry professor Florencia Meyer arrived at the Crime Lab in downtown Columbus Wednesday morning to pick up a super glue chamber, a machine used to develop fingerprints on physical evidence. Meyer teaches Intro to Forensic Science and Advanced. She plans to use the super glue chamber in class.
The Dispatch - Isabelle Altman - February 18, 2016
Watch your step -- forensics close in on footwear analysis
Based on a technique known as Frustrated Total Internal Reflection (FTIR) imaging, Dr James Sharp, an expert in physical properties of thin films of polymers and biopolymers, has been able to extract additional information and create a digital picture of the personal footprint we leave behind when we stand or walk on a hard surface.
Eurek Alert/ - UNIVERSITY OF NOTTINGHAM - February 16, 2016
Old fire station to become CSI lab to train forensics students, law enforcement officers
Oklahoma State University Center for Health Sciences is transforming the old building near Southwest Boulevard and 17th Street into a crime scene investigation laboratory for students in its forensic sciences graduate program.
Tulsa World - MIKE AVERILL - February 16, 2016
Other Resources on the Crime Scene Investigator Network Website
Not Subscribed to this Newsletter?
To unsubscribe from future e-mail newsletters, please click here: UNSUBSCRIBE
or email newsletter@crime-scene-investigator.net with your request to unsubscribe.
---
Copyright ©2016 Crime Scene Resources, Inc.
Crime Scene Investigator Network
PO Box 1043
Wildomar, CA 92595-1043