Welcome to the January 2016 Crime Scene Investigator Network Newsletter



Organic Gunshot Residue Analysis
for Potential Shooter Determination




National Institute of Justice
Office of Investigative and Forensic Sciences




Firearms produce a range of residues upon discharge, including chemicals from the primer, explosive, oxidizers, reducing agents, sensitizers, fuels, and binders (Romolo & Margot, 2001). Collectively, these materials are often referred to as gunshot residue (GSR). In current forensic practice, GSR refers specifically to particulate residues that are formed from compounds found in the primer, including metal oxides. The term "primer discharge residue" is sometimes used to make this distinction clear. The propellant is ignited by the primer. The propellant burns and generates the gas that forces the bullet out; it is the source of the organic gunshot residue (OGSR). Both GSR and OGSR are deposited on the hands of the shooter. Particles can also be transferred to clothing or others nearby—a process referred to as secondary transfer. Because of the possibility of secondary transfer and environmental interferences, it can be challenging to interpret analytical results, be they positive or negative. The analysis of OGSR could add to the evidentiary value of GSR evidence by providing additional information from a source of evidence not prone to secondary transfer.

Current laboratory-based forensic analytical methods that target residue from firearms discharge focus almost exclusively on primer residues. Typical primer chemical composition includes lead styphnate (initiator), antimony sulfide (fuel), and barium nitrate (oxidizer), which combine in a violent chemical reaction that ignites the gunpowder in a cartridge. The primer materials vaporize and re-condense to form tiny particulates that contain lead, antimony, and barium, and these particulates can be collected using metal stubs coated with carbon tape.

The presence of GSR on a stub is determined using a combination of scanning electron microscopy (SEM) coupled to x-ray spectroscopy, usually energy dispersive x-ray spectroscopy (EDS). The SEM is used to locate particulates that are within the right size range and that have a smooth, rounded morphology. The chemical composition is evaluated using EDS, which identifies particles containing the three metals of interest. This method is described in the American Society for Testing and Materials (ASTM) E1588 Standard Guide for Gunshot Residue Analysis by Scanning Electron Microscopy/ Energy Dispersive X-ray Spectrometry. The combination of SEM/EDS for characterization of GSR has been accepted for many years in forensic science.
This Month's Featured Resource on the Crime Scene Investigator Network Website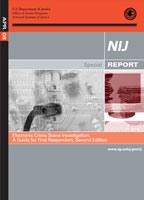 This guide is intended to assist State and local law enforcement and other first responders who may be responsible for preserving an electronic crime scene and for recognizing, collecting, and safeguarding digital evidence. It is not all inclusive but addresses situations encountered with electronic crime scenes and digital evidence. All crime scenes are unique and the judgment of the first responder, agency protocols, and prevailing technology should all be considered when implementing the information in this guide. First responders to electronic crime scenes should adjust their practices as circumstances—including level of experience, conditions, and available equipment—warrant.
Featured Video Presentation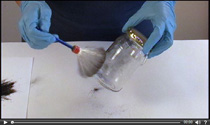 On our Video Presentations page:
Learn the basic technique for processing latent fingerprints by dusting with black powder.
New CSI and Forensic Job Announcements
The most comprehensive listing of Crime Scene Investigation and Forensic
employment opportunities on the internet! We typically have over 600 current listings!
Forensic Technician (CSI)
City of Fayetteville Police Department, North Carolina, USA
Final Filing Date: January 15, 2016
Responds to various types of crime and accident scenes, records detailed and accurate physical description of the scene, searches for, collects and preserves evidence, photographs the scene and evidence, and performs other documentation and evidence/scene processing as required. ...
<View complete job listing>
Crime Scene Technician
City of Peoria Police Department, Arizona, USA
Final Filing Date: January 24, 2016
Responds to, examines and investigates crime scenes for the recognition, collection and preservation of physical evidence such as latent fingerprints, shoeprints, tire tracks, body fluids, hair and fibers, weapons and other materials; conducts presumptive field tests for blood and gun shot residue; attends autopsies as needed. Processes, analyzes, compares, evaluates and verifies latent and inked prints; authors and submits reports for all analysis and examinations. ...
<View complete job listing>
Forensic Scientist I — Firearm and Toolmark
Colorado Department of Public Safety, Lakewood, Colorado, USA
Final Filing Date: January 18, 2016
This position is responsible for the preservation, analysis and interpretation of the physical evidence collected in criminal cases for federal, state and local law enforcement agencies.
<View complete job listing>
---

---
Criminalist I
Honolulu Police Department, Oahu, Hawaii, USA
Final Filing Date: January 14, 2016
Performs a variety of standard physical, chemical, instrumental, and microscopic analyses of evidence in connection with crime detection and law enforcement work; Assists with more complex investigations and studies, and with assigned phases of research projects; ...
<View complete job listing>
Fingerprint Examiner Supervisor
Mississippi Department of Public Safety, Rankin County, Mississippi, USA
Final Filing Date: January 15, 2016
Provides direct line of supervision to the Fingerprint Identification Unit; delegates work and monitors the completion of work assigned to subordinates. Provides guidance and technical assistance and ensures work is performed according to legal guidelines and generally accepted practices. Processes fingerprints using electronic (Automated Fingerprint Identification System (AFIS)/LiveScan) or physical (ink fingerprinting) methods for the purpose of background investigations and licenses. ...
<View complete job listing>
Forensic Evidence Technician
Harris County Institute of Forensic Sciences, Houston, Texas, USA
Final Filing Date: January 22, 2016
Receives and releases evidence from and to law enforcement and criminal justice system agencies using the approved protocols to preserve chain of custody.
<View complete job listing>
Berkeley Co. sheriff's department announces crime scene unit
Amongst the most promising deputies, Harmison said the department will send six to North Carolina to become crime scene specialists.
Journal News - By Henry Culvyhpuse - January 4, 2016
Local officials optimistic about locating forensic lab at UNA
The proposal calls for the lab to initially do drug analysis, late trace evidence testing and DNA testing. Local law enforcement officials say this would ease the backlog of drug cases now at state forensics lab in Huntsville.
TimesDaily, Florence, AL - by Tom Smith - January 3, 2016
Investigators use digital forensic technology in 25-year-old cold case
A new reconstruction, made using digital technology, has revealed a very different picture of the woman. It is one that investigators believe is much closer to what she actually looked like.
wftv.com 9 - January 1, 2016
A battle online: Veterans sought to train in cyber investigations
Inspired by a Department of Homeland Security (DHS) program, the St. Joseph County Prosecutor's Office is looking to train qualified, disabled, veterans to work in cyber crime investigations.
WNDU.com 16 - By Tricia Harte - December 31, 2016
Washington state lab needs more money to clear rape kit backlog
Lawmakers gave the lab an extra $2.75 million to offset the workload, but that's less than half what State Patrol requested. Jean Johnston, CODIS manager for the Washington State Patrol Crime Lab, said the money will let them hire seven more scientists, but that's not enough to clear the backlog.
The Bellingham Herald - December 31, 2015
DNA evidence from air bag in hit-and-run crash leads to criminal charges
Korfhage had run away from the scene, but investigators were able to tie him to the crash using DNA evidence recovered from the Mustang's air bag, police said.
The Oregonian/OregonLive - By Stuart Tomlinson - December 31, 2015
Other Resources on the Crime Scene Investigator Network Website
Not Subscribed to this Newsletter?
To unsubscribe from future e-mail newsletters, please click here: UNSUBSCRIBE
or email newsletter@crime-scene-investigator.net with your request to unsubscribe.
---
Copyright ©2016 Crime Scene Resources, Inc.
Crime Scene Investigator Network
PO Box 1043
Wildomar, CA 92595-1043