Are you having trouble viewing this email? View it online here: www.crime-scene-investigator.net/newsletter/0115.html This message
was not sent unsolicited. You signed up for this newsletter. If you wish to unsubscribe see the instructions at the bottom of this message.
Welcome to the January 2015 Crime Scene Investigator Network Newsletter



The Science Behind
Firearm And Tool Mark Examination




Study finds less than 1.2 percent error rate in matching bullets fired from Glock semiautomatic pistol barrels to the actual firearm.

The NIJ-funded study described in "Study Identifies Ways to Improve ATF Ballistic Evidence Program" looked at the operation of the National Integrated Ballistic Information Network (NIBIN), not at the underlying science of firearm and tool mark examination. This forensic science — sometimes referred to by laypeople as "ballistics" — is concerned with the validity of matching a fired bullet to a particular firearm.

So what is the current state of the science of firearm and tool mark examinations? Are these examinations accurate, reliable and valid?

First, the basics: Firearms have numerous metal parts. During the manufacture of a firearm, the machining process leaves unique, microscopic markings (called tool marks) on some of these parts. When most firearms are fired, these tool marks are transferred to the discharged ("spent") cartridge casings and bullets. This evidence can be collected from the scene of a crime, such as a homicide or shooting, and firearm and tool mark examiners can compare them with a test-fired firearm that, for example, has been confiscated from a suspect.

Since 2009, NIJ has funded research to determine the accuracy and reliability of firearms examinations — that is, whether a fired bullet (sometimes referred to as a spent projectile) was ejected from a particular firearm or the probability of finding unique patterns on casings that are shared by spent ammunition from the same firearm. NIJ's most recent findings, released in February 2014, established an error rate of less than 1.2 percent in matching bullets fired from Glock semiautomatic pistol barrels to the actual firearm.

The study — a collaboration between a Florida International University statistician and the Miami-Dade Police Department, which has been studying Glock barrels since 1994 — was designed to answer two basic questions:

Will trained firearm and tool mark examiners looking at bullets fired through consecutively manufactured firearm barrels that contain the same barcode-like pattern be able to correctly identify the firearm that fired the bullet?
What role does an examiner's level of experience play in accurately identifying the firearm that fired an unknown (or "questioned") bullet?

The experiment looked at bullets fired from 10 consecutively manufactured Glock barrels. Here's the interesting part: During the manufacturing process, specific Glock barrels are imprinted with a barcodelike pattern called the Enhanced Bullet Identification System (EBIS). The idea behind this study
This Month's Featured Resource on the Crime Scene Investigator Network Website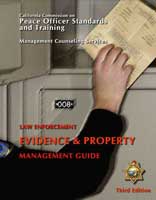 The POST Law Enforcement Evidence & Property Management Guide was developed as a resource for law enforcement agencies and personnel, noting best practices and providing standardized guidelines for the various aspects of the evidence and property function. The importance of this function in a law enforcement agency cannot be overstated. The agency has a fiduciary and legal obligation to store and protect items of evidence and property in its custody, and equally important, an obligation to legally restore property to the rightful owner as soon as practical or dispose of the property in a legal manner.
Featured Video Presentation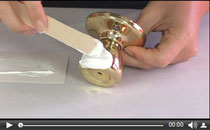 On our Video Presentations page:
Learn the basic technique for casting tool mark impressions with Mikrosil.
New CSI and Forensic Job Announcements
The most comprehensive listing of Crime Scene Investigation and Forensic
employment opportunities on the internet! We typically have over 500 current listings!
Crime Scene Specialist
Westfield Police Department, Indiana, USA
Final Filing Date: January 30, 2015
Salary: $40,000 - $44,000 per year
Identifies, collects, packages and preserves physical and forensic evidence. Conducts death investigations, attends autopsies, takes photographs, and collects evidence involving bodily fluids, tissue, and bones. Collects and analyzes fingerprints at crime scenes and in the lab, using chemical latent fingerprinting, fluorescent fingerprinting, electrostatic lifter, supergluing, and physical developing technics ...
<View complete job listing>
Digital Evidence Technician
Wichita Police Department, Kansas, USA
Final Filing Date: January 23, 2015
Salary: $19.78 - $27.95 Hourly
Prepares case folders containing digital photos taken by WPD personnel for storage in the image repository. Prints evidentiary photos/images as requested. Takes photos of police functions and distributes as requested. Responds to crime scenes and assists in the retrieval and playback of surveillance videos and photographs. Testifies as a witness in court at any and all levels of government. ...
<View complete job listing>
Forensic Scientist 1 — DNA
New Mexico Department of Public Safety, Santa Fe, New Mexico, USA
Final Filing Date: January 17, 2015
Salary: $19.08 - $33.19 Hourly
The incumbent will be responsible for collecting, classifying, identifying and analyzing biological evidence related to criminal investigations. ...
<View complete job listing>
---

---
Property and Evidence Custodian
Washington State Patrol, Vancouver, Washington, USA
Final Filing Date: January 15, 2015
Salary: $2,663.00 - $3,549.00 Monthly
Receive and release evidence from and to agency representatives. Verify evidence is properly packaged and sealed. Store the evidence in the appropriate secure and safe location. ...
<View complete job listing>
Latent Print Examiner
City of Lakewood, Colorado, USA
Final Filing Date: January 23, 2015
Salary: $31.67 - $44.33 Hourly
Compares latent and inked friction skin impressions to determine identity of subject and prepares appropriate reports. Evaluates latent impressions and reports findings to relevant parties; e.g., detectives, district attorney's office, outside agencies. ...
<View complete job listing>
Head of Forensic Operations
Cambridgeshire Constabulary, Forcewide, UK
Final Filing Date: 31 January 2015
Salary: £52,083 per annum
Lead and manage the activities and performance of departmental managers to ensure effective forensic services delivered across Bedfordshire, Cambridgeshire and Hertfordshire and Eastern Region Special Operations Unit. ...
<View complete job listing>
Other Resources on the Crime Scene Investigator Network Website
Not Subscribed to this Newsletter?
To unsubscribe from future e-mail newsletters, please click here: UNSUBSCRIBE
or email newsletter@crime-scene-investigator.net with your request to unsubscribe.
---
Copyright ©2015 Crime Scene Resources, Inc.
Crime Scene Investigator Network
PO Box 1043
Wildomar, CA 92595-1043