Crime Scene Investigator Network Newsletter
OCTOBER 2010
Welcome to the October 2010 Crime Scene Investigator Network Newsletter

Examination and Documentation
of the Crime Scene

George Schiro
Forensic Scientist
Louisiana State Police Crime Laboratory

Examination of the Crime Scene
Before the investigators begin examining the scene of the crime, they should gather as much information as possible about the scene. Once again, a slow and methodical approach is recommended. Information is gathered to prevent destruction of valuable and/or fragile evidence such as shoeprints, trace evidence, etc. Once all of the information is gathered, a mental plan is formulated as to how the crime scene will be analyzed. Copious notes and relevant times should be kept on every aspect of the crime scene investigation. The examination of the scene will usually begin with a walk through of the area along the "trail" of the crime. The trail is that area which all apparent actions associated with the crime took place. The trail is usually marked by the presence of physical evidence. This may include the point of entry, the location of the crime, areas where a suspect may have cleaned up, and the point of exit. In some cases, a walk through may become secondary if potential evidence is in danger of being destroyed. In that case, this evidence should be preserved, or documented and collected as quickly as possible.

The purpose of the walk through is to note the location of potential evidence and to mentally outline how the scene will be examined. The walk through begins as close to the point of entry as possible. The first place the investigators should examine is the ground on which they are about to tread. If any evidence is observed, then a marker should be placed at the location as a warning to others not to step on the item of interest.

A good technique to use indoors on hard floors is the oblique lighting technique (also known as side lighting). A good flashlight with a strong concentrated beam is the only tool needed. The room should be darkened as much as possible. If a light switch which a suspect may have touched needs to be turned off, then make sure the switch has been dusted for fingerprints first. Do not close any blinds or shades until after all general photographs have been taken. In the side lighting technique, a flashlight is held about one inch from the floor. The beam is then angled so that it just sweeps over the floor surface and is almost parallel to the surface. The light is then fanned back and forth. Any evidence, such as trace evidence and shoeprints, will show up dramatically. Under normal lighting conditions, this evidence may be barely visible or completely invisible.

As the walk through progresses, the investigators should make sure their hands are occupied by either carrying notebooks, flashlights, pens, etc. or by keeping them in their pockets. This is to prevent depositing of unwanted fingerprints at the scene. As a final note on the walk through, the investigators should examine whatever is over their heads (ceiling, tree branches, etc.). These areas may yield such valuable evidence as blood spatters and bullet holes. Once the walk through is completed, the scene should be documented with videotape, photographs, and/or sketches.

Documenting the Crime Scene
If available, a video camera is the first step to documenting a crime scene. Videotape can provide a perspective on the crime scene layout which cannot be as easily perceived in photographs and sketches. It is a more natural viewing medium to which people can readily relate, especially in demonstrating the

< read the complete article. >

*Article submitted to the Crime Scene Investigator Network by the author.
Featured Video Presentation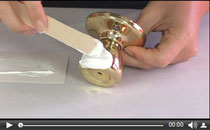 New on our Video Presentations page:
Casting Tool Mark Impressions
Learn how to cast tool mark impressions with Mikrosil® casting material.

<Video Presentations>
New CSI and Forensic Job Announcements
To be notified of job openings as they are posted, follow us on Twitter: <Receive Job Opening Alerts via Twitter>
Criminalist I - Forensic Biology (DNA) Specialty
| San Francisco, CA Police Department, Forensic Services Division
Final Filing Date: November 5, 2010
Salary: $62,088 - $75,452 per year
Forensic Biology (DNA) Specialty. Essential functions of the job include: preserving evidence; complying with established quality control and safety standards and procedures; documenting case observations and interpretations; preparing technical reports; identifying and genetically discriminating biological evidence; presenting expert testimony in court; using technical laboratory instruments and equipment; retrieving evidence from off-site locations; interacting with other departmental personnel and law enforcement agencies.
<
View complete job listing
>
Criminalist II-Forensic Biology (DNA) Specialty | San Francisco, CA Police Department, Forensic Services DivisionFinal Filing Date: November 5, 2010
Salary: $$83,0138 - $101,660 per year
Forensic Biology (DNA) Specialty. Essential functions of the job include: examining evidence in criminal investigations for presence of biological evidence; performing chemical and genetic analyses of biological evidence; interpreting data; preparing detailed notes and reports of scientific findings; retrieving evidence from SFPD property control and/or from Medical Examiner's office; complying witating laboratory instruments; participating in semi-annual DNA-typing proficiency test and providing impartial expert testimony in court.
<
View complete job listing
>
Firearm and Tool Mark Examiner | Jefferson Parish, LA Sheriff's OfficeFinal Filing Date: October 8, 2010
Salary: The salary is negotiable and based on experience and qualifications.
The responsibilities include, but are not limited to the following: examining and comparing evidence related items in the form of bullets, cartridge cases, and other ammunition components; perform caliber and general rifling characteristics determinations on bullets; test for firearm function and safe operations; perform tool mark comparisons; restore obliterated serial numbers; download ammunition and test fire a variety of firearms; enter and correlate cases in the IBIS system; respond to crime scenes and subsequently assist in the processing of those scenes; collecting and/or transporting evidence; preparing scientific reports and visual aids; utilize computer applications as they relate to laboratory procedures; testifying in courts of law; work under the direct supervision of a higher level forensic scientist or supervisor; maintain required ISO 17025 and ASCLD/LAB accreditation requirements; and successful completion of the competency and proficiency program.
<
View complete job listing
>
---

---
Latent Print Examiner | Seattle, WA Police DepartmentFinal Filing Date: Open until filled
Salary: $29.45 to $34.31 an hour
The Latent Print Examiner will analyze and compare latent prints. Collect and preserve latent prints and other physical evidence in the laboratory, as well as under potentially adverse conditions at major crime scenes. Locate, develop, recover and preserve latent impressions on a wide variety of materials and surfaces using physical, chemical, electronic, and optical techniques. Administer infrared, ultraviolet, and other special forensic photographic procedures, including digital imaging devices. Evaluate and enter suitable latent prints into the Automated Fingerprint Identification System (AFIS) by photographing, determining the minutiae, identifying position, tracing, and inputting the impression. Determine identifications and non-identifications by comparison and verification of each latent print to AFIS candidate lists. Write detailed reports concerning results of analysis. Recover fingerprints, palm prints, and footprints from deceased and decomposed bodies, victims of crime, and potentially violent suspects. Train Identification Technicians in the proper collection, preservation, and documentation of latent print evidence. Provide training to law enforcement personnel concerning the proper collection and preservation of physical evidence. Testify in criminal legal proceedings as needed concerning methods of analysis and results.
<
View complete job listing
>
Identification Technician Supervisor | Arlington County, VAFinal Filing Date: Continuous
Salary: $49,400.00 - $81,702.40 per year
This position includes the supervision of skilled, technical fingerprint and photographic work in the Forensic Identification Unit of the Police Department. Work assignments are at two sites- the Arlington County Police Department Headquarters and the Northern Virginia Regional Identification System (NOVARIS) facility in Fairfax, Virginia. The candidate is responsible for the supervision of civilian latent fingerprint examiners, administrative technician(s) and student aide(s).
<
View complete job listing
>
Forensic Specialist | Downey, CAFinal Filing Date: This recruitment will remain open until a sufficient number of applications are received and may close without prior notice.
Salary: $26.76 Hourly
Respond to crime scenes to search for evidence such as fingerprints, footprints and other physical and trace evidence; take photographs and videotape of crime scenes, traffic collisions, suspects, and/or evidence; take physical measurements and diagrams for criminal and non-criminal cases; compare and identify fingerprints and palm prints; prepare exhibits and testify in court as to fingerprint/palm comparisons and evidence collection; search the Automated Fingerprint Identification System (AFIS) to identify latent prints; operate cameras, video and audio equipment, computers, and other specialized devices for identification and crime report purposes and for miscellaneous public relations and training purposes; collect and analyze digital evidence from computers and cellular telephones in criminal investigations; collect and preserve evidence for use in criminal cases; perform other related duties as assigned.
<
View complete job listing
>
CSI In The News
Nurses to be granted forensic powers
Victims of sexual assaults, especially in remote areas, will no longer have to wait to be examined by doctors. The state government plans to introduce amendments to the Criminal Investigation Act 2006 that will allow nurses to forensically examine victims.
WAtoday - Subiaco, WA - by Aja Styles
- October 26, 2010
Improvements in DNA Yield From Forensic Samples and Other Important Benefits Reported With Pressure Cycling Technology
Pressure BioSciences, Inc. today announced that two scientific presentations at the 21st International Symposium on Human Identification have provided further evidence that pressure cycling technology ("PCT") offers an improved method for the extraction of DNA in the analysis of forensic evidentiary samples.
The Wall Street Journal - New York, NY
- October 26, 2010
New research lab proposed that would let forensic students create crime scenes
A research facility that will enable students to re-enact crime scenes with human cadavers and to study them as they decompose in Florida's subtropical climate was recently proposed by professors in the Criminal Justice department.
Eagle News - Fort Myers, FL - by Megan Hoolihan
- October 19, 2010
Are high tech crime shows on TV hampering real life cops?
High tech crime shows like CSI often find the heroes discovering a minute piece of evidence which their vast arsenals of computers analyze virtually instantaneously.
KyPost.com - Cincinnati, OH - by Scott Wegener
- October 19, 2010
Indian forensic scientists undergo training at FBI Academy
To improve the standards of investigation in India, the Centre has sent a group of forensic scientists to the US to undergo a week's training at a facility of the Federal Bureau of Investigation (FBI).
Diligent Media Corporation - Lower Parel, Mumbai
- October 18, 2010
DNA's net not cast as wide for Texas suspects
As a growing number of states move to strengthen their DNA databanks, many investigators and crime victims in Texas say dangerous criminals may escape justice here because the state fails to require DNA sampling of most arrestees.
Houston Chronicle - Houston, TX - by Cindy Horswell
- October 18, 2010
Texas biometrics program targets wanted illegal immigrants
Texas is going statewide with a Homeland Security Department program that searches the fingerprint records of inmates in local jails in search of illegal immigrants wanted for serious crimes.
Government Computer News - Falls Church, VA - by Kevin McCaney
- October 18, 2010
Other Resources on the Crime Scene Investigator Network Website
Not Subscribed to this Newsletter?
If you are not subscribed to this newsletter, you may subscribe by clicking here:
SUBSCRIBE
To Unsubscribe
To unsubscribe from future e-mail newsletters, please click here:
UNSUBSCRIBE
or email newsletter@crime-scene-investigator.net with your request to unsubscribe.
---
Copyright ©2010 crime-scene-investigator.net
Crime Scene Investigator Network
PO Box 1043
Wildomar, CA 92595-1043
To ensure future delivery of Crime Scene Investigator Network newsletters to your inbox (not bulk or junk folders) please add our "from" address to your address book or e-mail whitelist.