Crime Scene Investigator Network Newsletter
AUGUST 2010
Welcome to the August 2010 Crime Scene Investigator Network Newsletter

Experimental Detection of Blood
Under Painted Surfaces

Thomas W. Adair

From the I.A.B.P.A. News
March 2006*

Introduction
In August of 2005 the author was contacted by an investigator with the State Attorney General's office in Denver regarding a three year old homicide case. The suspect(s) were believed to have painted over the bloodstained walls in the crime scene shortly after the murder. The author was asked to investigate the possibility of detecting blood under painted surfaces and recommend a method of searching for and detecting blood under these conditions. To assist with this experiment the investigator was able to search the crime scene residence and recover the original paint buckets utilized for the paint on the walls at the time of the homicide. The investigators went to a local paint store where a fresh gallon of similar paint and color formula was obtained.

A search of the forensic literature resulted in few references describing this type of research. Vandenberg and van Oorschot reported on finding blood under paint using the Polilight™ PL500 at about 415nm. In their experiments it appears that blood was deposited directly on wood, plaster, brick, and metal and then painted over with various colors of light colored water based paint and white acrylic paint. Blood was visible under three coats of paint. From the photographs it appeared that the blood absorbed the ultraviolet light giving it a dark appearance. The authors also reported that blood could be detected under wallpaper using the Polilight™. The authors reported that a full DNA profile was obtained from blood samples under paint. Samples were subjected to Chelex™ DNA extraction and then amplified using Profiler Plus™. No attempt was made to scrape or separate the blood from the paint samples. Ray also reported limited success in visualizing blood under painted surfaces. In her experiment the author placed both single blood drops and blood swipes on wood and then painted over the stains with up to three coats of a latex paint. An Omniprint™ 1000 and Polilight™ (150 watt model) were used to examine the stains under paint. Both units were set at 530nm. No statement was made regarding the type of filter used. The author reported that the bloodstains were "visible" to "barely visible" with the use of an alternate light source after two coats of paint were applied. The third coat of paint made the bloodstains either not visible or "questionable" in appearance with the light sources. None of the authors discussed methods for paint removal.

Experiment Design
A 4 ft. by 4 ft. section of half inch drywall was obtained for the experiment. No texture was applied to the wallboard. The wall was first painted with two coats of Glidden Speed-Wall interior PVA Primer #GL 1050-1200 white. The coats were allowed to completely dry at least 12 hours. After drying, two coats of Glidden Speed-Wall interior latex flat paint #GL 1251-0110 white paint were applied. All paint was applied using a clean paint pad. The wall was then allowed to dry overnight. Once dried, several different types of bloodstain patterns were produced on the wall. Bloodstain patterns included those not likely to be seen on vertical surfaces (such as blood dripping into blood). Blood droplets ranged in size from less than 1mm to over 12mm in diameter. The wall also contained partial bloody shoe impressions and vertical blood flow. Horse blood was used to

< read the complete article and view example photographs. >

*Article submitted to the Crime Scene Investigator Network by the author.
Featured Video Presentation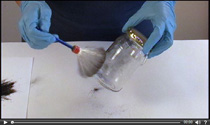 New on our Video Presentations page:
Developing Latent Fingerprints with Black Powder
Learn the basic technique for processing latent fingerprints by dusting with black powder.
<Video Presentations>
New CSI and Forensic Job Announcements
To be notified of job openings as they are posted, follow us on Twitter: <Receive Job Opening Alerts via Twitter>
Supervisory, Firearm and Toolmark Examiner
| Bureau of Alcohol, Tobacco, Firearms, & Explosives
Final Filing Date: September 2, 2010
Salary: $85,500.00 - $152,535.00 per year
This position serves as Chief of the IBIS (Integrated Ballistic Identification Specialist) section in the NIBIN (National Integrated Ballistics Information Network) Laboratory. The section chief provides first-line administrative and technical supervision to a staff of profession personnel conducting examinations in areas of IBIS and firearm and toolmarks.
<
View complete job listing
>
Crime Laboratory Manager | Marysville, WA State PatrolFinal Filing Date: September 30, 2010
Salary: $5,103.00 - $9,095.00 per month
The manager is responsible for the WSP Crime Lab Division's mission to provide quality forensic science services and training for our customers within the criminal justice system. The manager is committed to the highest quality forensic services which ultimately enhances public safety for the citizens of Washington. The manager has oversight for the processes the ensure high quality analytical testing for cases submitted by the criminal justice community to the laboratory; develops local lab policies and procedures; represents the laboratory at management and stakeholder meetings, controls expenditures of discretionary funds; and demonstrates a high standard of personal, professional, and ethical conduct.
<
View complete job listing
>
Program Manager for Physical Evidence | Virginia Department of Forensic Science Final Filing Date: October 8, 2010
Salary: $$93,554 - $119,401 per year
The Virginia Department of Forensic Science is seeking a qualified applicant to serve as the agency Program Manager for Physical Evidence programs (Firearms and Toolmarks, Latent Prints, Questioned Documents, Bloodstain Pattern and Digital Evidence). The person in this position will ensure all laboratory operations meet or exceed accreditation standards and will work collaboratively across program areas with other Program Managers to accomplish agency-wide goals. They will have an understanding of technical protocols and other important issues within this management area and be able to effectively communicate these issues to the Technical Services Director and other Program Managers. They will also design a framework for developing and effectively delivering and evaluating new and ongoing agency-wide programs while obtaining input and buy-in from agency Section Supervisors.
<
View complete job listing
>
---

---
Forensic Laboratory Evidence Custodian | BAE SystemsFinal Filing Date: Not stated
Salary: Not stated
The BAE Systems' Joint Expeditionary Forensics Facilities (JEFF) Program is aggressively searching for talented professionals with experience as an Evidence Custodian wishing to be a part of a dynamic team to work in deployed forensic laboratories in Iraq and/or Afghanistan. The ideal candidate will be responsible for evidence management involving all types of materials for forensic analysis; ensuring compliance with policies and procedures relating to storage and disposal of evidence; maintaining chain of custody; monitoring the issue and transfer of government property and military assets in the form of laboratory equipment and evidence; managing proper handling and storage of government property throughout the facility; maintaining integrity of property records; and other duties as assigned.
<
View complete job listing
>
ID Technician | Sunrise, FL Police DepartmentFinal Filing Date: Open until filled
Salary: $39,249 - $54,105 per year
This is technical work in the detection, evaluation and preservation of crime scene evidence.
<
View complete job listing
>
Cyber Forensics Analyst | BAE SystemsFinal Filing Date: Not stated
Salary: Not stated
BAE Systems is seeking a full time Cyber Forensics Analyst. The candidate will be required to perform comprehensive technical analyses of computer-related evidence such as network data, file systems, magnetic media storage devices, and special sources as designated by the customer. Tasks may include scripting, querying, and analyzing of network data for attack signatures, malware, and unique communications of interest. In addition the candidate may be tasked with file system analysis of various media types. These tasks will be in conjunction with other team members but often as individual efforts directed by the customer. The candidate will write full, detailed, written reports regarding the processes used and the resulting analysis for each examination. Additionally, the candidate will be required from time to time to provide an assessment of the results in a presentation to fellow examiners or other interested parties.
<
View complete job listing
>
CSI In The News
New Digital Ink Library to speed up document investigation
Analysing ink samples to determine a document's origin can be a lengthy and time consuming process, but a new Digital Ink Library is set to change all that.
The Economic Times - Mumbai Mirror
- August 8, 2010
Court cases slowed by backlog at crime lab
More cases and less funding at the state crime lab are translating into delays for criminal defendants waiting for their chance at trial.
Daily Herald - Provo, UT - by Janice Peterson
- August 8, 2010
State DNA database to more than double under new law
A new law requiring all convicted felons to submit a DNA sample is expected to more than double the size of the state's law enforcement DNA databank.
Lincoln Journal Star - Lincoln, NE - by Zach Pluhacek
- August 7, 2010
State, FBI agree to partner at forensic lab
The South Dakota Division of Criminal Investigation Forensic Lab and the Federal Bureau of Investigation have signed an agreement that should speed up service at the lab, according to Attorney General Marty Jackley.
Rapid City Journal - Rapid City, SD
- August 7, 2010
Whiffs of Stiffs
Researchers have unearthed a new way to find a buried body. The sensitive method, published online June 23 in Forensic Science International, detected trace compounds emanating from decomposing rats months after death.
U.S.News & World Report - Washington, DC - by Laura Sanders
- August 6, 2010
Other Resources on the Crime Scene Investigator Network Website
Not Subscribed to this Newsletter?
If you are not subscribed to this newsletter, you may subscribe by clicking here:
SUBSCRIBE
To Unsubscribe
To unsubscribe from future e-mail newsletters, please click here:
UNSUBSCRIBE
or email newsletter@crime-scene-investigator.net with your request to unsubscribe.
---
Copyright ©2010 crime-scene-investigator.net
Crime Scene Investigator Network
PO Box 1043
Wildomar, CA 92595-1043
To ensure future delivery of Crime Scene Investigator Network newsletters to your inbox (not bulk or junk folders) please add our "from" address to your address book or e-mail whitelist.